User Weekly: Tuesday, 14 September 2021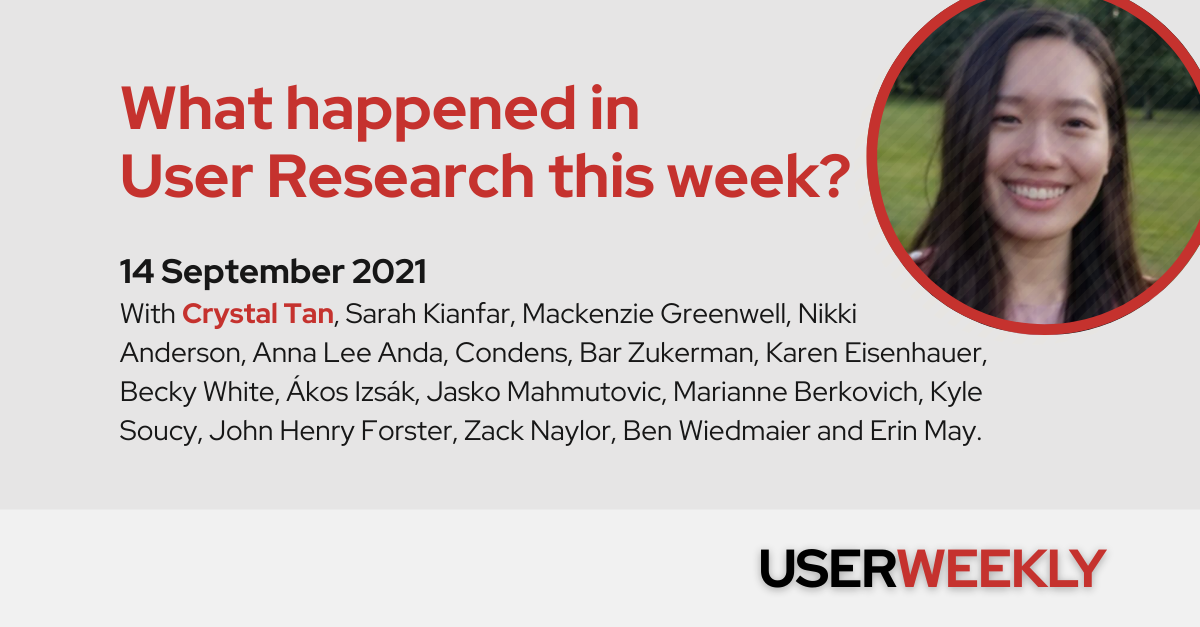 USERWEEKLY is your weekly email to understand what is happening in user research. It's the best way to keep up on trends, methodologies and insights across the industry. It is written by me, Jan Ahrend. Each week I go through content from mainstream media to small blogs to capture the pulse of our community and answer a simple question: What mattered in User Research this week?
Spotlight > Articles > Video > Audio > Events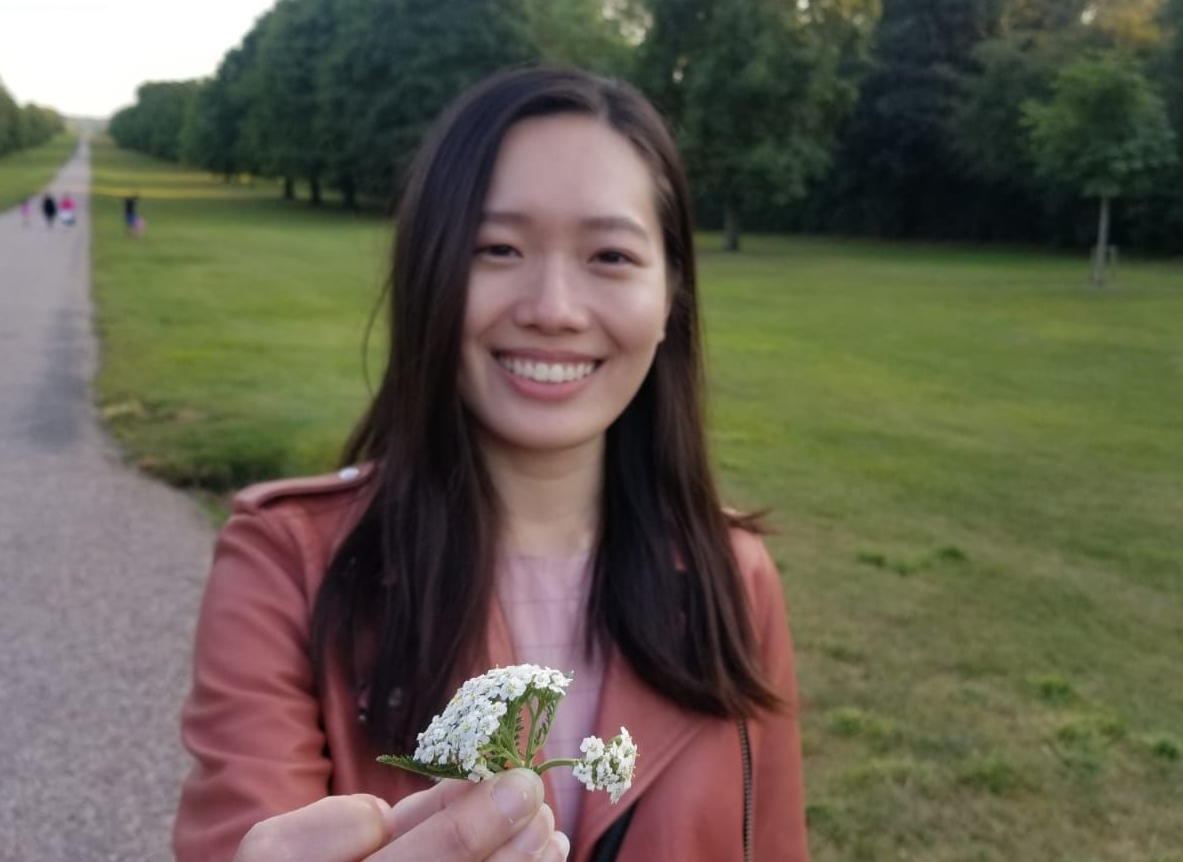 😌 Humans of User Research
Tell us a little about yourself.
I'm Crystal Tan and UX Researcher at Grab. I've been in the craft of understanding humans for as long as I can remember. My first memory is a professor telling me "When you know how anything works, you can deconstruct it" ...and reimagine it, I thought. I went on to specialise in social anthropology (MSc) and tumbled into fintech as a UXR. From doing ethnography in a homeless shelter, to building trust on a personal finance website, the focus has remained the same for me: to make sense of people's lived experiences and under their gaze, transform inanimate objects into meaningful ones. Outside of my role, I continue to tease the boundary between the new and the known through meditation, free painting and possibly hazardous baked goods.
What are some of the things that helped you in your research journey?
Start writing a book, a manual, a guide, right now. It's not for others to see or to publish, but for yourself. I've gathered every tip and shower thought I've ever had since the start of my journey. What started as a one-pager of scattered thoughts is now an extensive Notion database known as my "Research Base Camp". Inside are philosophies and templates that I've put together over the years. It has allowed me to go beyond imitation - the first phase of learning - to experiment and revise all that I've learnt. The best part about this is it allows me to form my own perspective and stay creatively rigorous, assembling new approaches as needed.
Have you ever had "imposter syndrome"? How did you deal with it?
Oh definitely! For me, that feels like being a child in an oversized pants suit speaking to grim-looking adults that tower over me. But I've learnt to embrace that feeling of unease, because it means I am being courageous and putting myself out there. It takes a certain amount of bravery to be an imposter in the first place! As a mentor recently reminded me, "No one knows everything". It is okay to say I don't know, to feel uncomfortable and to fail, but do it again and better the next time anyway.
How can people learn more about you and your work?
A few of my defining a-ha! moments are made public on Medium, but I am mostly knee-deep in drafts and conversations in the day to day. Simply say Hi on my LinkedIn, all roads lead to creative collaborations even if we can't connect the dots now. I'll be happy to get to know you! :)
Enter your email to receive the latest updates in your inbox.
---
Spotlight > Articles > Video > Audio > Events
🧐 Thought Pieces
My UX Research journey of working across divisions at Microsoft
If you ever worked with cross-functional teams in a large enterprise and found it challenging to coordinate efforts and create consensus, you will find this article interesting. (UXR at Microsoft 9/8)
What to do when research goes wrong
Despite our best efforts, sometimes a project just fails. Here's how to recover if it happens to you. (Facebook Research 9/8)
🙌  Driving Impact
How to build a stronger partnership between User Research and Product
Working closely with product managers, designers, and developers not only enhances the user experience, but sets the foundation for user research growth. (dscout 9/11)
Breaking down 5 barriers to insights activation
Some barriers are more easily overcome, and some barriers we have made no headway with at all. Five barriers that are a consistent obstacle to impactful insights activation and how to overcome them. (FlexMR 9/11)
Building visibility and credibility for your project in a distributed company
Techniques to improve your presence regardless of the timezone. With the pandemic, more people are working remotely. Since we all are remote, it became an equaliser. Everyone is now on even footing and dialling in from outside the physical office. (askwhy 9/11)
Creating an engaging User Research presentation
There is already a lot of great material about how to give good presentations in general, choosing a story outline and effective body language - no need to replicate that. That's why this article focuses specifically on presenting findings from user research. (Condens 9/9)
🎯 Approaches & Methods
Writer in Tech? Here's why you should run A/B tests
A seasoned writer in tech isn't just an excellent writer. They understand user experience. They know how to conduct A/B tests and competitor research. (UX Collective 9/12)
9 tips to improve your research note-taking skills
Record your sessions. Note down timestamps during the session. Capture your observations. Make a note of everything. Stay true to the facts. Be consistent with your format. Carefully paraphrase. Highlight missed parts. Recap after the session. (Optimal Workshop 9/10)
Approaches to Interview Note-Taking that your future self will thank you for
Save time in analysis and dedicate more attention to your participants with these approaches to note-taking. (dscout 9/10)
🔬 UX Research Operations
The stages of growing a UX Research team
Growing a UX Research team can be exciting, but also challenging. It's easy to feel overwhelmed comparing where you are today, with your ambitious dreams for the future. Take it day by day - step by step. (UX Collective 9/7)
Conducting UX Research via Zoom
This article details the set up of Zoom for remote user research and lists practical tips. (Condens 9/10)
What a UX Research Repository can do for you
Centralize existing research data. Gather all feedback in one place. Streamline the research process. Analyze collaboratively. Democratize research access. Build & maintain a participant database. (condens 9/8)
📚 Refreshers
33 UX Researcher Interview Questions Worth Preparing For (uxfol.io 10/9)
7 Considerations for Nominal vs Ordinal Data (+ Interval vs Ratio Data) (SurveyLegend 13/9)
How to Create a Repeatable Process for UX Research (Aurelius 7/9)
What Is ResearchOps and Why Is This Role So Useful (UXPin 9/13)
Enter your email to receive the latest updates in your inbox.
---
Spotlight > Articles > Video > Audio > Events
🎥 Video of the Week
Tutorial: Using the Collaging Method for Sensitive Topics
In this tutorial, Ben (dscout) and Kyle Soucy (Usable Interface) walk through the collaging method: a way to structure part or all of a user research session. It offers agency to participants and is useful for sensitive topics. (YouTube 9/9)

---
Spotlight > Articles > Video > Audio > Events
🔉 Audio of the Week
Debunking UX Research Myths with Zach Schendel of DoorDash
A seasoned researcher who has led teams at Unilever, Netflix, and DoorDash debunks some of the most common UX research myths he's come up against. (Spotify 9/8)

---
Spotlight > Articles > Video > Audio > Events
📅 Upcoming Events
Condens curated a great list of virtual talks, meetups, networking events, and conferences around UX Research for September.
---
That's it for now. What articles did I miss?
Let me know by replying to this email :)
Jan
User Weekly Newsletter
Join the newsletter to receive the latest updates in your inbox.