User Weekly: Tuesday, 17 August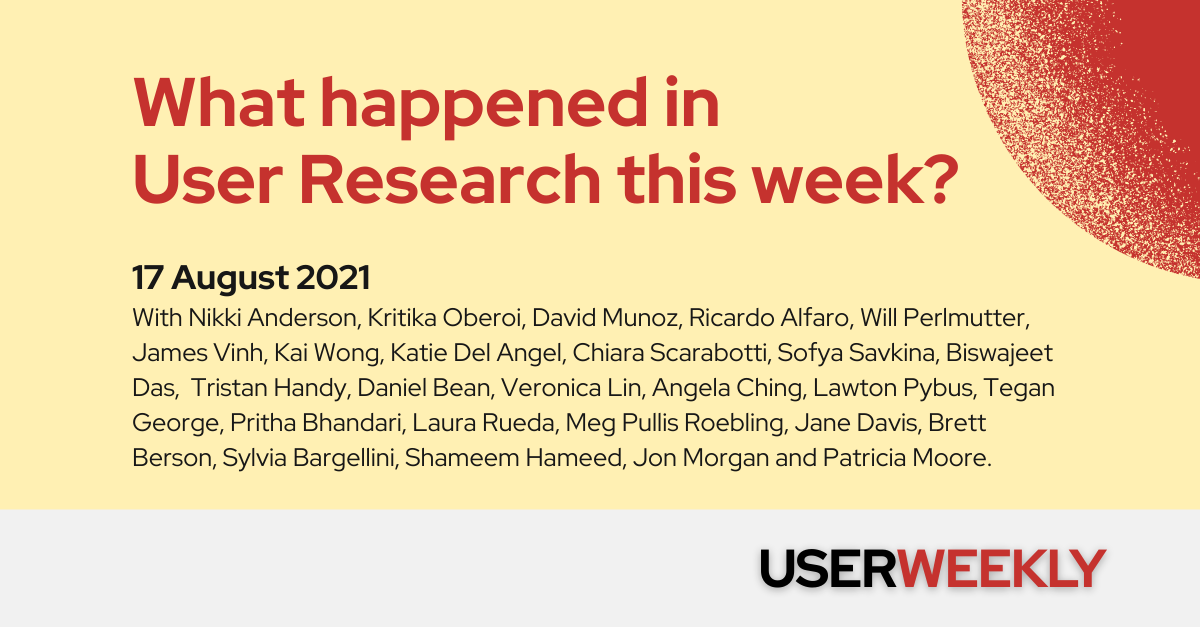 USERWEEKLY is your weekly email to understanding what is happening in user research. It's the best way to keep up on trends, methodologies and insights across the industry. It is written by me, Jan Ahrend. Each week I go through content from mainstream media to small blogs to capture the pulse of our community and answer a simple question: What mattered in User Research this week?
Articles > Video > Audio > Upcoming > Tools
Articles.
7 ways to get regular feedback as a User Researcher (Even as a team of one)
Nikki Anderson shares how giving your team or stakeholders the opportunity to share thoughts on your work can give you a new perspective and help advance your career. 💎 Ask for feedback and share early. Send a stakeholder satisfaction survey. Hold a retrospective. Self-assess. Set up user research reviews. dscout
Many modes of research synthesis
Kritika Oberoi writes about her experience of getting insight on how people synthesize research data. 💎 From chaos to clarity: Are obvious patterns naturally emerging in my data? How does my brain work?. Bootcamp
Silence is golden: How to apply Cognitive Psychology for more effective UX Research interviews and conversations
David Munoz shares insights on the use of Cognitive Psychology for improving interviews, meetings, and communication. 💎 How our brains processes and reacts to sound. Silence in interviews of all kinds. Accounting for delays. Silence when Presenting. AnswerLab
UX Research: User or Business? The chicken or the egg?
Ricardo Alfaro shares a thought provoking discussion on why user research should care (more) about the business side of things. 💎 Almost as a reflex– we empathize with the users first. However, many times we must betray that principle to first understand the environment of the business in which the product or service is being used. Learn of the business first and users after. Take shortcuts: the power of stakeholders. The order of the aspects into user research is only a matter of pragmatism and efficiency. UX Collective
Methods.
Approaches.
Driving Impact.
Opinions.
Refreshers.
Enter your email to receive the latest updates in your inbox.
---
Articles > Video > Audio > Upcoming > Tools
Video of the Week.
Mind the Product hosts a conversation with Laura Rueda, Group Product Manager, Typeform on driving impactful UX research and how to lead Product Managers. Youtube.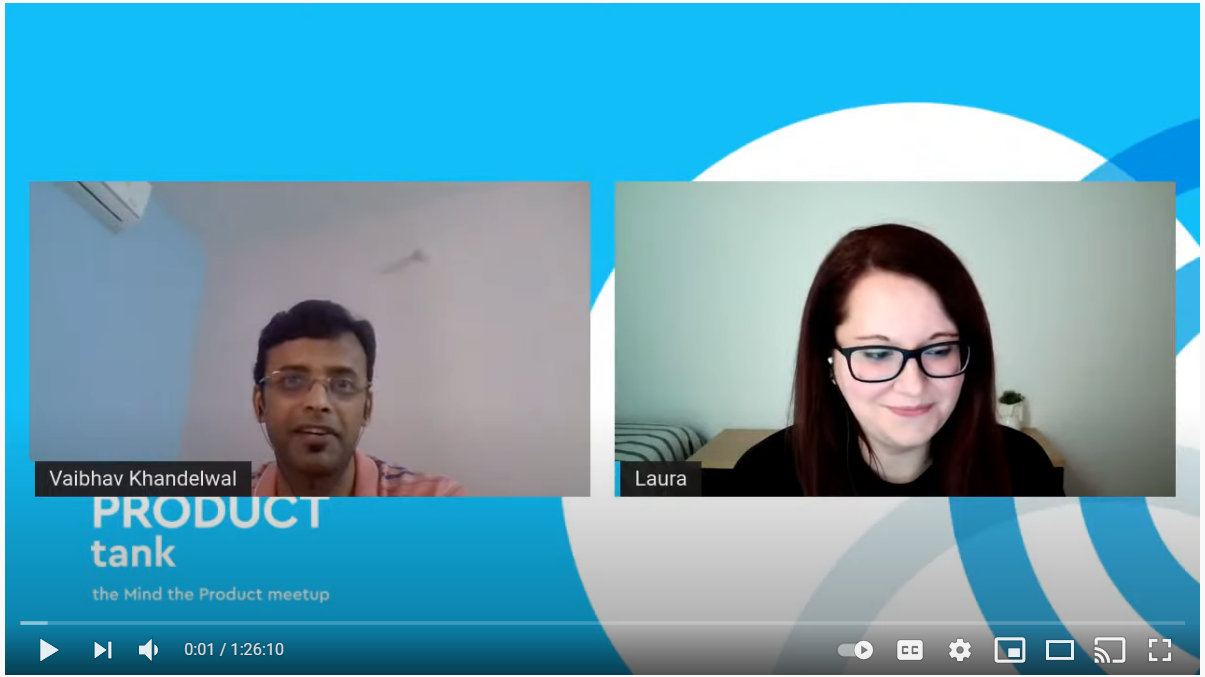 ---
Articles > Video > Audio > Upcoming > Tools
Audio of the Week.
In awkward silences episode 73, hosts Erin H. May and John-Henry Forster spoke with Meg Pullis Roebling about getting stakeholder buy-in for User Research at large organizations. Spotify | Apple Podcasts.

Jane Davis shares the playbooks she's honed leading user research teams at Zoom, Zapier and Dropbox, tackling everything from specific questions to ask in customer interviews, to frameworks for getting feedback as you launch and prototype products in episode 33 of the In Depth podcast with host Brett Berson. Spotify | Apple Podcasts

---
Articles > Video > Audio > Upcoming > Tools
Upcoming Events.
UX Research for Hardware
📅 Tuesday, 24 August 2021. 2:00 - 2:45 PM CEST
🧠 Sylvia Bargellini, Shameem Hameed, Jon Morgan
Join AnswerLab for a panel discussion on UX Research for hardware with UX researchers and product experts from Amazon & Google. AnswerLab.
Universal Design with Patricia Moore
📅 Wednesday, 25 August 2021. 5:00 - 6:00 AM CEST
🧠 Patricia Moore
Organized by Social Design Sydney, the event features Patricia Moore sharing stories of her renown work. Social Design Sydney.
---
Articles > Video > Audio > Upcoming > Tools
This Week in Tooling.
🎈A collection of 8 "Must-have Tools for UX Researchers" to make your life easier.
User Weekly Newsletter
Join the newsletter to receive the latest updates in your inbox.