User Weekly: Tuesday, 21 September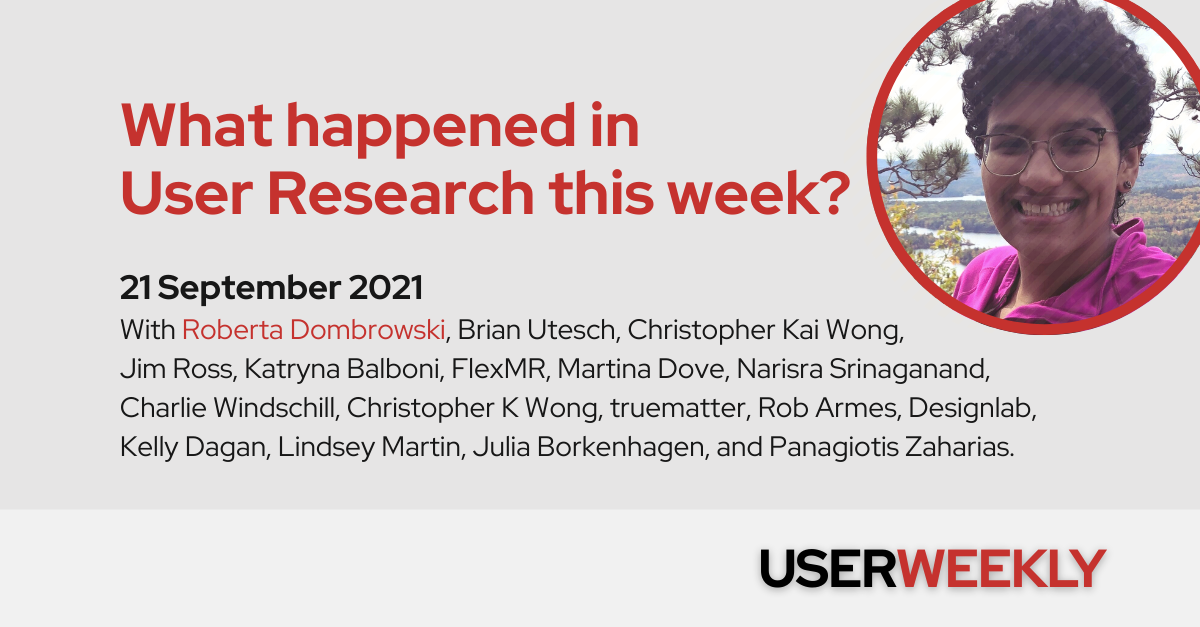 Spotlight > Articles > Video > Audio
USERWEEKLY is your weekly email to understand what is happening in user research. It's the best way to keep up on trends, methodologies and insights across the industry. It is written by me, Jan Ahrend. Each week I go through content from mainstream media to small blogs to capture the pulse of our community and answer a simple question: What mattered in User Research this week?
😌 Humans of User Research
With Roberta Dombrowski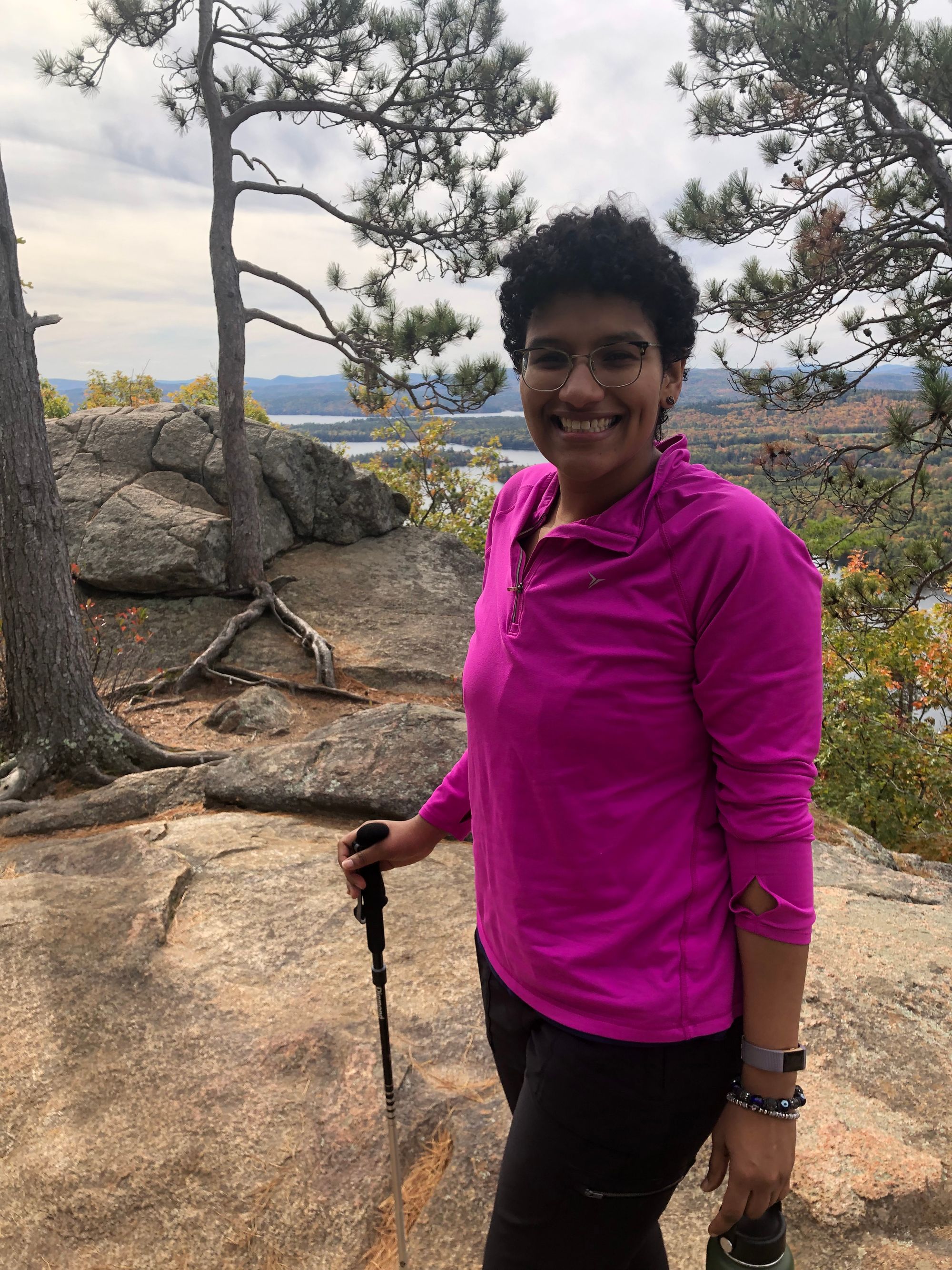 Hi Roberta, tell us a little about yourself.
Hey! I'm a qualitative researcher, and currently work as VP of UXR at User Interviews. Earlier in my career, I worked as a learning experience designer and product manager. I eventually realized that my favorite part of my job was connecting with customers and learning more about their needs, motivations, and behaviors. So I made the decision to specialize as a researcher and transitioned to the field a few years ago. Outside of User Interviews, I spend my free time adjuncting through Boise State's Organizational Performance and Workplace Learning (OPWL) program and as a mindfulness teacher.
From your experience, what is one of the biggest challenges user researchers face today?
As part of my job at User Interviews, I speak to researchers daily about some of their biggest challenges and pain points. By far, the most common thing I hear about is how researchers don't have enough time in their day. And I can relate to this on so many levels. As a research leader there's so much to juggle: helping guide the company vision, prioritizing and leading research, evangelizing insights, training/educating others to lead research, and so much more. Finding enough time for everything can often feel like a puzzle. I find what helps is blocking off my mornings since it's when I do my best work!
What does your perfect evening look like after a day full of user studies?
I feel very fortunate to live within a 15-minute drive to the beach. After a long day of studies, I'll often pack up dinner and some beach chairs and head to the water with my partner. We'll usually eat and walk along the water. It's a really nice way to connect with nature after looking at a computer screen all day.
How can people learn more about you and your work?
I write about research on my personal website and on Twitter. I also offer mindfulness courses and services that you can check out here. Also feel free to ping me on LinkedIn!
Oh, and of course keep an eye on User Interviews. Now that I've settled in here, I'm looking forward to writing for the blog and sharing a bit about my experiences researching researchers.
Thank you, Roberta!
Enter your email to receive the latest updates in your inbox.
---
Spotlight > Articles > Video > Audio
🧐 Thought Pieces
UX Research characteristics: An analysis of 100 open UXR jobs
A data-driven approach to understanding the in-demand characteristics of UX Researcher. (UX Collective 9/18)
🔬 Approaches & Methods
Wrangling difficult usability testing participants, Part 2
Moving towards a more usable world: how to wrangle difficult participants effectively and get the most out of their usability-testing sessions. (UXmatters 9/20)
The user research technique that can help you in a time crunch
How to avoid bad design decisions due to time pressure (Data & Design 9/15)
💯 Quant
Don't scramble for UX metrics
Even though most teams understand they need to prove the value of their work, they miss the window of opportunity to define and gather the right success metrics from the start. (UX Collective 9/17)
Avoiding testing bias with a small pool of users
If you were offered the chance to have access to 100% of your users I guess most designers would snap your hand off, user recruitment for testing is never easy so it's a no brainer right? (UX Collective 9/16)
Metrics that matter: Product analytics for the up-and-coming health tech sector
Without the right level of insight, health tech companies may be overcome by the challenges of growing a niche solution—namely, retaining an engaged user base for a delicate use case. How can product analytics help the health tech category? (The Signal 9/18)
🎯 UX Research Operations
The power of in-house research teams, and how to enhance it
In-house research teams are capable of powering success within their organisation, but that doesn't mean agency help can't boost the research experience and enhance in-house impact. (FlexMR 9/20)
31 creative UX Research presentations and reports – templates and examples
Learn how to effectively communicate your user research findings, and get inspired with this list of free templates and examples. (User Interviews 9/16)
🙏 Personal Growth
What I wish I knew, when transitioning from academic research to UX research
Things that helped the author break from academia into UX research and do well. (Bootcamp 9/18)
Why do teachers make great UX researchers?
After reading a few great articles about the value of educators in UX, and connecting with some fellow teachers-turned-UX-researchers, the author felt inspired to write about the teaching skills that have really helped them in their new career. (Bootcamp 9/15)
📚 Case Studies
Why are stakeholder interviews so important in UX Research?
Every service or product development project must start with stakeholder interviews. Framing the problem correctly and showing empathy will help you understand your stakeholders better and is a great way to nurture trust in the beginning. (UX Planet 9/20)
Redesigning my UX research practice: an equity-based lens
When we don't acknowledge how identities and power operate in society, our research and design will reproduce the oppressive structures, assumptions, and practices already in place. (UX Collective 9/17)
Enter your email to receive the latest updates in your inbox.
---
Spotlight > Articles > Video > Audio
🎥 Video of the Week
Quicker UX Research Synthesis
UX Chats talks with Lindsey Martin about how to make the UX research synthesis process more efficient. Lindsey is a UX Director at Lucid and former UX Research Lead. (YouTube 9/15)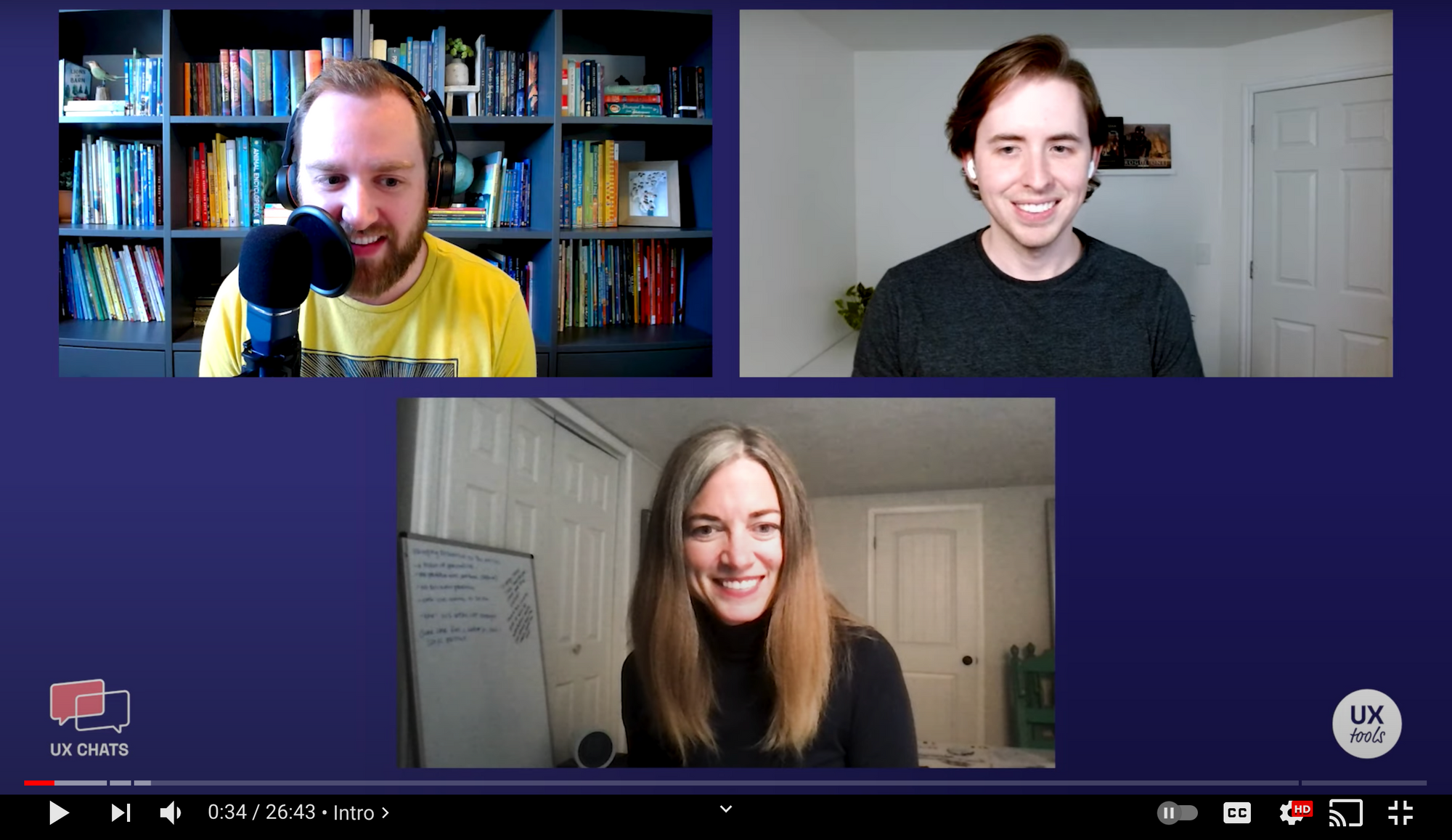 ---
Spotlight > Articles > Video > Audio
🔉 Audio of the Week
UX Research with Julia Borkenhagen and Dr. Panagiotis Zaharias. (Spotify 9/19)

User Weekly Newsletter
Join the newsletter to receive the latest updates in your inbox.