User Weekly: Tuesday, 24 August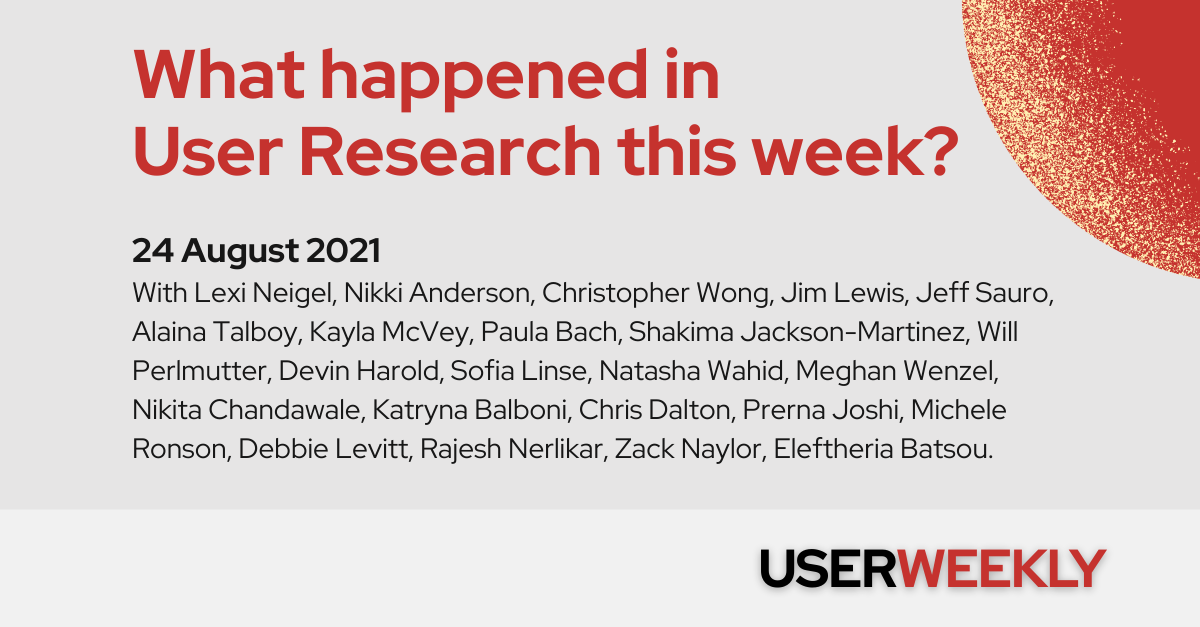 USERWEEKLY is your weekly email to understand what is happening in user research. It's the best way to keep up on trends, methodologies and insights across the industry. It is written by me, Jan Ahrend. Each week I go through content from mainstream media to small blogs to capture the pulse of our community and answer a simple question: What mattered in User Research this week?
Articles > Video > Audio > Tools
Methods
A framework for conducting a quality research synthesis. 1) Understand your motivations and goals for conducting a research synthesis. 2) Start generating research questions to guide the synthesis. 3) Begin your literature search. 4) Manage and distill your user insights. 5) Share and communicate your user insights. 6) Maintaining your research synthesis. (UXR at Microsoft 8/16)
Common Mistakes to Avoid During Qualitative Interviews. Even the most experienced interviewers fall victim to interrupting a participant or asking a leading question. Taking note of when these occur and actively working to avoid them can put participants at ease and encourage unbiased insights. (dscout 8/19)
The 3 types of notetakers and how to moderate debriefs with them effectively. (UX Collective 8/20)
How to statistically analyze Net Promoter Scores. (Measuring U 8/17)
Approaches
Good researchers are well versed in both business and user success metrics. But impact for researchers means they are also well versed in the very same metrics that customers use to measure their success. Success for researchers aligns closely with customer success. (UXR at Microsoft 8/16)
How to get buy-in for inclusive User Experience Research: 4 steps to create your business case: 1) Acknowledge the default. 2) Outline the benefits. 3) Present the options. 4) Create an implementation plan. (AnswerLab 8/18)
Remote games user research with PlayStation's Joe Florey (Games User Research 8/24)
User feedback analysis guide: What, Why, How to analyse, get insights and visualize. (Usersnap 8/19)
Research Operations
Through a simple step-by-step approach, you can build an ethical User Research practice within your organization that will ensure you're respecting the dignity and welfare of your research participants. Discussion of ethics and ethical principles as the ruling standards to guide our user research. (Smashing Magazine 8/19)
4 Ways to expand the impact of UX research across an organization: 1) Reflecting on which team will benefit most from the insights. 2) Delivering them in digestible formats. 3) Actively involving customer-facing departments. 4) Organizing customer feedback. (UX Magazine 8/18)
How to protect customer data while running smarter A/B tests and audit your testing tech stack for data privacy compliance. (Mixpanel 8/19)
Integrate continuous feedback to empower product teams by building a 'data lake'. (UX Collective 8/18)
Personal Growth
Researcher's Imposter Syndrome. Have you ever felt like you faked it to your current job? Do you get gripped with fear each time you start new research? Do you think that you do not deserve the compliments and praise you receive for your research? (UXR at Microsoft 8/23)
8 assumptions about users that ruin your User Research: I Already Know What Users Want. I Need to Talk to Users to Prove MY Point. I Am the User. I Know What the Product Should Be. We Already Talked with Our Users. Our Users Are Everyone and Anyone. Our Users Are Smart. This Site or App Doesn't Need to be Super Easy to Use. Training and Help Will Solve Any Lingering UX Issues. (UX Collective 8/19)
Case Studies
How the team at Dovetail turned a mountain of qualitative data from 45 user interviews into a clear and actionable product roadmap. (User Interviews 8/19)
How the Golden State Warriors built a fan experience using feedback every step of the way. (SurveyMonkey 8/24)
Prerna Joshi shares her 10 step UX Research process. (Medium 8/23)
Enter your email to receive the latest updates in your inbox.
---
Articles > Video > Audio > Tools
Video of the Week
Moderated vs unmoderated UX Research. Answering viewer questions and giving advice on planning, recruiting, and executing moderated and unmoderated UX research. (YouTube 8/23)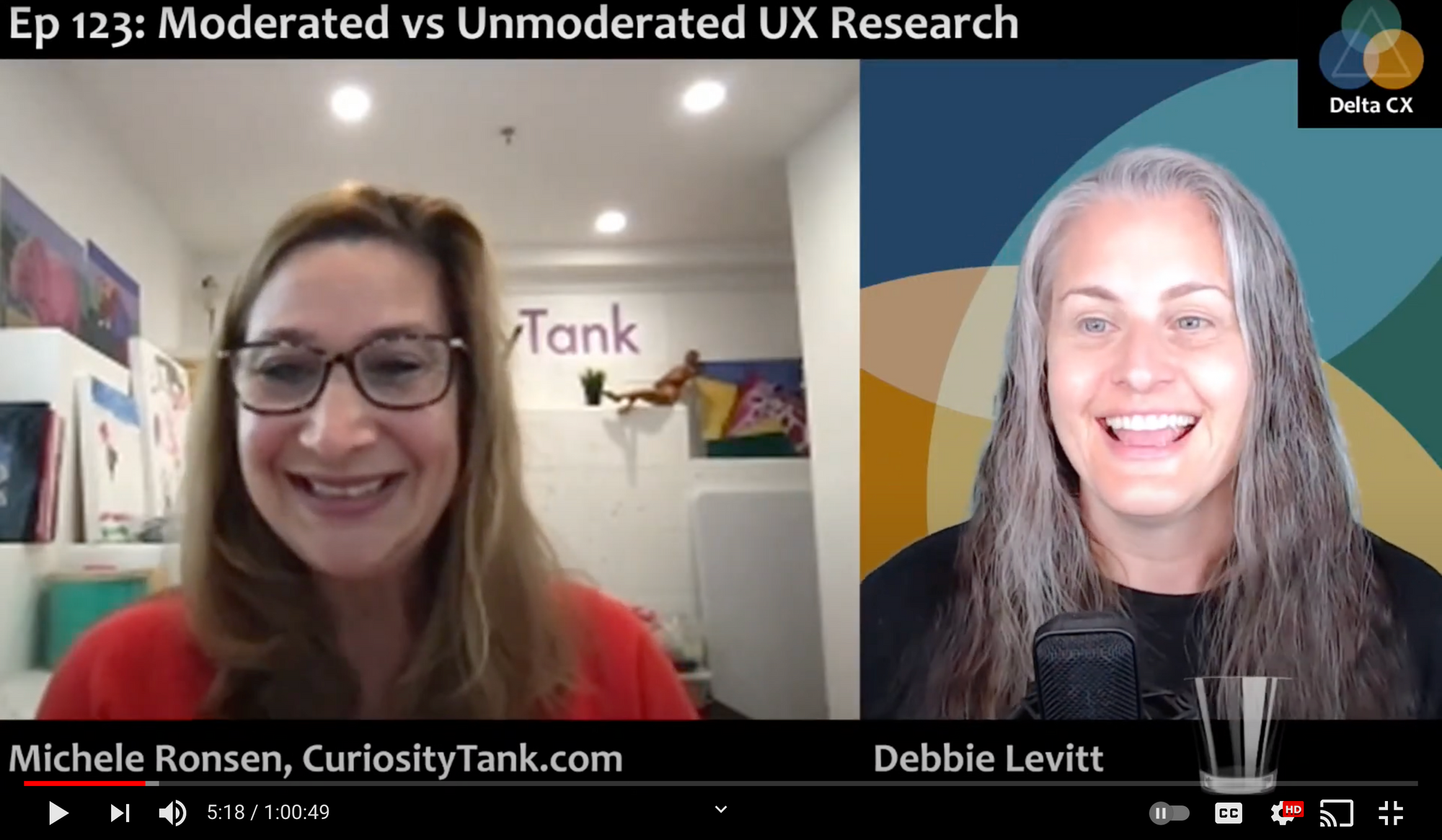 ---
Articles > Video > Audio > Tools
Audio of the Week
In this episode, Rajesh joins Erin and JH to chat about why great product visions are like comic strips, the hard work of actually putting those visions into action, and how to get stakeholders on board with it all. (Spotify 8/24)

---
Articles > Video > Audio > Tools
Tooling
Collection of 30 of the best UX Research tools for remote teams. (Aurelius 8/19)
Collection of 66 research tools for remote testing, research notetaking, research repositories, screen recording, surveys and usabilities. (Medium 8/24)
User Weekly Newsletter
Join the newsletter to receive the latest updates in your inbox.