User Weekly: Tue, 5 October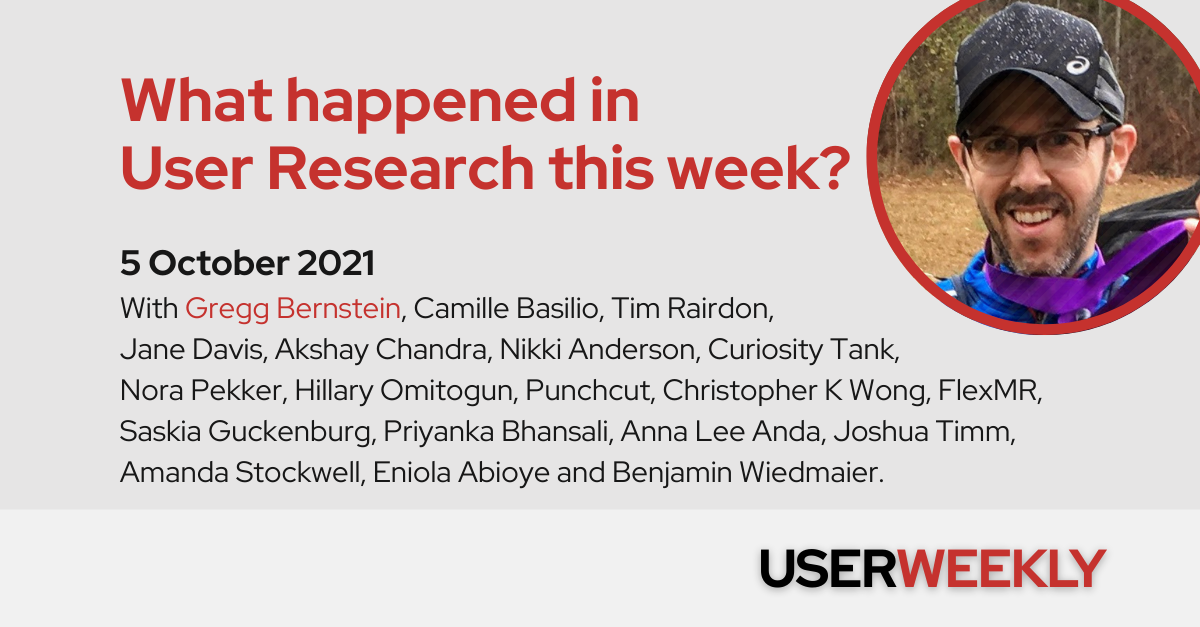 USERWEEKLY is your weekly email to understand what is happening in user research. It's the best way to keep up on trends, methodologies and insights across the industry. It is written by me, Jan Ahrend. Each week I go through content from mainstream media to small blogs to capture the pulse of our community and answer a simple question: What mattered in User Research this week?
😌 Humans of User Research w/ Gregg Bernstein
Spotlight > Articles > Video > Audio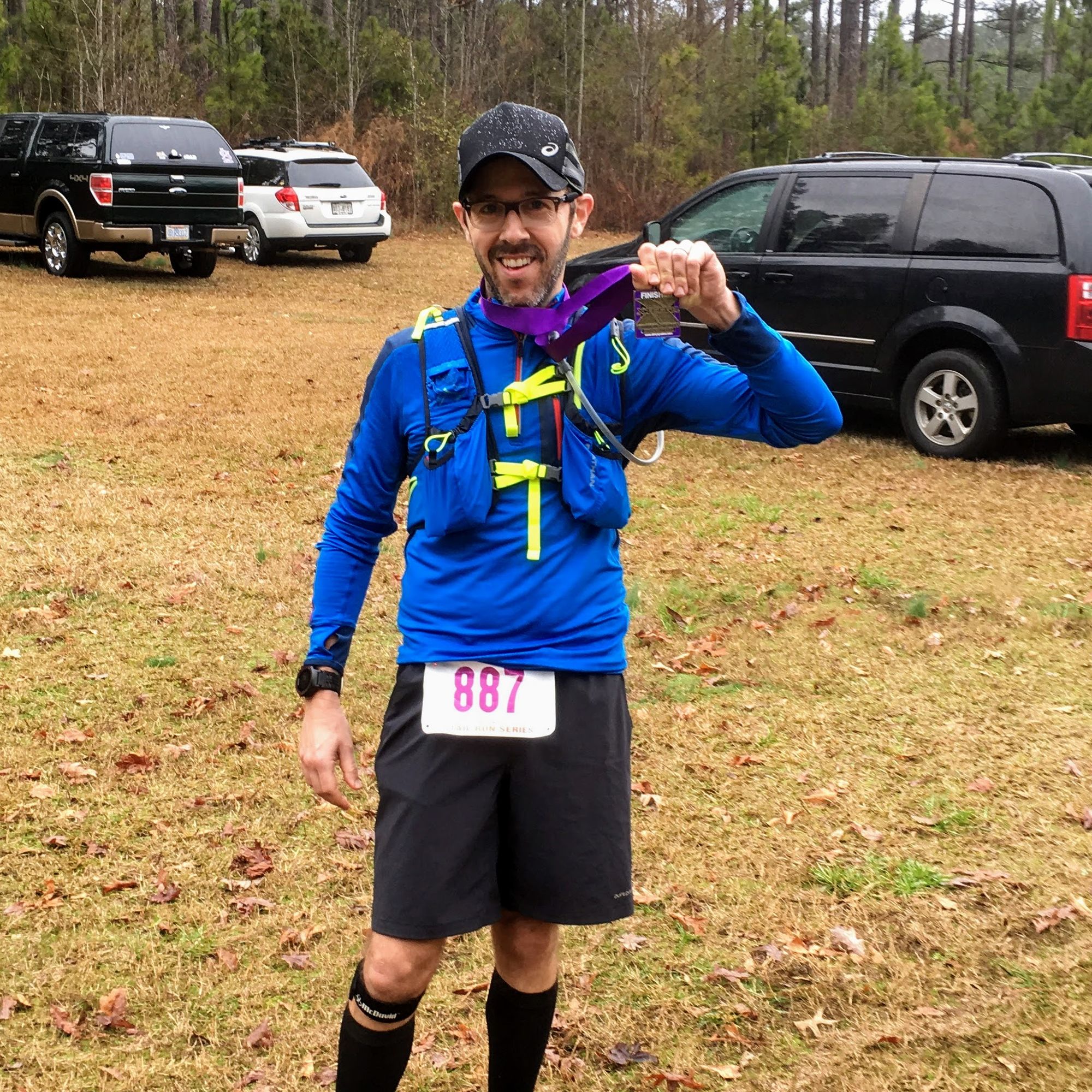 Tell us a little about yourself.
Hello! I'm Gregg Bernstein. I wrote the book Research Practice because I love user research (and user researchers!). I am now lead user researcher for Condé Nast. My path to ux research was nonlinear and unexpected, as I went from graphic designer to university design professor to graduate student to design researcher. I wouldn't have it any other way. I live in Athens, Georgia—a vibrant university town—in the United States with my wife, kids, dogs, and chickens. Most mornings you can find me running through the woods.
From your experience, what is one of the biggest challenges user research(ers) face today?
One of the biggest challenges user researchers face today is also our biggest opportunity: what do we do that no one else can do? A designer can run a usability test. A PM can interview users. Anyone can ship a survey. These are user research tasks that other roles perform in addition to their responsibilities—tasks that are being tightly scoped to squeeze into limited blocks of time or skipped altogether. As dedicated user researchers, it's on us to seek a higher vantage point to connect the organizational dots. That's our superpower—and our challenge.
If you could have any budget and time to do research, what would you do differently?
If I could have any budget and time, I would familiarize myself with the upcoming product roadmap. Then I would spend one quarter going deep into defining who our customers are (in general and for each product group), why they choose us over or in addition to our competitors, and what opportunities we have to serve them while attracting new customers. This very boring and straightforward approach is rare for most organizations, and I would love nothing more than ample time and space to know as much as possible about users.
How can people learn more about you and your work?
Folks can learn more about me and my work at my website (Gregg.io), on Twitter (@greggcorp), or through my book, Research Practice (researchpractice.co). I'm also happy to connect with anyone curious about UX research on LinkedIn.
Thank you, Gregg!
---
Spotlight > Articles > Video > Audio
Articles.
🧐 Thought Pieces.
A conversation on making the switch from Psychology to UX Research
Interviews of researchers with social psychology backgrounds who switched to UX Research. (Medium 9/27)
The opportunity and evolution of digital User Research
CXR Lead Tim Rairdon highlights the unique insight opportunities of mediated research and walks through his preferred jobs-to-be-done template. (dscout 10/4)
🎯 Driving Impact.
Any research can be strategic research
Not every evaluative project needs to be strategic, but as researchers, we're long past the point where a simplistic dichotomy helps us advance our practice or educate people outside of our field. Strategy is about finding the opportunity to advance our organizations towards a shared goal, not about a prescribed set of methods or a specific research phase. (Jane Davis 10/3)
7 ways to make your UX research more effective
Tips from working across multiple businesses that could make your UX Research more effective and revealing. (Bootcamp 10/1)
🥽 Approaches.
Usability vs preference—what's more important?
Users will often tell you they prefer one design over another. But is that really what we should be asking?. (dovetail 10/5)
Don't leave meaningful data on the table!
Ways you can leverage customer support teams and tickets to triangulate your business intelligence and inform your UX research. (CuriosityTank 10/2)
How to build a compelling UX Research roadmap
Research roadmaps can be one of the most valuable assets for a UX researcher. They help you gain alignment and communicate your priorities, plan your studies with ease, and maintain sight of the big picture. (Medium 9/29)
🔬 Methods.
Why you need keyword research to understand your users
Keyword research allows you to understand search intent. It tells you how users think. Knowing what users are searching for around your product, company, and industry is a powerful way to be an empathetic researcher. (Hillary Omitogun 10/2)
Connecting with people through remote contextual research
Although the pandemic has prevented us from having the intimate user encounters we're accustomed to, we've developed an effective way to replicate contextual inquiry without being physically with participants. (Medium 30/9)
Finding the right scenarios for internal testing
Even though internal testing is no replacement for speaking with users, it can be a free, easy gut check in the right situations. (dscout 10/4)
💯 Quant Research.
From chaos to clarity: how to prioritize Your qualitative insights
If the post-research, "What do we do next?" question frequently trips you up, it might be time to do some mixed-methods research. (dscout 10/1)
How to avoid being intimidated by quantitative UX metrics
How to filter out quantitative metrics that don't matter. (Data & Design 9/29)
🛠 UX Research Operations.
How to build an active an engaged online insights community
Building an insights community is one of the bigger jobs assigned to an insight team. In the beginning it can seem a monumental task, but insight communities do have the capacity to give back value equal to or above the effort originally put in at the start, if the community is properly engaged. (FlexMR 10/1)
User Research at SAP — The Resource Library
A structured overview of methodological pieces, expert insights, and success stories collected by SAP. (Medium 8/31)
🙏 Personal Growth.
Moving from agency research to in-house UX
Two Pinterest researchers share what they've learned along the way. (Medium 9/28)
What I wish I knew starting out as a UX Researcher
Things they don't teach you in school. (askwhy 10/3)
UX research job interviews: the big questions
Tips for UX Research interviews after looking through videos and articles on the topic. (Bootcamp 10/1)
---
Enter your email to receive the latest updates in your inbox.
Spotlight > Articles > Video > Audio
🎥 Video of the Week.
Amanda Stockwell shares her experience conducting UX Research in agile teams. (YouTube 9/29)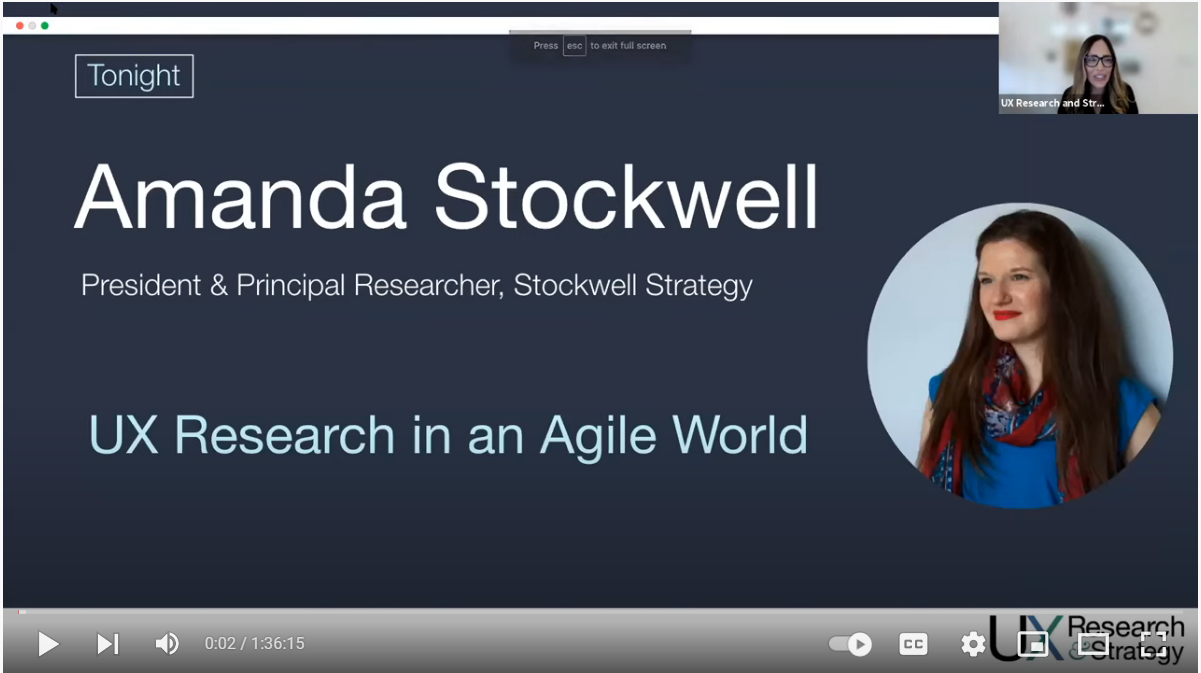 ---
Spotlight > Articles > Video > Audio
🔉 Audio of the Week.
Honest and actionable advice from a seasoned researcher on how to start doing UX research, build a portfolio, and make the career switch. (Spotify 9/29)

User Weekly Newsletter
Join the newsletter to receive the latest updates in your inbox.