🗞 Using Academic Articles in UX Research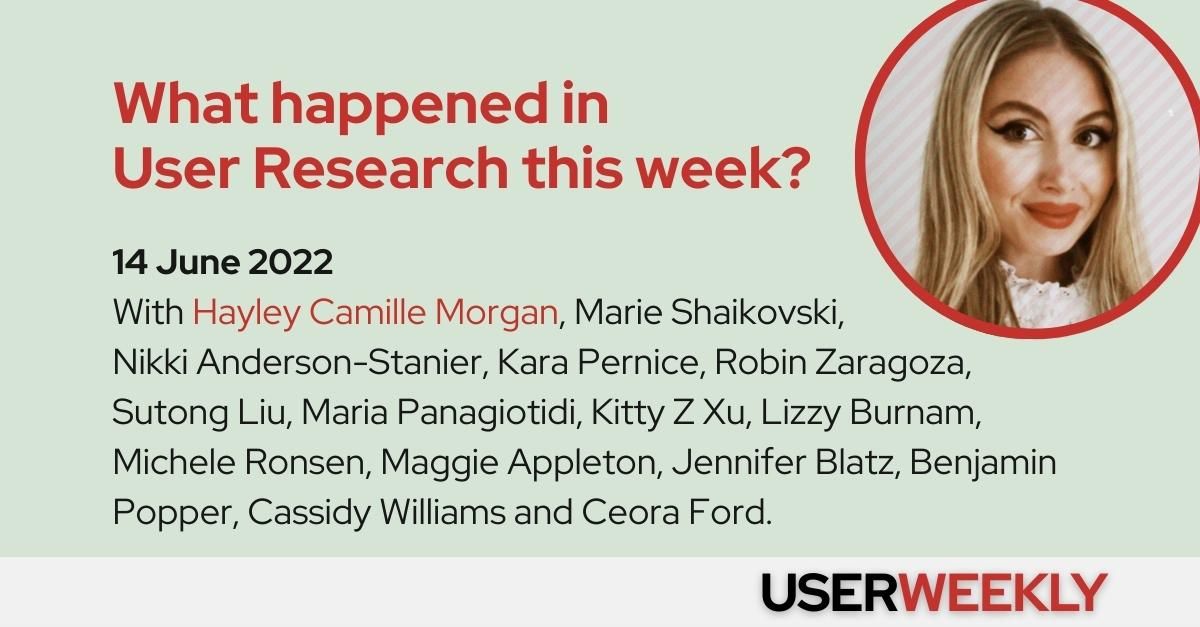 Hi there! 👋 Thanks for stopping by. USERWEEKLY is your weekly email to understand what is happening in User Research. It's the best way to keep up on trends, methodologies and insights in UX Research. It is written by me, Jan Ahrend. Each week I capture the pulse of our community and answer a simple question: What mattered in User Research this week?
😌 Humans of User Research with Hayley Camille Morgan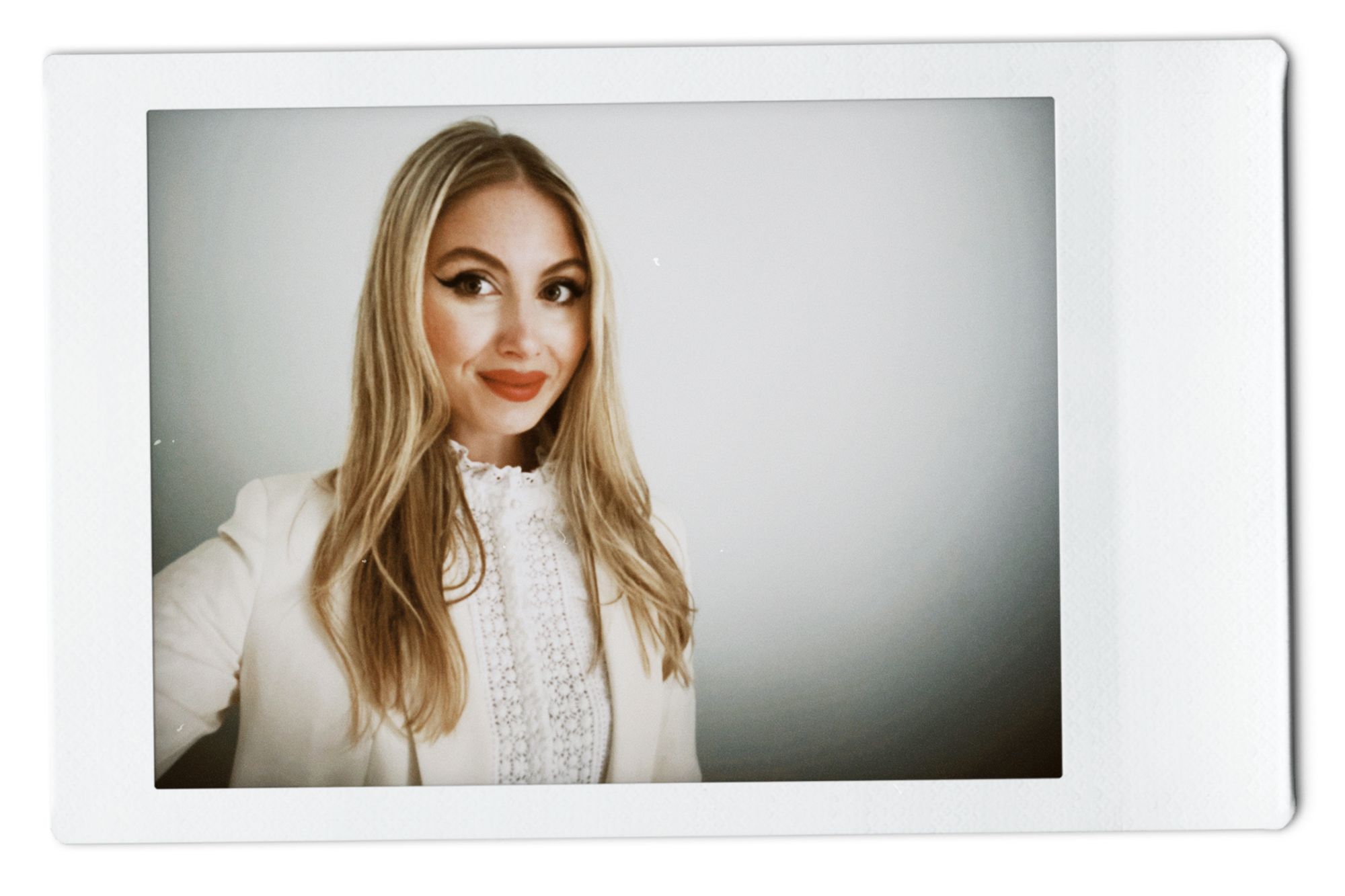 Hi Hayley, Tell us a little about yourself.
Hey Reader 👋 - I am Hayley Camille Morgan, and I am a Research Leader and Behavioral Scientist. I would describe myself as undeniably passionate about evangelizing research, shaping strategy, and making meaningful decisions with long lasting business impact. Today, I proudly lead the incredibly strong Research Team nested within RAD (Research, Analytics and Data Science) at Intercom.
What's one thing you wish you realized earlier in your research career?
Businesses spend the majority of their time effectively asking "What?", with the "Why" left as an assumption, resulting in an immense amount of misdirected effort. One thing I wish I realized earlier is the importance to stand true to your opinion and be a consistently opinionated researcher who speaks up early and often (your opinion matters).  
If you could only use one method for the rest of your career, what would it be?
IDI's (In-depth Interviews) would be my go to! There is nothing more rewarding than connecting with another individual on a human level to understand a particular idea, question, or problem space.  
How can people learn more about you and your work?
Check out the Team RAD Medium Blog, Intercom blog to read some of my posts on topics such as how to bring numbers to life through user research, and how to transform the way you share your work. Keep in touch via LinkedIn and check out our open roles at Intercom here!
Thank you, Haley!
---
Spotlight > Articles > Video > Audio
🎉 Highlights.
How to use academic articles in your daily UX research practice?
We can use academic research to find answers and guidance on our research challenges, discover new theories, or gain inspiration from research questions explored by other researchers. Bridging the gap between academia and UX can be achieved in a number of ways. Whether you prefer to attend research conferences, watch online lectures or regularly read academic articles, your UX research practice will be enriched and built on a solid academic foundation. Marie Shaikovski 06/08
When should you use design sprints for user research?
Design sprints help teams complete insightful research in a small amount of time. Just make sure you're doing it for the right reasons. Nikki Anderson-Stanier
Democratize user research in 5 steps
Democratization of user research makes it possible for anyone to study users. Assessment, training, coaching, and helpful resources set people and teams up to succeed. Kara Pernice 06/12
🛠 Methods.
How to choose the right research methods for your discovery process
Product coach Robin Zaragoza on choosing the best research methods for discovery. Robin Zaragoza
Mixed methods research for more effective feature prioritization
How IBM combined in-depth user interviews with the Kano model survey to decide what is next to build or not to build. Sutong Liu 06/13
🎯 Approaches.
Triangulation in UX research
What is it and how can you use it to improve the quality of your user insights?. Maria Panagiotidi 06/14
What is quantitative user experience research at Pinterest?
Kitty Z Xu, Staff Quant UX Researcher and second quant UXR at Pinterest, share their one pager to explain what quant UX Research is. Kitty Z Xu 06/14
✨ Misc.
What UX researchers are reading right now: 55 book recommendations
Learn and grow with UXR-recommended books spanning research and design, diversity, business, psychology, self-help, and fiction. Lizzy Burnam 06/10
Subscribe to stay up to date on User Research news and trends.
---
Spotlight > Articles > Video > Audio
🎥 Videos of the Week.
Alternative analysis: analyzing data to make UX and product decisions
Analysis and synthesis are key to reducing piles of data into powerful insights and motivating the consumers of our research to act on what we learn. Our end goal is to impact the bottom line. But how do we analyze the data to help make actual, informed product decisions? UXR is often brought in or consulted on this topic yet many don't know how to help!. YouTube 06/11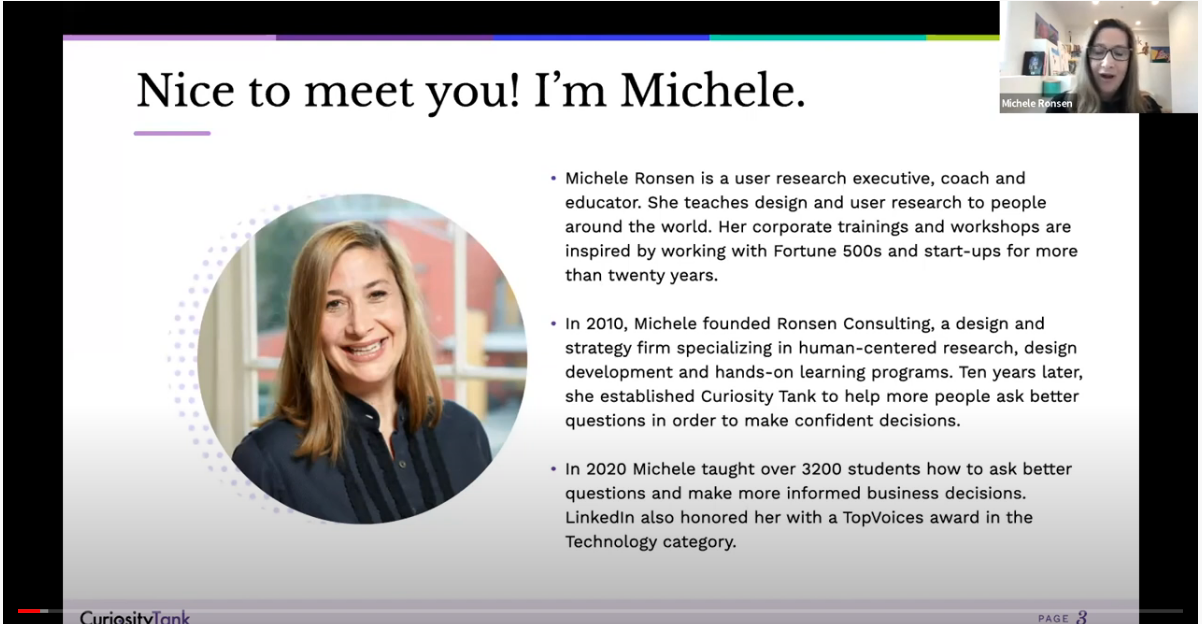 ---
Spotlight > Articles > Video > Audio
🔉 Audio of the Week.
Want to be great at UX research? Take a cue from cultural anthropology
Maggie talks about her background in digital anthropology, how she got into technology and what UX Research can learn from anthropology. Spotify Apple 06/10

Happy Researching,
🗞 Jan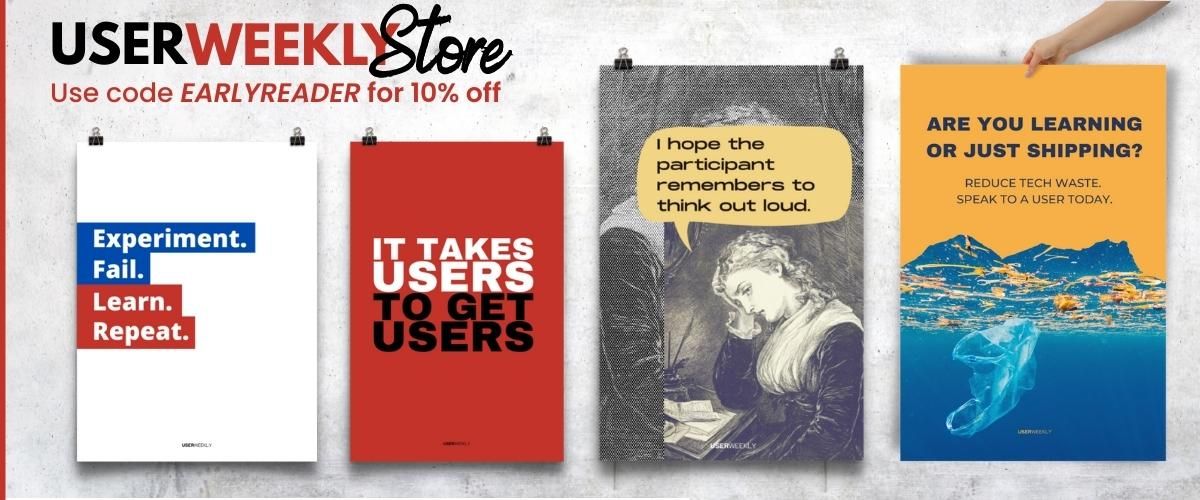 User Weekly Newsletter
Join the newsletter to receive the latest updates in your inbox.