🗞 Agile for Maximum UX Research Impact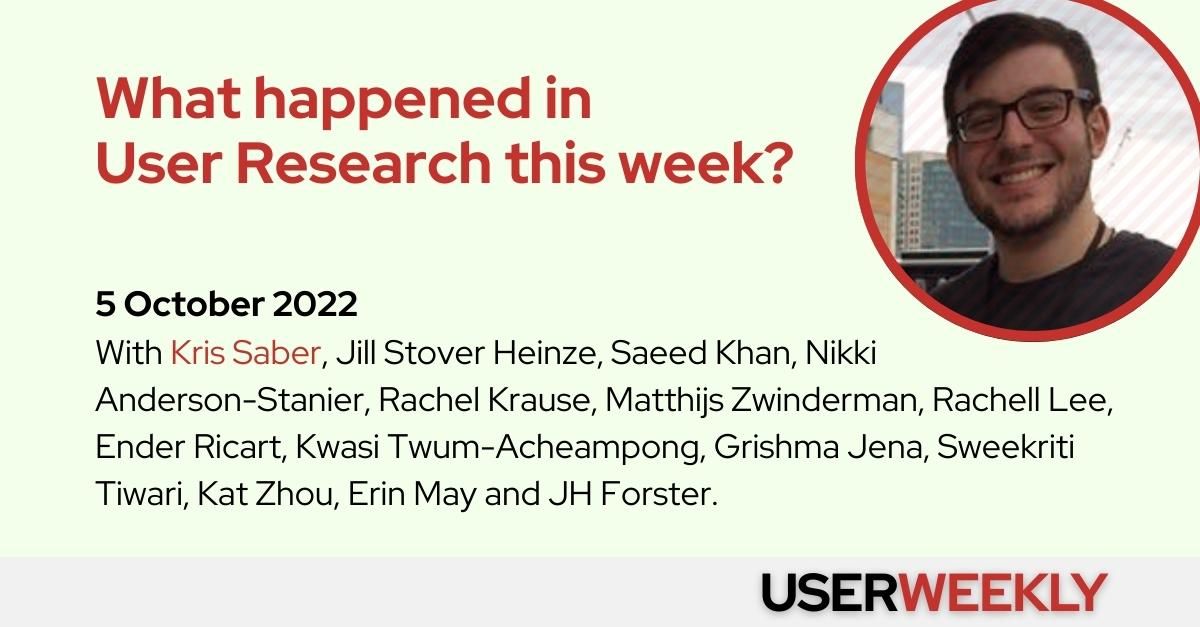 Hi there! 👋 Thanks for stopping by. USERWEEKLY is your weekly email to understand what is happening in User Research. It's the best way to keep up on trends, methodologies and insights in UX Research. It is written by me, Jan Ahrend. Each week I capture the pulse of our community and answer a simple question: What mattered in User Research this week?
😌 Humans of User Research with Kris Saber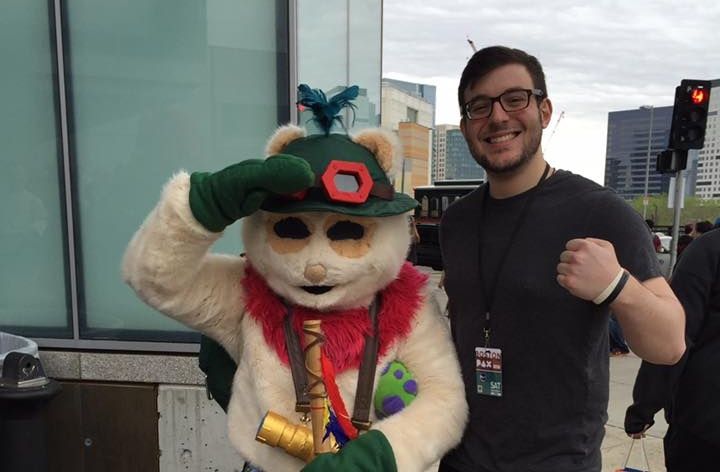 Hey Kris, tell us a little about yourself.
Hi everyone I'm Kris Saber. I'm from NY and like skiing, playing video games and of course, writing about UX. I've always been interested in working with and understanding people, so UX research just seemed like a natural path for me!.
From your experience, what is one of the biggest challenges user research(ers) face today?
Getting the first opportunity to become a full time UX Researcher is always really difficult. There are internships and other opportunities, but it really is hard to convince a new team to hire a junior or assistant level position. Especially for product design teams looking for their first UX researcher, they don't want someone new to the field, because they themselves may not know everything about research. Since hiring a dedicated UX researcher is just starting to become a trend outside of big tech, they often want a senior level employee to create processes and programs.
If you had an unlimited budget and time for research, what would you do with it?
I would run studies on sleep chronotypes. I think there's a lot of unknowns when it comes to sleep cycles, dreaming, and most importantly to me, night vs morning people. A lot of people's sleep schedules are flexible, but others have a fixed sleep pattern that works best for them. Morning people have always had an edge in the world (I am not a morning person). I would be super interested in diving deeper and understanding exactly what the implications are for different chronotypes, and with that maybe spend billions of dollars getting the sleep science down!.
What can people reach out to you about and how can they find you?
If you read my content and have something specific you want to talk about, or are a fan of my writing in general, I would love to talk with you on LinkedIn. You can of course follow me on Medium, and would be honored and grateful to have your viewership :). However, I probably won't connect with people that I don't know from either real life work or a fan of my writing.
Thank you, Kris!
---
Spotlight > Articles > Video > Audio
🎉 Highlights.
Make Agile work for UX research impact
Many teams have adopted Agile and related frameworks because they help them to do just that. As UX researchers, it's wise to leverage these ways of thinking to be better coordinated with our organization's rhythms and practices and, in turn, be powerful user advocates. Jill Stover Heinze 09/29
Make "Evidence-based" decisions, not "Data-based" decisions
The shift in language leads to a shift in context, thinking and action, all for the better. Saeed Khan 09/29
Weave storytelling into your UX presentations
Storytelling is a persuasive tool. Leveraging it in the right way can compel your team to take meaningful action. Nikki Anderson-Stanier 09/29
✨ User Interviews: research recruitment reimagined (Sponsored)
Research Hub, User Interview's enterprise panel software, has had a major upgrade. See why teams at Atlassian, IBM, and Nationwide are calling it "a massive improvement," "integrated with the needs of the seasoned researcher," and "my top pick for user research."
Try for free
⚙️ Research Ops.
Successful onboarding for new hires in UX roles
A well-documented, collaborative internal onboarding process enables new UX professionals to immediately recognize their impact within the organization and improves employee retention. Rachel Krause 10/02
Make your research reusable: introducing the information library for UX Research
Of course, it's great that you already store the results of your research in a place where others can find them. A folder of reports, a wiki, or maybe even a dedicated research repository. Sharing your findings in such a way will help in making your conclusions more accessible. But does it help you as a researcher?. Matthijs 09/27
🛠 Methods.
Surveys for user research: best practices for better insights
Steal a page from our playbook: Sourced from the UI Research Guide, here's a list of survey writing tips, QA checklist items, and more!. Rachell Lee 09/30
A new approach to focus groups
Proposing a new approach to use focus groups for assessing social influence, power dynamics, hive mentality, and in-group/out-group formation. Ender Ricart 09/28
📈 Career Development.
Zen and the art of designing career conversations
In both theory and practice, the art of designing career conversations lies in the balance of guiding designers (and researchers) towards intentional decisions, while maintaining the space to marry evolving growth goals with real world opportunities. Kwasi Twum-Acheampong 10/03
Subscribe to stay up to date on User Research news and trends.
---
Spotlight > Articles > Video > Audio
🎥 Video of the Week.
Data science and user research: an underrated combination
With Grishma Jena from IBM. YouTube 09/30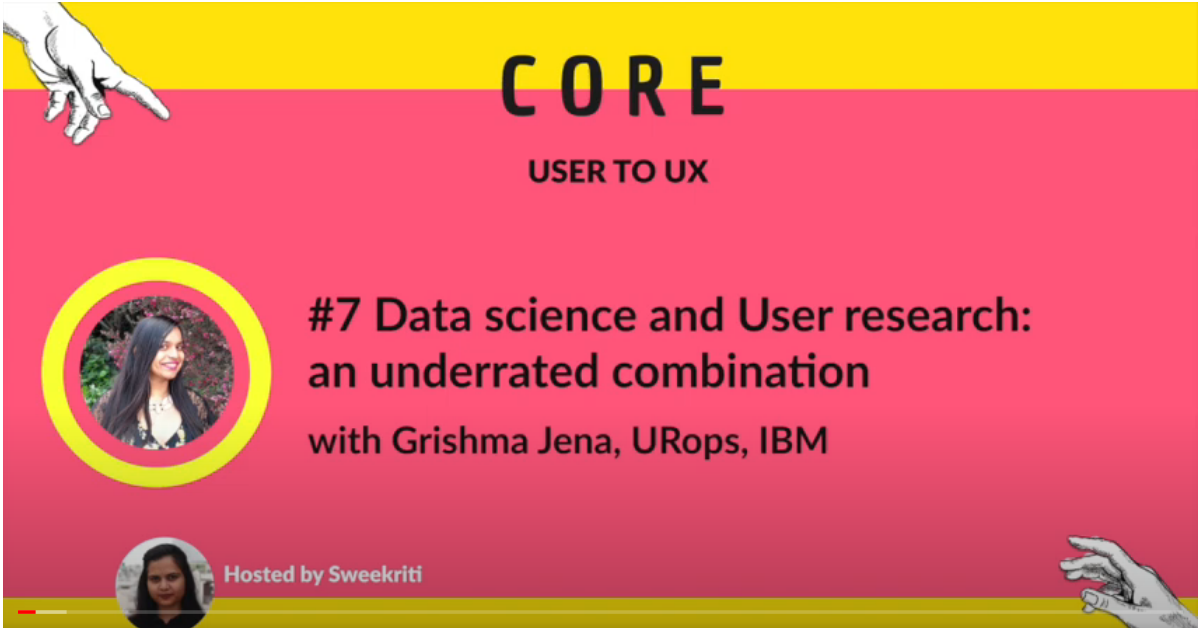 ---
Spotlight > Articles > Video > Audio
🔉 Audio of the Week.
Ethical design and respectful UX Research
Kat Zhou, Senior Product Designer at Epidemic Sound and the creator of Design Ethically, joins User Interviews today to talk about the challenges, opportunities, and urgent need for ethical design and research. Spotify Apple 09/22

Happy Researching,
🗞 Jan
User Weekly Newsletter
Join the newsletter to receive the latest updates in your inbox.