🗞 AI Users are Neither AI nor Users

Hi there! 👋 Thanks for stopping by. USERWEEKLY is your weekly email to understand what is happening in User Research. It's the best way to keep up on trends, methodologies and insights in UX Research. It is written by me, Jan Ahrend. Each week I capture the pulse of our community and answer a simple question: What mattered in User Research this week?
Hi Fellow Researchers,
I'm building a UX Research tool repository to make it easier to discover and try out the most suitable UXR tools for different research needs. There are a lot of new UX Research tools popping up and I find it difficult to stay on top. Do you have any favorite tools that you'd recommend? Just hit reply and let me know. I'll try to work out a discount for User Weekly readers.
😌 Humans of User Research with Carlos Rosemberg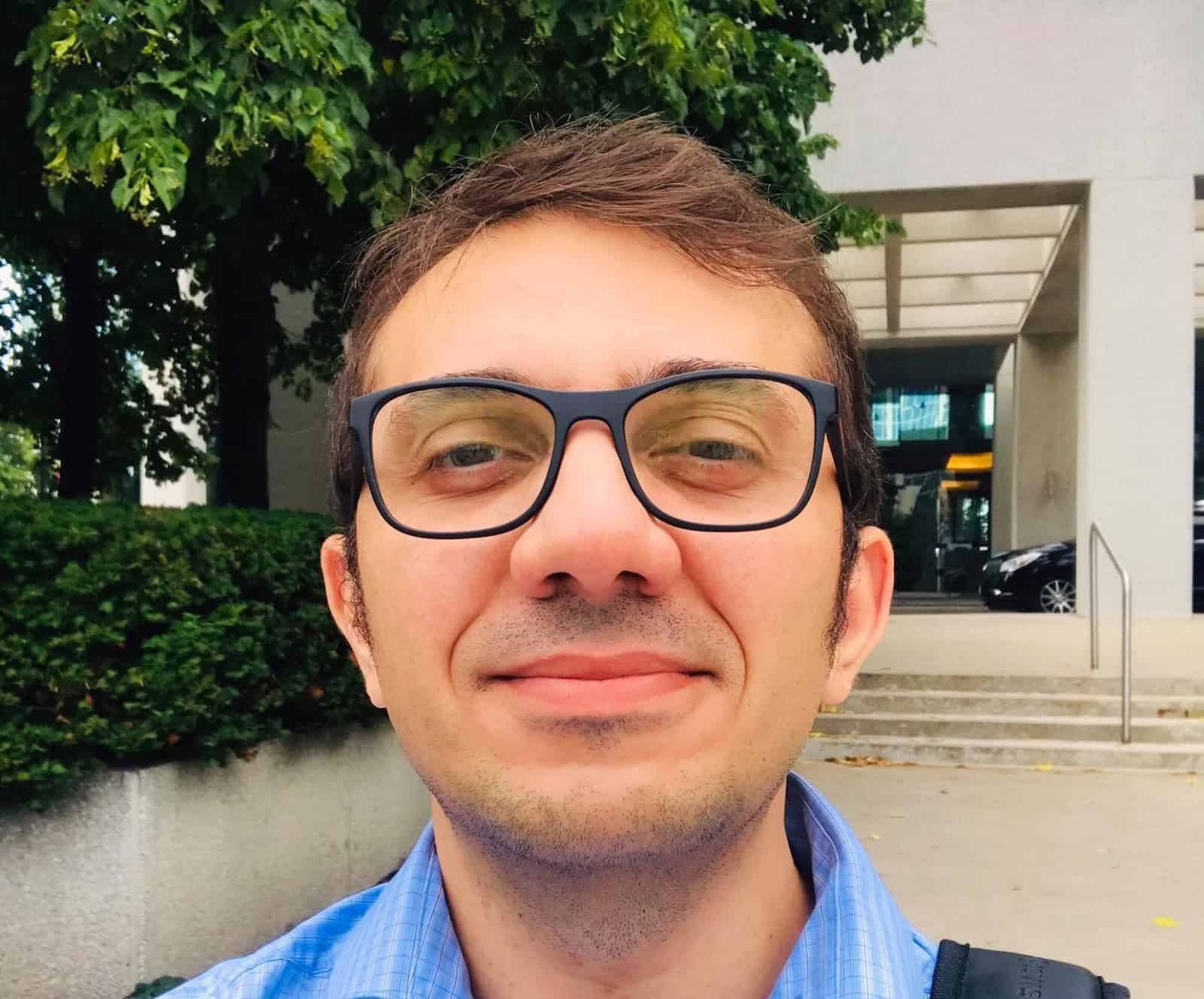 Tell us a little about yourself, Carlos.
Greetings amigos! I'm Carlos, your friendly neighborhood user experience researcher. You can usually find me at an IBM office (ok, when not working from home) exploring the exciting intersection between humans and AI, and trying to help people find more satisfaction and success in their work. When I'm not cracking the code on better user experiences, I'm a huge soccer football fan and foodie with a soft spot for all things Italian. And even though I'm from sunny Brazil, I secretly don't have issues trading in the beach for the Canadian weather. Crazy, eh? I'm passionate about what I do, and I'm always eager to learn more and collaborate with others, one UX study at a time!
What energizes you about your career?
Great question! I believe my motivation comes from the opportunity to be constantly challenging my curiosity and critical thinking skills while helping people solve real-world problems through technology. It's amazing being able to uncover insights that defy previous thinking, change perspectives, and with that give my two cents to help drive growth and success for my team. I feel fortunate to be able to make a positive contribution in this way. Ultimately, what drives me is the belief that technology can and should be a force for good, and I'm excited to be a part of a community that is working towards that goal.
If you had an unlimited budget and time for research, what would you do with it?
Ok, this answer might be unconventional, but the first thing I would do is limit the resources. As a UX researcher, I believe that constraints can be a good thing (kind of like how a little bit of pressure can make diamonds). So, while an unlimited budget and time for research might seem like a dream come true, I'd actually prefer to work within some parameters. That way, I can focus on what's really important, get creative with my solutions, and make strategic decisions that will benefit our users. But if I did have a bit of extra cash and time to play with, I'd definitely invest in keeping a good balance between generative and evaluative research with proper sample sizes, while saving a good part for investing in novel ways of collaboration and sharing of ideas across teams and with stakeholders. Super boring, but honest answer.
What can people reach out to you about and how can they find you?
I'm always happy to connect with fellow UX enthusiasts. If you're just starting out in the field and need some guidance, or you're just looking to chat about technical topics, feel free to reach out to me on LinkedIn!. I'm always eager to share my experiences and offer any advice I can. I believe that we all have something to learn from one another, regardless of our level of expertise. So whether you want to chat about the latest UX trends, swap design horror stories, or just say hi, don't hesitate to drop me a line. I'm excited to be a part of this amazing community and I look forward to connecting with you!
Thank you, Carlos!
---
Spotlight > Articles > Video > Audio
📚 Articles of the Week.
5 Common ethical dilemmas in user research
About the five most common ethical dilemmas in user research, namely using deception, sensitive research topics that cause distress, lack of confidentiality, researching with vulnerable participants, and the implications of the lack of diversity. The author offers advice on how to address these challenges, including protecting participant autonomy, obtaining informed consent, preparing for participant distress, respecting participant privacy, and avoiding harm to participants. Maria Rosala 04/23
Data vs. findings vs. insights: the differences explained
NN/g about the differences between data, findings, and insights in user research. Data refers to unanalyzed observations, findings capture patterns among data points, and insights are actionable opportunities based on research and business goals. Insights require context and allow researchers to connect their research to recommendations and opportunities. Sara Ramaswamy 04/23
3 Ways to embed insights into stakeholder organizations
Three ways to embed insights into stakeholder organizations and improve the flow of insights to drive engagement and action from research. The three processes are leveraging discussions to encourage collaboration, creating a regular research review, and taking a leaf from the sales and marketing book. The article suggests using asynchronous collaboration, creating iterative formats, and employing push and pull tactics learned from the world of Sales and Marketing. 04/25
From research Ops to user panels: key takeaways from top research leaders
Discover key insights on scaling research teams, building a user-focused research practice, and maximizing research impact from top Research Ops leaders in this comprehensive AMA roundup. 04/28
60+ best usability testing tools, templates, and examples
Usability testing doesn't have to be hard. Build better usability tests with this list of 60+ usability testing tools, templates, and more. Rachell Lee 04/21
Testing UX Research with ChatGPT:  It's not there yet!
In a nutshell, Chat GPT can currently act as a very fast intern. It's helpful but lacks the ability to challenge and some rigor; no offense to all past, present and future interns. To keep this article short, we also left out many other interesting steps we could have dug into, such as pre-qualification questionnaires or post-test questions. Let's take a step back, because we, as humans, can. Thibault Geenen 04/20
Subscribe to stay up to date on User Research news and trends.
---
Spotlight > Articles > Video > Audio
🎥 Video of the Week.
AI users are neither AI nor users
The rise of machine learning and AI has led to companies claiming to offer products and services that can replace tasks with bots, including those offering "UX research" or "user research" services that rely heavily on AI. Some studios are using AI to generate questions and analyze data, but it's important to note that AI users are not AI, and the use of these tools doesn't necessarily replace the need for human input and expertise. YouTube 04/20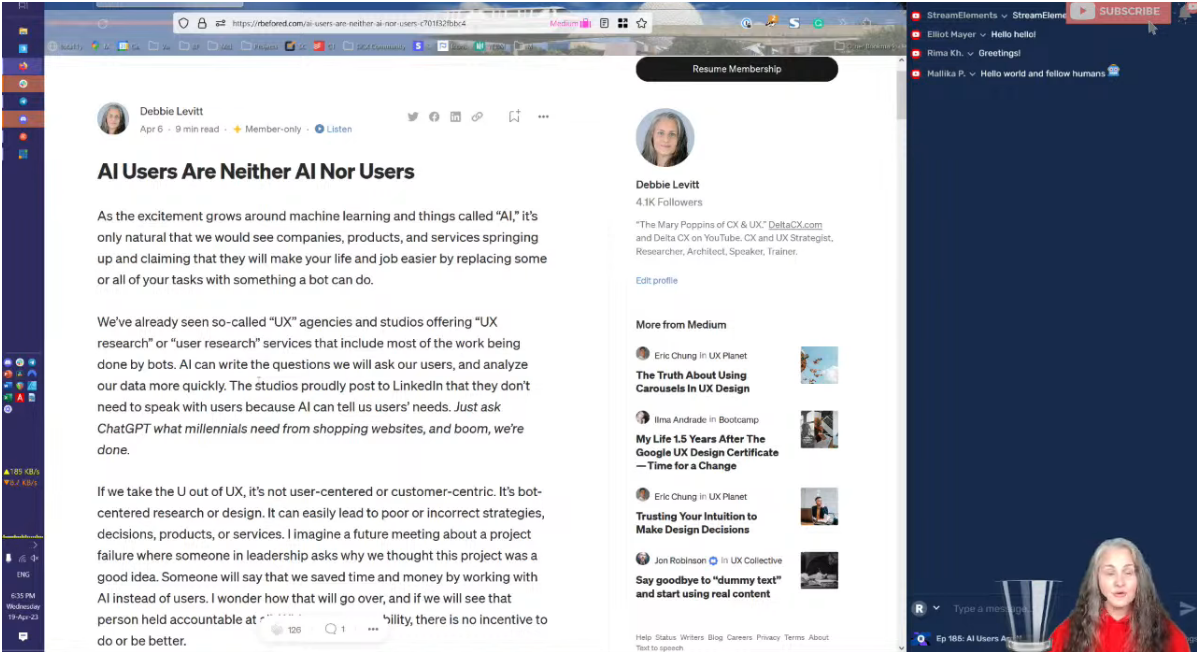 ---
Spotlight > Articles > Video > Audio
🔉 Audio of the Week.
The early user research playbook for founders
Jeanette unspools her tested playbook for high-quality customer interviews, with particular advice for founders in the very early days of validating an idea, including: The three-step framework for a thorough user-research process. The biggest mistakes she's noticed after working with dozens of early-stage companies. Specific advice for structuring an interview flow and crafting better questions that unlock essential insights. Spotify Apple 04/20

Happy Researching,
🗞 Jan
PS: I am launching a podcast (soon)! The User Weekly podcast will be a bi-weekly companion to the newsletter, featuring discussions on my favorite three articles from the newsletter in 10-15 minute episodes. Follow the podcast on Spotify, Apple Podcasts or Google Podcasts.
User Weekly Newsletter
Join the newsletter to receive the latest updates in your inbox.