🗞 Atomic Research Principles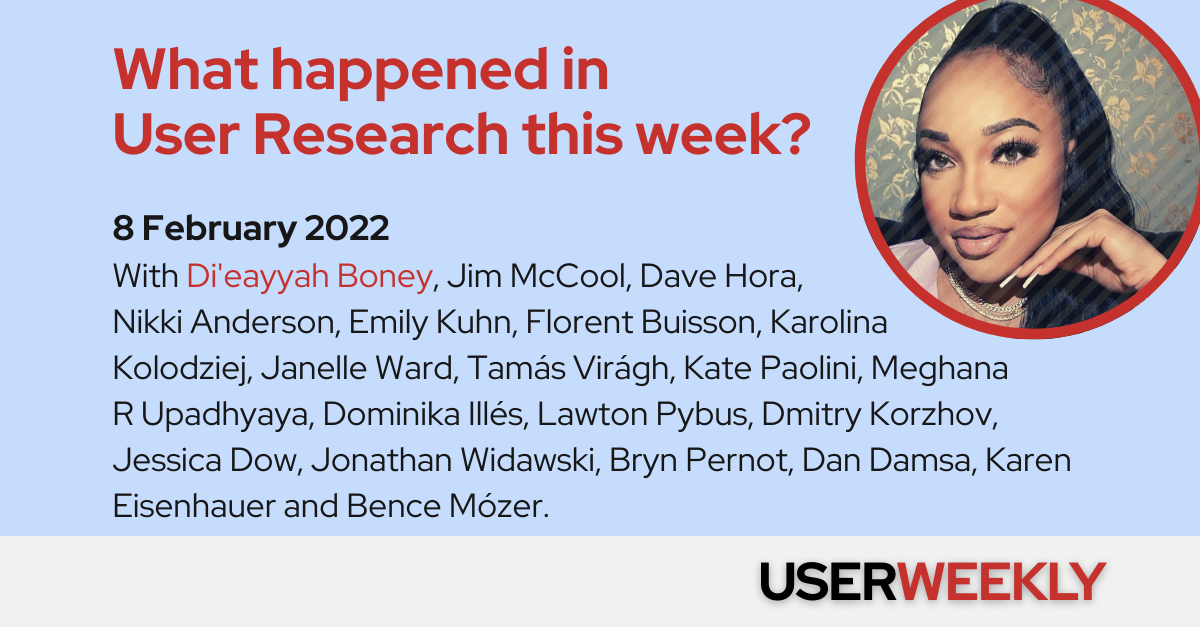 USERWEEKLY is your weekly email to understand what is happening in user research. It's the best way to keep up on trends, methodologies and insights across the industry. It is written by me, Jan Ahrend. Each week I go through content from mainstream media to small blogs to capture the pulse of our community and answer a simple question: What mattered in User Research this week?
Spotlight > Articles > Video > Audio
😌 Humans of User Research w/ Di'eayyah Boney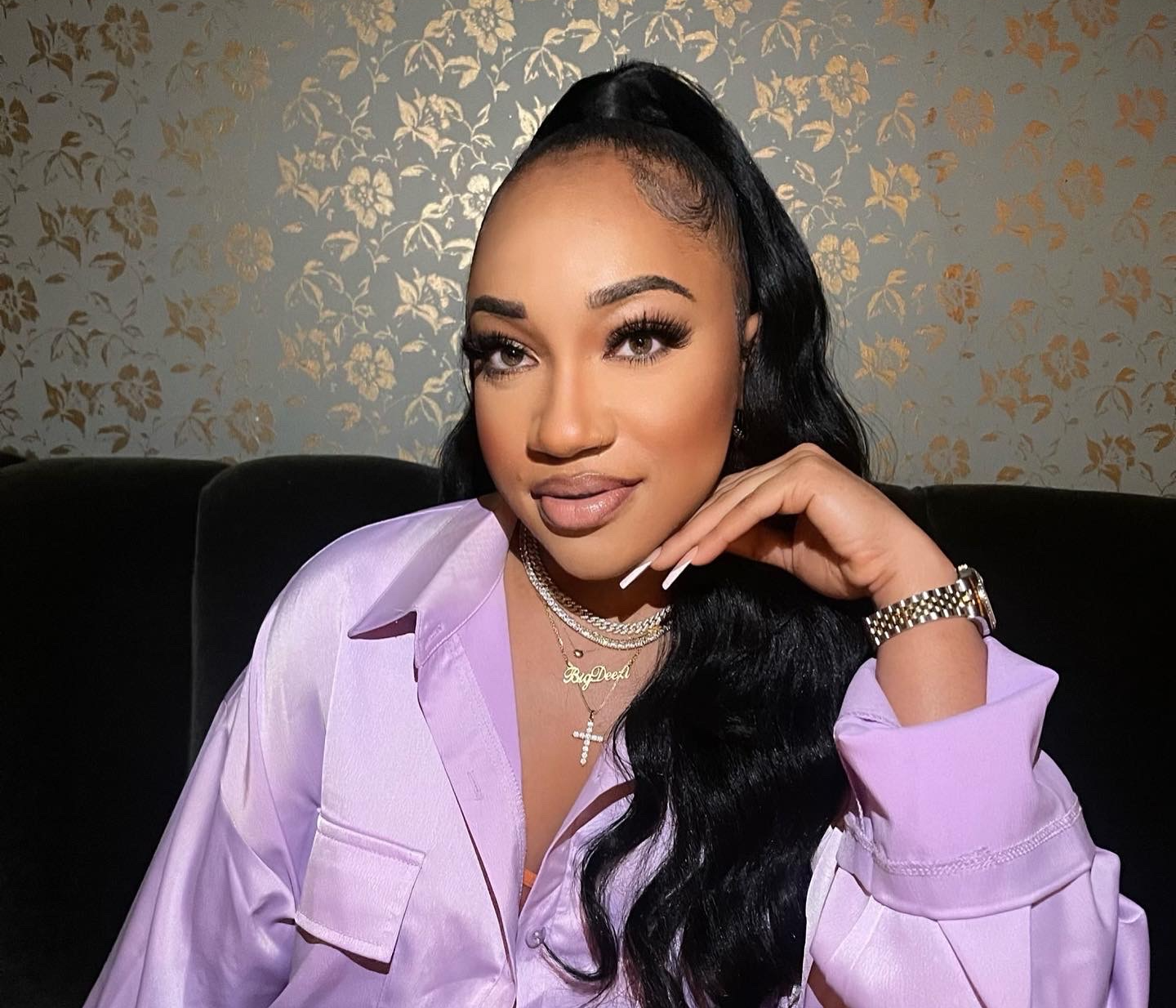 Hi Di'eayyah, tell us a bit about yourself.
I'm a Narrative Personality Psychologist and User Experience Researcher with a passion for diversity and inclusion - currently the UX Research Lead at Amazon Game Growth. As an advocate of women's research, it is my hope that my research will add to the current literature by connecting Psychology, Health Research, and Tech to demonstrate how the merging of the fields of industry plus social responsibility can add to the positive representations, experiences, equity, and well being of marginalized social groups.
Beyond the buttoned up answer, I like to think I represent what it truly means to be intersectional. I'm not sure if you know who Megan the Stallion is, but she coined a term "Hot Girl/Hottie" which just means you are living your best life. I like to think of myself as a "full-time scientist and part-time hottie." I like to show women and especially little Black girls that we are both Black and women, but we have so many identities outside of that and you don't have to be one or the other. You can be each of those at the same time. You can be in a research lab during the day, and have fun grabbing drinks, going out, going shopping on the weekends (or doing the week, if that works for you).
What energizes you about your career?
I am most excited about seeing the impact of research on product design and business decisions. I like that I can represent the unbiased voice of the customer, but I acknowledge that our biases are not always a bad thing. Being part of a double minority as a Black woman in tech, I definitely take it upon myself to also make sure to speak up for  minority voices to ensure that everyone is represented in my work and in our business. Additionally, being in an environment in which I am encouraged to be my authentic self and am valued for not only my work, but for who I am - energizes me to continue to consistently deliver high quality results.
What does your perfect evening look like after a day full of user studies?
The perfect evening after a day full of user studies for me consists of cuddling with my fur baby, Givenchy. After a full day of human interaction, nothing makes me happier than quality time with him while watching influencer youtube vlogs. I follow that up with dinner, an extensive night time routine, and sleepy time tea. I do my best to stay away from screens after my work day. I am a firm believer and advocate for maintaining work-life balance.
How can people learn more about you and your work?
SOCIAL MEDIA! I am a big advocate for the inclusion of people of color in Tech via my social media platforms @abitPSYCHed, on Instagram and Twitter. I recently started a hashtag #BlackInUX, to create a community "for us by us" when I noticed the lack of diverse voices in the UX virtual space. I am excited to see the community continue to grow. I envision that #BlackInUX community will eventually evolve and not only be a virtual space, but transition to meet ups, conferences, and so much more! While much of my industry work cannot be shared, I am always on socials connecting people of color, sharing research tips, and am planning to create a UX research e-guide.
Thank you, Di'eayyah!
---
Spotlight > Articles > Video > Audio
🧐 Thought pieces.
The one question a researcher must always ask…
Unless research has merit and the researchers who carry it out have integrity the involvement of human participants is not ethically justifiable. Jim Mccool 02/07
Rebuilding research and making wine
Dave Hora outlines his philosophy for generating research activities with a structure that's flexible and human-focused, woven from architecture and wine making. Dave Hora & Ben Wiedmaier 02/05
UXR Maturity: move to a more advanced level in your org
A UXR Maturity model is a great framework for evaluating your organization's current UXR status and planning future action. Nikki Anderson 02/02
Frictionless & comprehensive prototype testing- a story from DonorDrive (Sponsor)
Capture more than clicks in your next usability study. Learn how Donor Drive is using video, audio and screen capture to deeply understand their users experience while making it frictionless for their customers.
Register for the webinar
🛬 Methods & Approaches.
7 ways to co-create, ideate, and engage your research participants
Insights Arts & Crafts: Use these go-to strategies to encourage your participants to explore their creative side and sketch their thoughts. Emily Kuhn 02/04
Quantifying the user experience without statistics
Say goodbye to statistical tests and use the Bootstrap instead. Florent Buisson 02/03
Presenting UX Research findings more effectively
4 Tips on how to communicate the research findings with impact. Karolina Kolodziej 02/01
⚙️ Research Ops.
Strategy and vision: how to grow a successful UX research team
Learn how to craft the perfect vision and strategy for building out research capacity at your organization. Janelle Ward 02/04
Atomic research principles for building a sustainable research repository
Inspired by atomic design, we'll talk about atomic research. Atomic design is a new approach to designing systems in which all interfaces can be broken down into small, modular building blocks that can be reused and recombined. Tamás Virágh 02/02
📚 UXR Case Studies.
How I use UX research in speech therapy
Qualitative methods with students as users. Kate Paolini 02/02
My first field research in rural South India
Generative participatory design research with adolescent boys. Meghana R Upadhyaya 02/02
🐣 Breaking into UXR.
How to crush your UX interview take-home challenge
Everything you need to know about take-home challenges. Learn how to approach them, questions to ask stakeholders, and red flags to watch out for. Nikki Anderson
User research 101 — how to write a solid research plan
Overview of the steps that need to be taken to develop a research plan so we, researchers never miss asking the right questions. Dominika Illés 02/05
The 6 biggest changes going from grad school to UX research, and how to prepare
Recognize potential challenges to ease your transition. Lawton Pybus 02/01
How to make a strong research report
The skill of creating strong research reports is one of the most important and valuable skills of a researcher. It is what characterizes and shows how high or low a researcher's qualifications are. Dmitry Korzhov 02/07
Enter your email to receive the latest updates in your inbox.
---
Spotlight > Articles > Video > Audio
🎥 Video of the Week.
From child development to product development
Jessica Dow is a Sr. User Experience Researcher at Google. She is currently the User Experience Research Lead and Manager for the Gmail Team. In this talk, Jessica will tell us about her journey, discuss product development at Google, and highlight some exciting projects she's worked on. YouTube 02/02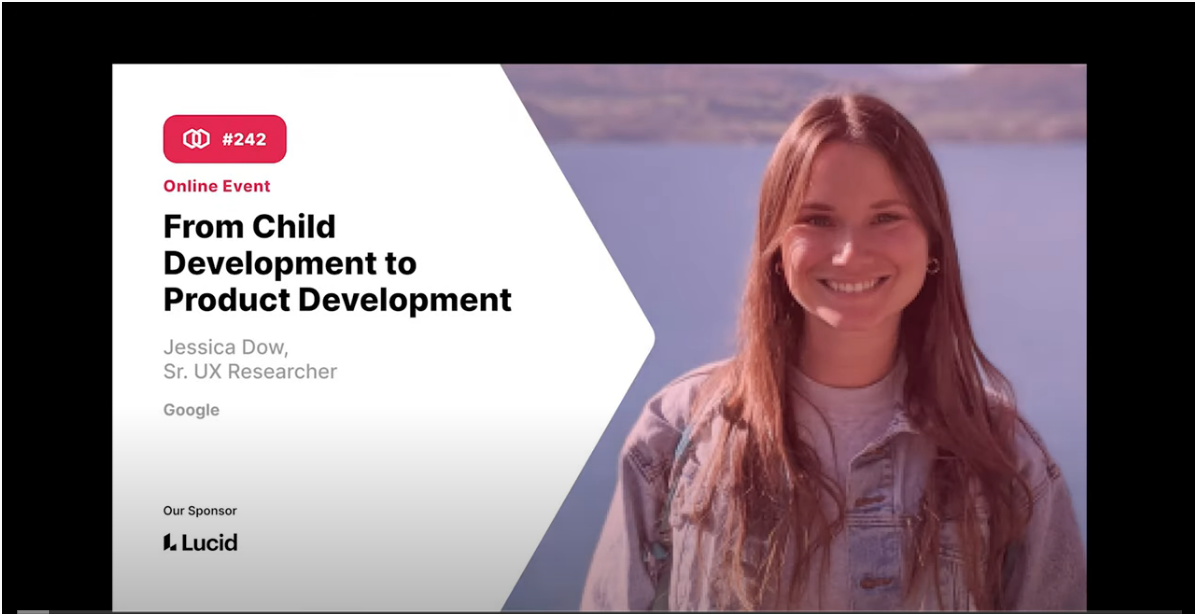 ---
Spotlight > Articles > Video > Audio
🔉 Audio of the Week.
Research is everyone's job: the democratization of research
Why research is the next step in a more user-centric world and how the team at Maze makes it everyone's job to do research. Spotify 02/01

Happy Researching,
🗞 Jan
User Weekly Newsletter
Join the newsletter to receive the latest updates in your inbox.