What happened in User Research this Week? (August 3)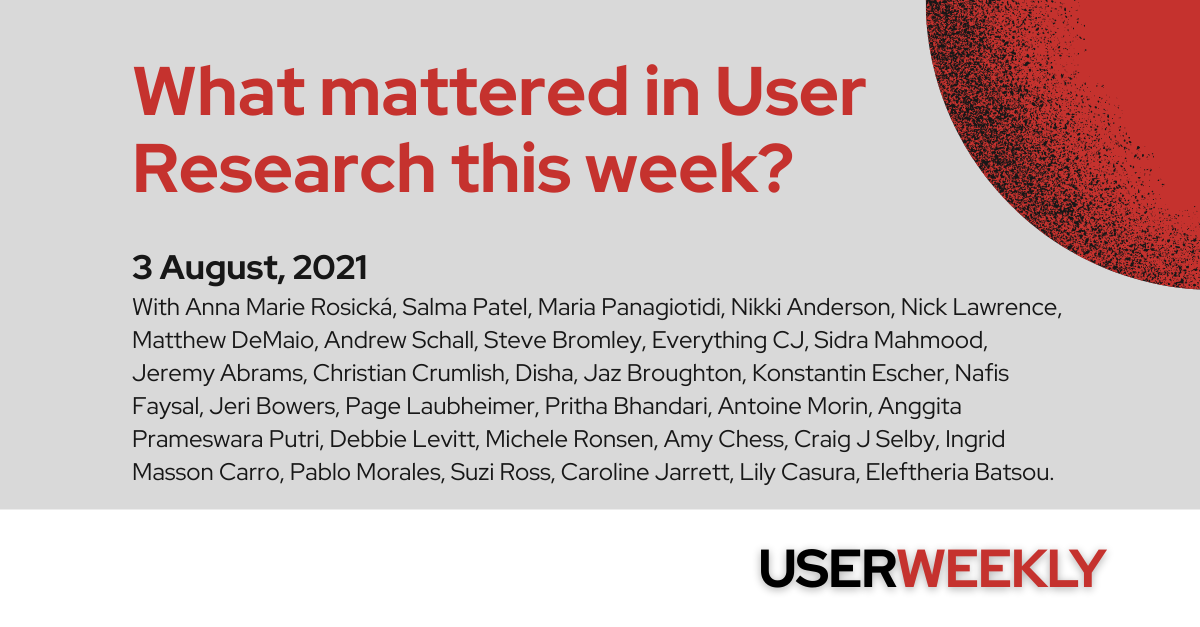 USERWEEKLY is your weekly email to understanding what is happening in user research. It's the best way to keep up on trends, methodologies and insights across the industry. It is written by me, Jan Ahrend. Each week I go through content from mainstream media to small blogs to capture the pulse of our community and answer a simple question: What mattered in User Research this week?
Articles > Video > Audio > Upcoming > Tools
Articles.
Notable notes in user research
Anna Marie Rosická describes how to make user research easier through efficient note-taking. 💎 Just enough notes: traceable, future-proof, shareable. Fail 1: Relying on recordings. Fail 2: Lack of training. Fail 3: Biased observations. UX Collective
10 things I learned building a new User Research Operations (ReOps) function
Salma Patel shares the experience of building a new ReOps function in a government department. 💎 Starting with a discovery is invaluable. A clear vision and strategy is critical. Don't limit yourself to the eight ReOps pillars. Ensure the ReOps remit is clear and transparent. A one-stop UR/ReOps Hub is invaluable. Take time to induct user researchers to ReOps. We are here to serve and help, and for that we need to grow a diverse ReOps team. Procurement takes much (much) longer than one anticipates. Inclusive good quality research needs a clear strategy, plan and support from all. Be humble. Medium
Think-aloud testing for usability: How to get more out of your data
Maria Panagiotidi describes how to get more out of think-aloud protocols. 💎 Two types: concurrent think-aloud and retrospective think-aloud. To consider when analysing data from think-aloud sessions: observation categories, speech rate, loudness and pitch, negative sentiments, age. UX Collective
Building a team that wants to stay: Tips for properly onboarding User Researchers
Nikki Anderson shares advice on how to create an onboarding experience for User Researchers and why it matters to your employees and organization. 💎 Introduce relevant teams and concepts. Provide a sheet with important information. Set clear role expectations, responsibilities, and levels. Set up regular 1x1s with the manager and a standard review cycle. Set up virtual coffees and lunches with colleagues. Provide onboarding tasks, an onboarding buddy and an opportunity to shadow. dscout
UX Research: Beating the Hawthorne Effect
Nick Lawrence shares how to conduct user research that avoids this type of sample contamination. 💎 The Hawthorne effect occurs when people behave differently because they know they are being watched. The effect can be reduced by adapting Remote, Unmoderated or Anonymous studies. UX Planet
Methods.
Approaches.
Personal Growth.
Organizational growth.
Case Studies.
Refreshers.
Enter your email to receive the latest updates in your inbox.
---
Articles > Video > Audio > Upcoming > Tools
Video of the Week.
In episode 121 of Delta CX, Debbie Levitt talks with Michele Ronsen from Curiosity Tank about her experience getting UX Research buy-in. She discusses assessing a job's situation, improving UX maturity where you can, getting research buy-in, and learning during job interviews how the company supports research. (YouTube)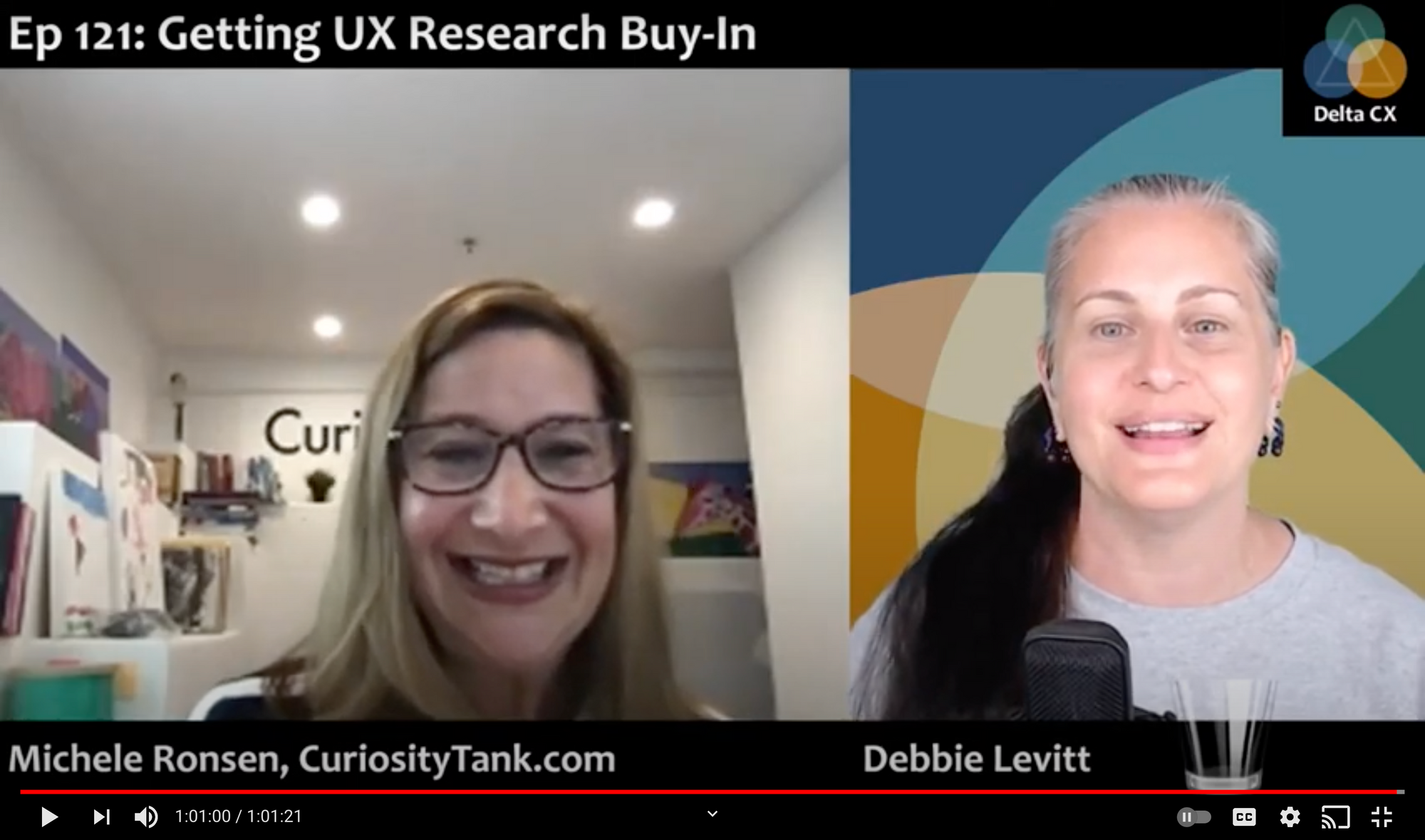 ---
Articles > Video > Audio > Upcoming > Tools
Audio of the Week.
Amy Chess, UX Researcher at Amazon, explains why you can't do great user research without the asking right research questions. She also talked about the difference between interview and research questions, building trust with stakeholders, and why you definitely can't choose a methodology before you establish a research question. Spotify | Apple Podcasts

---
Articles > Video > Audio > Upcoming > Tools
Conversations next Week.
Understanding Ethics in Research
📅 Wednesday, August 4 2021. 03:00 PM CEST
🧠 Dr Craig J Selby
Discussion of common ethical guidelines and best practice advice to avoid breaching discipline-based and institutional-based rules. Also addressed will be issues of Ethics in relation to research pivots online.eventbrite
Ask Me Anything (AMA) - UX Researcher Edition
📅 Friday, August 6 2021. 10:00 – 11:00 PM CEST
🧠 Ingrid Masson Carro (Google), Pablo Morales (Microsoft), Suzi Ross (LEGO).
An AMA to ask the speakers about their career trajectories, ask any burning questions you have, and get tips about transitioning from academia to UXR. Eventbrite.
Firecat First Friday August: Surveys — When and How to Use Them
📅 Friday, August 6 2021. 08:00 – 09:00 PM CEST
🧠 Caroline Jarrett, Lily Casura
This online event explores when a survey is the right tool, how to coax people to respond, and when not to conduct a survey. Eventbrite
---
Articles > Video > Audio > Upcoming > Tools
This Week in Tooling.
🎈Qualtrics acquires Clarabridge, the industry leader in omnichannel conversational analytics. 🎈Eleftheria Batsou shares her favorite tools for A/B Testing, Analytics and automated UX analysis. 🎈 People Nerds (by dscout) has just launched a survey that looks at how time affects the process, practice, and impact of user research on orgs. The survey has 17 questions and will inform how to help user researchers better benchmark and advocate for the space.
User Weekly Newsletter
Join the newsletter to receive the latest updates in your inbox.