User Weekly #25, December 7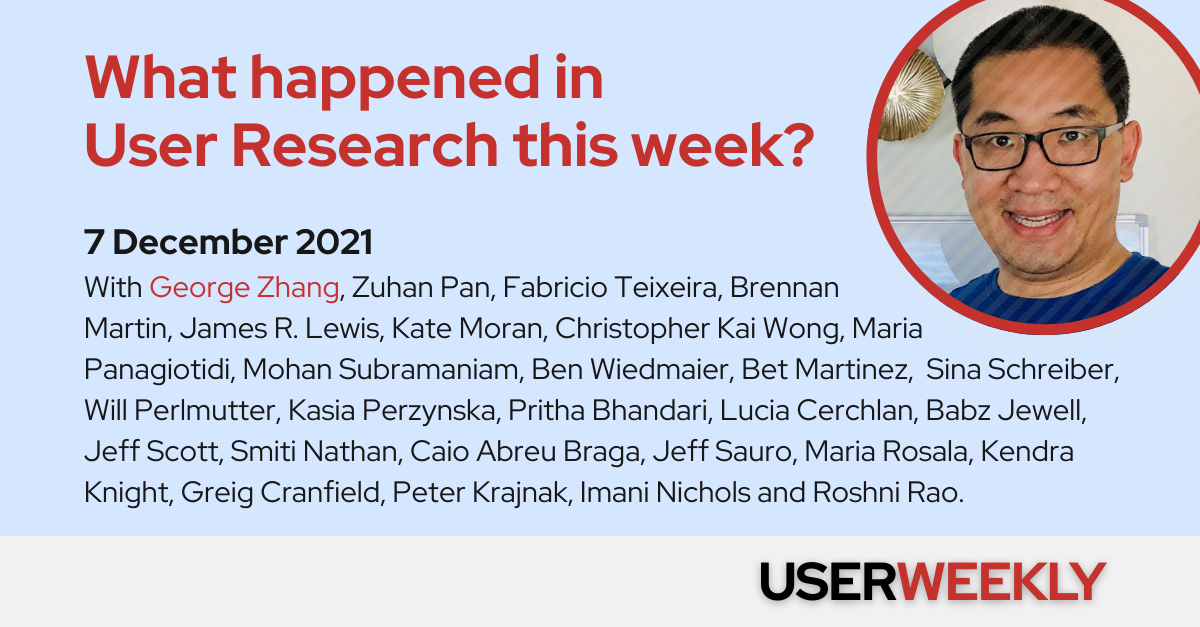 USERWEEKLY is your weekly email to understand what is happening in user research. It's the best way to keep up on trends, methodologies and insights across the industry. It is written by me, Jan Ahrend. Each week I go through content from mainstream media to small blogs to capture the pulse of our community and answer a simple question: What mattered in User Research this week?
😌 Humans of User Research w/ George Zhang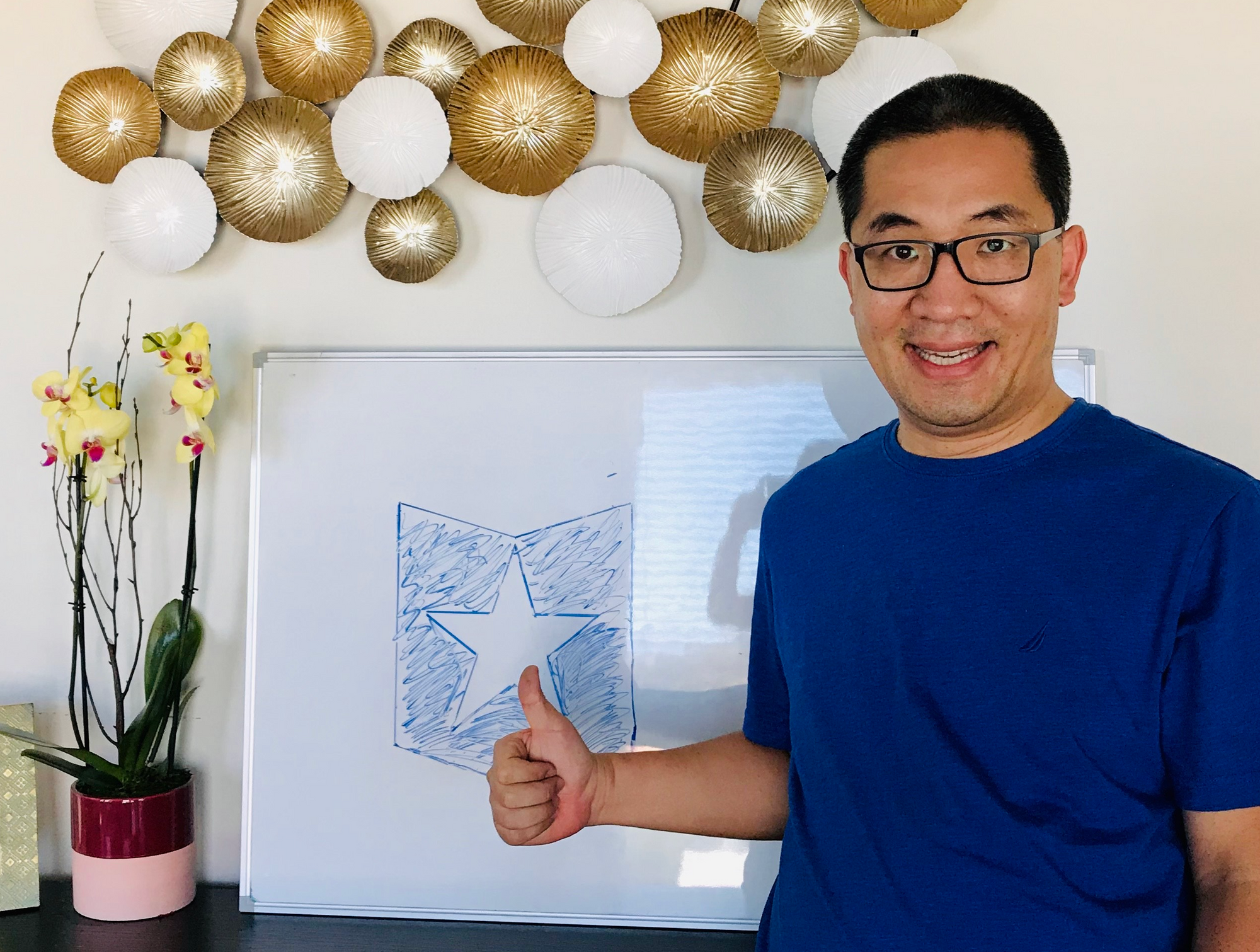 Hi George, tell us a little about yourself.
Hello there! I am George Zhang, the director of UXR at Course Hero, an EdTech (education technologies) unicorn that helps millions and millions of students graduate confident and prepared. Previously I spent four years at Uber managing UXRs over several key product areas including four-wheel cars and two-wheel bikes, safety and support, quantitative and qualitative methods. Prior to it, I had spent almost a decade crafting Google's search experience. I obtained a PhD in industrial and organizational psychology in China, and had led research at Lenovo, Intel and Google China before moving to the states in 2010. In my spare time, I love reading, hiking, traveling, advising, and mentoring.
What energizes you about your career?
Opportunity. I am profoundly an optimistic opportunist including through daily routines and career turn-points. When I chose a new job, I often observed, interviewed, and deep-dived into its product experience to make sure that the overall ecosystem is Good for now and for the future (see my thought on EdTech), the team is Good for me to thrive, and the product experience is Suboptimal (a.k.a. "Bad") so that I can do something to help. See the Uber example. Everyday, I pay attention to UX quality gaps, user pain points, unmet needs, and so on. Big and small, implicit and explicit, accidental and intentional, they can inform new product opportunities individually (which is very rare) or collectively (very often). I feel good as a UXR lead because we are in a unique position connecting/bridging users and systems. I am confident we can always make a difference as long as we follow the UX research excellence framework (impact, method, partnership). Read more.
What do you remember most about your first UXR job?
Resilience. I can easily relate the pains we suffer right now from COVID-19 pandemic to my first job as a usability analyst at Lenovo in April 2003 in Beijing, China which has been one of the epicenters of the SARS outbreak. I still appreciate the support and camaraderie I have received from my fellow researchers during that difficult time. We had each other's back and checked in with one another regularly. We quickly switched to remote research approaches (mostly telephone-based) to conduct research activities, and then cautiously restored in-person studies when SARS was contained in July 2003.    
How can people learn more about you and your work?
Feel free to follow or connect with me on LinkedIn, read my Medium portal, and set up UX coffee hours with me. Of course please keep an eye on our open roles because I am hiring!
Thank you, George!
---
Spotlight > Articles > Video > Audio
🧐 Thought pieces.
300+ UXRs on what makes for an adequate research project timeline
How much time UXRs really "have" to conduct their work and what happens time runs short...or out. By Ben Wiedmaier and Kendra Knight (dscout 12/6)
Third-wave HCI? What are the advantages and disadvantages?
The three waves of HCI and what the strengths and weaknesses of the current wave are. By Zuhan Pan (UX Collective 11/24)
The State of UX in 2022
An outlook at the UX industry and its trends in 2022. It focuses on UX Design but is also relevant for UX Research. By Fabricio Teixeira and Caio Abreu Braga (UX Collective 12/6)
💯 Methods.
What is grounded theory? Unearthing insights in qualitative research
How to find dynamite theories in large amounts of data. By Brennan Martin (Dovetail 12/5)
Comparison of select-all-that-apply Items with yes/no forced choice items
We found that participants significantly preferred SATA to forced choice formats. We compare our findings with previous research and discuss the implications for UX researchers and practitioners. By James Lewis and Jeff Sauro (JUS 12/1)
When to use context methods: Field and diary studies
Context methods provide an understanding of users' real-life settings and behaviors. They inform the design of products and services. By Kate Moran and Maria Rosala (NN/g 12/5)
🛬 Approaches.
Buying time: A 6-approach framework for User Researchers with tight project turnarounds
Over 200 participants describe a go-to approach to securing more project time. By Ben Wiedmaier and Kendra Knight (dscout 12/4)
How collecting metadata can yield better research insights
How tagging your data results in an organized and insightful dataset. By Christopher K Wong (Data & Design by Kai Wong 12/1)
Unconscious Bias: what is it and what can we do?
Our brain is constantly bombarded with information. In order to manage it all, it is looking for patterns and takes shortcuts. Biases are the result of this. By Dr Maria Panagiotidi (UX Psychology 12/2)
Are you using the right data to power your digital transformation?
Shifting from episodic to interactive data is not easy. Yet it is an essential part of any legacy firm's digital transformation initiatives. To remain relevant in the modern era, legacy firms must find ways to tap the power of real-time, interactive data. By Mohan Subramaniam (Harvard Business Review 3/12)
What's the most efficient org-structure for User Research? A look at stakeholder alignment across team types
300 user researchers told us about their project timelines, their stakeholder expectations, and their org structures. By Ben Wiedmaier and Kendra Knight (dscout 12/4)
🚀 Personal Development.
From Research Consultant to CXR
Unique challenges consultants face and advice for more human-centered research. By Ben Wiedmaier (dscout 12/3)
UX Research job market advice for academics
You're a researcher in academia and are thinking of going the industry route? Good for you! Like any literal market, the job market has customs that you are expected to follow. Here's everything that I wish someone had told me when I was first starting out. By Catie Brown (Medium 11/2)
True Stories of Overcoming Self-Doubt in UX
Indeed's UX pros share how the desire to design, write, and research led them to find confidence and meaning in their work. By Bet Martinez (Indeed 12/6)
📆 Events.
UX Research meetup & event guide december 2021
Check out this December's virtual talks, meetups, networking events, and conferences around UX Research. By Sina Schreiber (Condens 11/29)
🔁 Refreshers.
How to create a practical user research plan.
By Sina Schreiber (condens 12/1)
The most effective voice of the customer survey to use today.
By Will Perlmutter (Usersnap 12/3)
How to create a survey? 13 steps for success.
By Kasia Perzynska (survicate 11/19)
How to find and remove outliers.
By Pritha Bhandari (Scribbr 11/30)
Enter your email to receive the latest updates in your inbox.
---
🎥 Video of the Week.
How to build UX research teams from scratch
Lucia Cerchlan, our Head of Research was chatting to Peter Krajnak, Head of Product at Slido and Greig Cranfield, Senior User Researcher at Freetrade about what it takes to build UX research teams and practices from scratch. With Lucia Cerchlan, Peter Krajnak and Greig Cranfield (YouTube 12/1)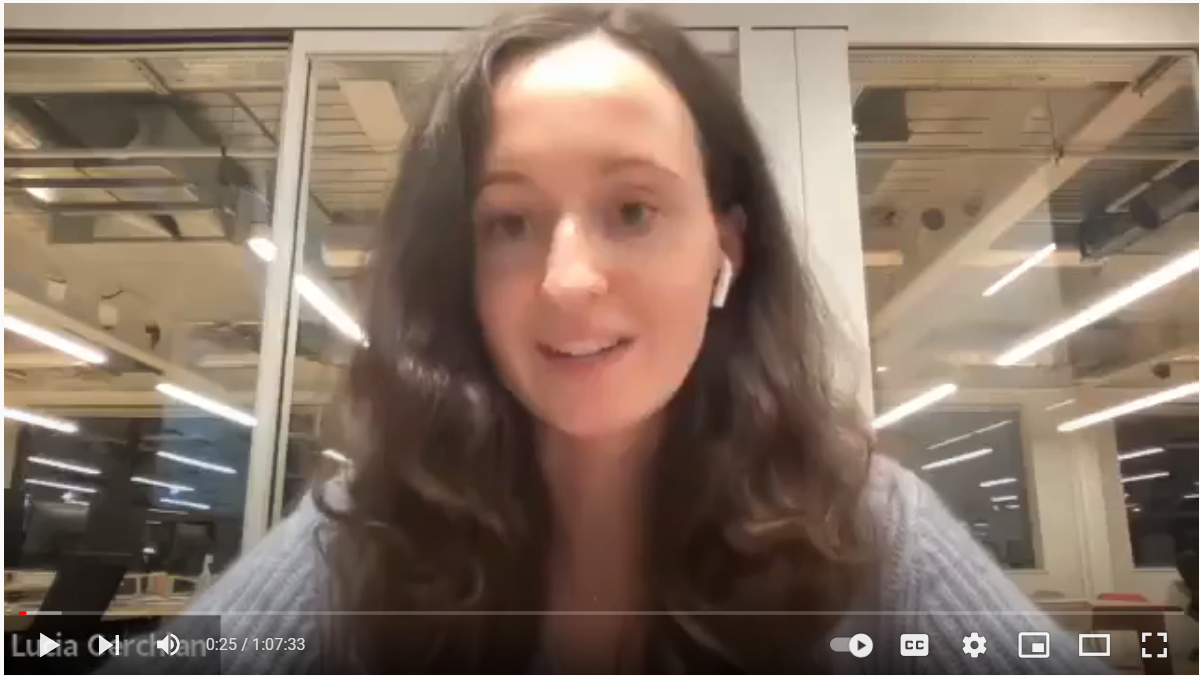 ---
A casual conversation on... the future of qual
What research industry & consumer trends are impacting qual, and how? What will qualitative projects look like in 5-10 years time? What are the biggest current challenges of qual research, and how can they be overcome? Today, the FlexMR team talk about where they think the future of qual is heading. By FlexMR (YouTube 11/30)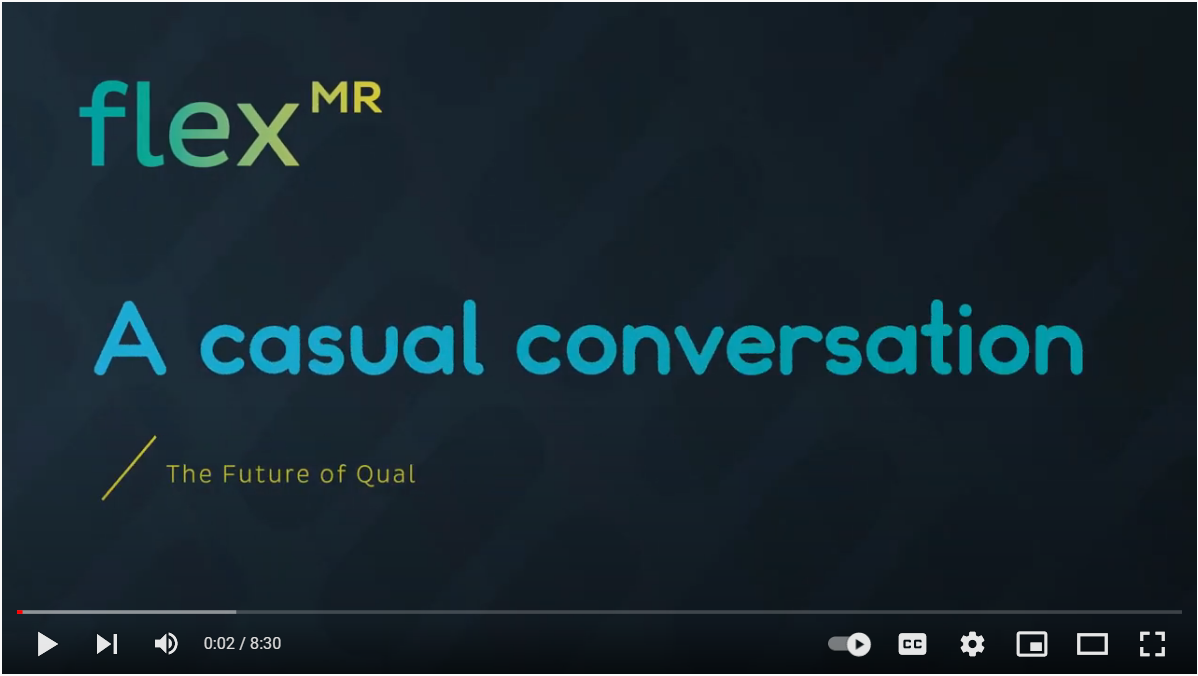 ---
Spotlight > Articles > Video > Audio
🔉 Audio of the Week.
Navigating the UX Research job market strategically and ethnographic sociology 101
Imani speaks with Babz Jewell. Babz talks about ethnographic sociology in the context of conducting UX research. She also gives practical and creative advice for navigating the UX researcher job market. With Babz Jewell (Spotify 12/6)

Human Factors at US Air Force
It may sound like a leap to go from aerospace and operational physiology to overseeing user experience research for a major financial services company, but Jeff Scott explains just how much these worlds have in common. With Jeff Scott (Spotify 12/3)

Beyond the Horizons: Careers in UX Research
Beyond the Horizons is a mini podcast series about different career paths and relevant professional development topics to discover what lies beyond. With Roshni Rao and Smiti Nathan (Spotify 12/2)

Happy researching,
Jan
User Weekly Newsletter
Join the newsletter to receive the latest updates in your inbox.