🗞 Distorted Research Insights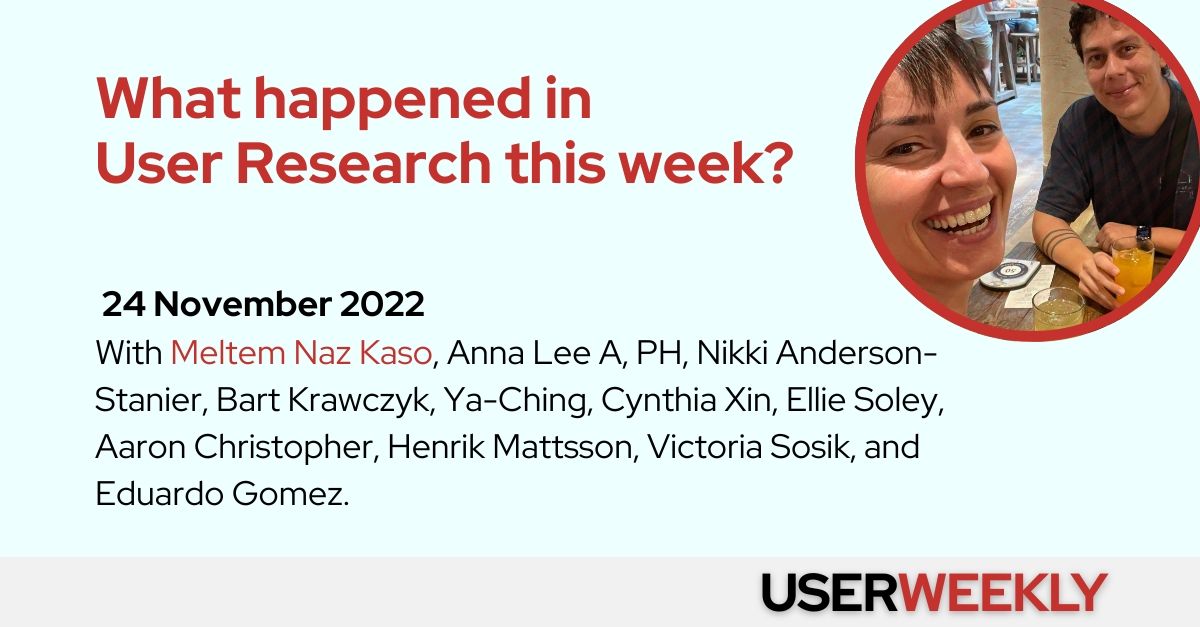 Hi there! 👋 Thanks for stopping by. USERWEEKLY is your weekly email to understand what is happening in User Research. It's the best way to keep up on trends, methodologies and insights in UX Research. It is written by me, Jan Ahrend. Each week I capture the pulse of our community and answer a simple question: What mattered in User Research this week?
😌 Humans of User Research with Meltem Naz Kaso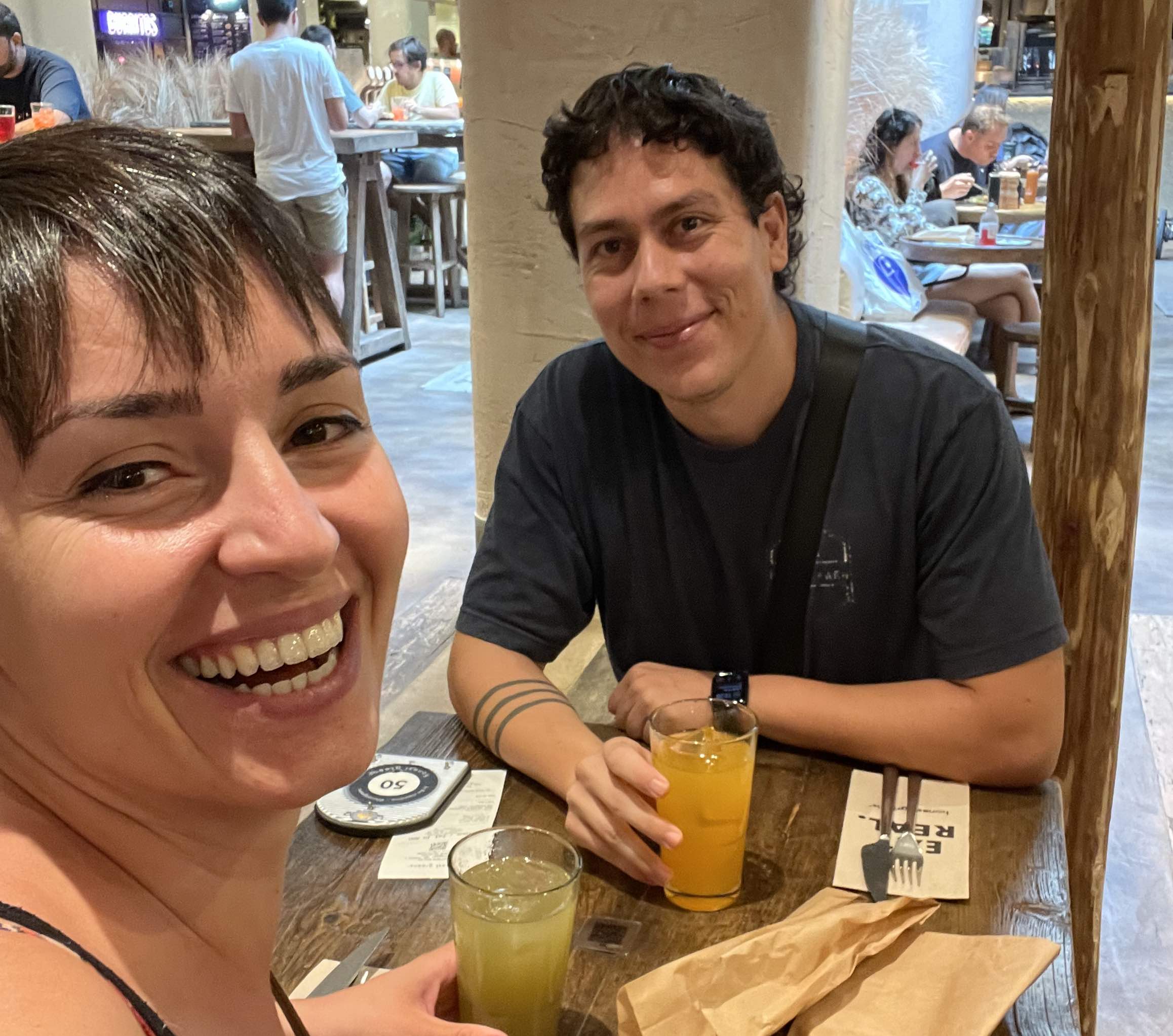 Hey Meltem, tell us a little about yourself.
Hi, UXR community! Meltem's here. I'm a Spaniard with Turkish origins who lives in Barcelona for longer than she remembers. I work as a UXR Manager at Glovo and raise my two kids (a 2,5- year-old and a 6- month-old) together with my partner Lázaro. Caring for little kids 24/7 can be intense. I don't have much time for myself right now. But I used to go swimming on the weekdays and experienced it as a form of meditation. I wish to restart as soon as my daughter begins nursery.
What originally got you interested in UX Research?
I was at a turning point in my career towards the end of my research master's in Media & Cultural Studies (focusing on Gender and Ethnicity). Gradually, I realized that academia was not for me because of its vertical structure and what I would now call its rigid and waterfall ways of working. So I explored how else I could leverage my experience in academic research together with the previous investigations I had done in NGOs and journalism. I knew, thanks to my partner Lázaro who's been in tech for a decade then, the answer lay in getting into the tech. I was convinced that through being a UX Researcher in tech, I would be able to advocate for users, and generate tangible results that made their lives a little bit better by solving their day-to-day problems. In a nutshell, this is what got me interested in UX Research and what still motivates me every morning as I start to work.
What's one thing that can instantly make your day better?
For a while now, I serve as a UXR manager, meaning that I don't conduct research myself. Rather, I give feedback to each Individual Contributor who is in my team, mentor and sponsor them, and help set processes and practices that can make their work more lean, rigorous, and impactful. It's a cool job, but of course, compared to IC's work, it's hard to truly know one's positive impact on the team members as well as on the company at large. That's why, when I see that an interaction I have with an IC helps them get unblocked, empowers them to work happier, and to grow within (and out of) their current roles and responsibilities, I feel an authentic sense of satisfaction. It motivates me to go for more.
How can people learn more about you and your work?
I write about my UXR journey on Medium, participate and present at UXR events (e.g., my last engagement was UXinsight Festival 22) and post actively on LinkedIn. Feel free to ping me on LinkedIn just to say hi and to kick-off a UXR related conversation.
Thank you, Meltem!
Subscribe to stay up to date on User Research news and trends.
---
Spotlight > Articles > Video > Audio
🎉 Highlights.
Things to do when your company is having layoffs (UX perspective)
A checklist to help you transition from your current role to the next. Anna Lee A and PH 11/17
UX research at Zendesk: creating voices in all corners
Interview with Zendesk's new senior director of UX research on  nurturing a UXR team. 11/18
Are your research insights distorted? How to make them crystal clear
Sometimes the next steps for your insights aren't as clear as you thought. Here's how to make sure your findings are actionable. Nikki Anderson-Stanier 11/18
🛠 Methods & Approaches.
Enliven your research sessions with participatory design
Participatory design transforms passive questions and answers into an interactive, productive session. Here are some ways to facilitate it. Nikki Anderson-Stanier 11/18
How to validate product ideas
Validating product ideas without building an actual product, from low, medium to high evidence methods. Bart Krawczyk 11/17
Learnings from creating research synthesis report
My learnings from creating research insights reports. 1) Knowing your goals and desired outcomes. 2) Applying frameworks to research findings. 3) The importance of good documentation. Ya-Ching 11/20
🎓 Getting Into UX Research.
How I got into the best HCI/UX programs without any UX background
Experience and takeaways for people who want to apply to HCI/UX programs without a design or research background. Cynthia Xin 11/16
Conscious research. Tips for junior UX-researchers
Personal tips for junior UX Researchers carrying out research based on the author's  experience. Ellie Soley 11/21
10 learnings from my time as a UX researcher
Lessons learned from working as a UX researcher for a year and a half. Aaron Christopher 11/21
Subscribe to stay up to date on User Research news and trends.
---
Spotlight > Articles > Video > Audio
🎥 Video of the Week.
How Miro's research team explored hybrid work with Eduardo Gomez
Miro's research team conducted a mixed methods research program to understand the current status of hybrid meetings, the needs, pains, and users' expectations, and co-created the future of hybrid work by bringing together Miro executives with their users. This research informed new company goals and shaped our business strategy. YouTube 11/18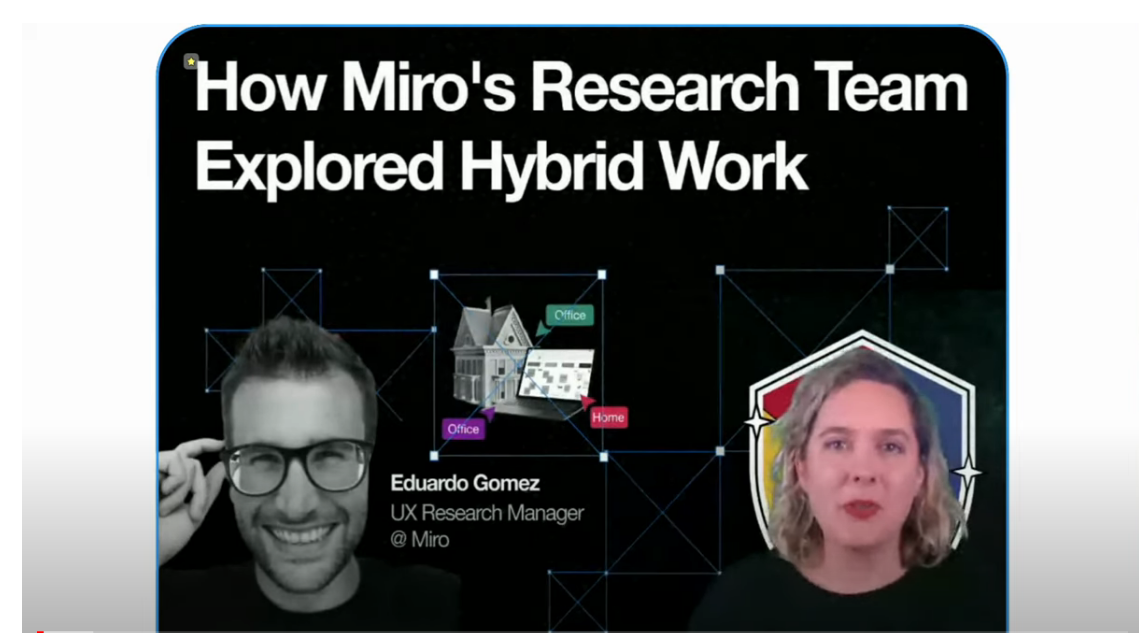 ---
Spotlight > Articles > Video > Audio
🔉 Audio of the Week.
Victoria Sosik, Director of UX Research at Verizon
In this episode Henrik interviews Victoria Sosik, leader of the UX Research team at Verizon. During their chat they cover how Victoria coaches researchers on getting difficult stakeholders involved and excited about research and the role research leaders play in supporting their team's research efforts. Spotify 11/17

Happy Researching,
🗞 Jan
User Weekly Newsletter
Join the newsletter to receive the latest updates in your inbox.