🗞 What the rise of Gen Z means for User Research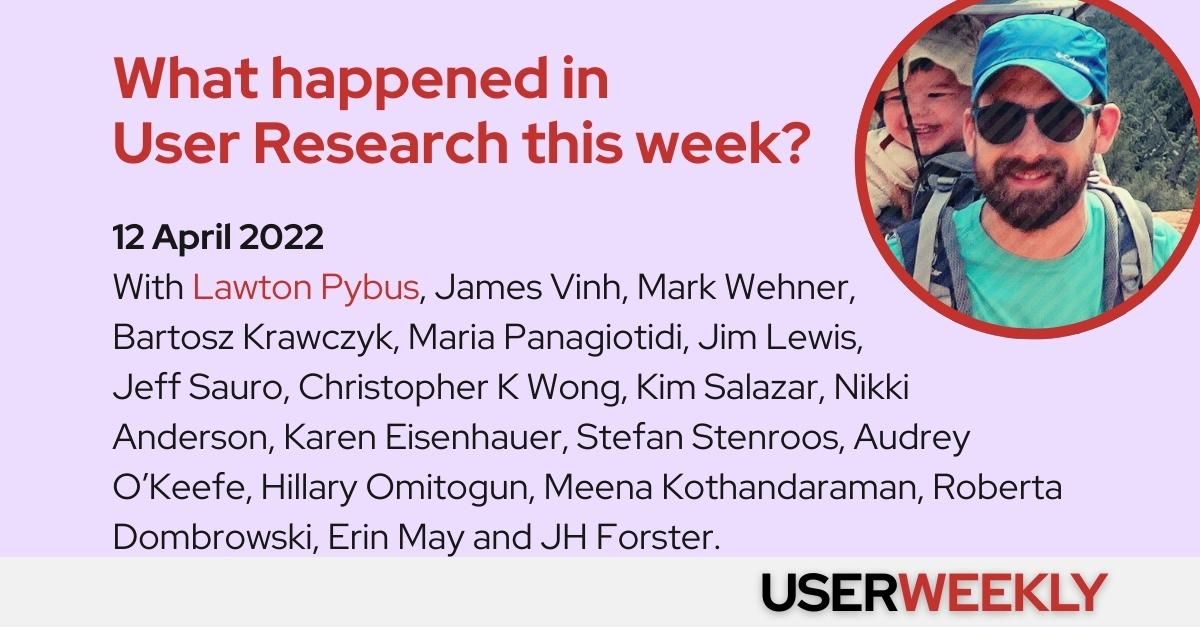 Hi there! 👋 Thanks for stopping by. USERWEEKLY is your weekly email to understand what is happening in User Research. It's the best way to keep up on trends, methodologies and insights in UX Research. It is written by me, Jan Ahrend. Each week I capture the pulse of our community and answer a simple question: What mattered in User Research this week?
😌 Humans of User Research w/ Lawton Pybus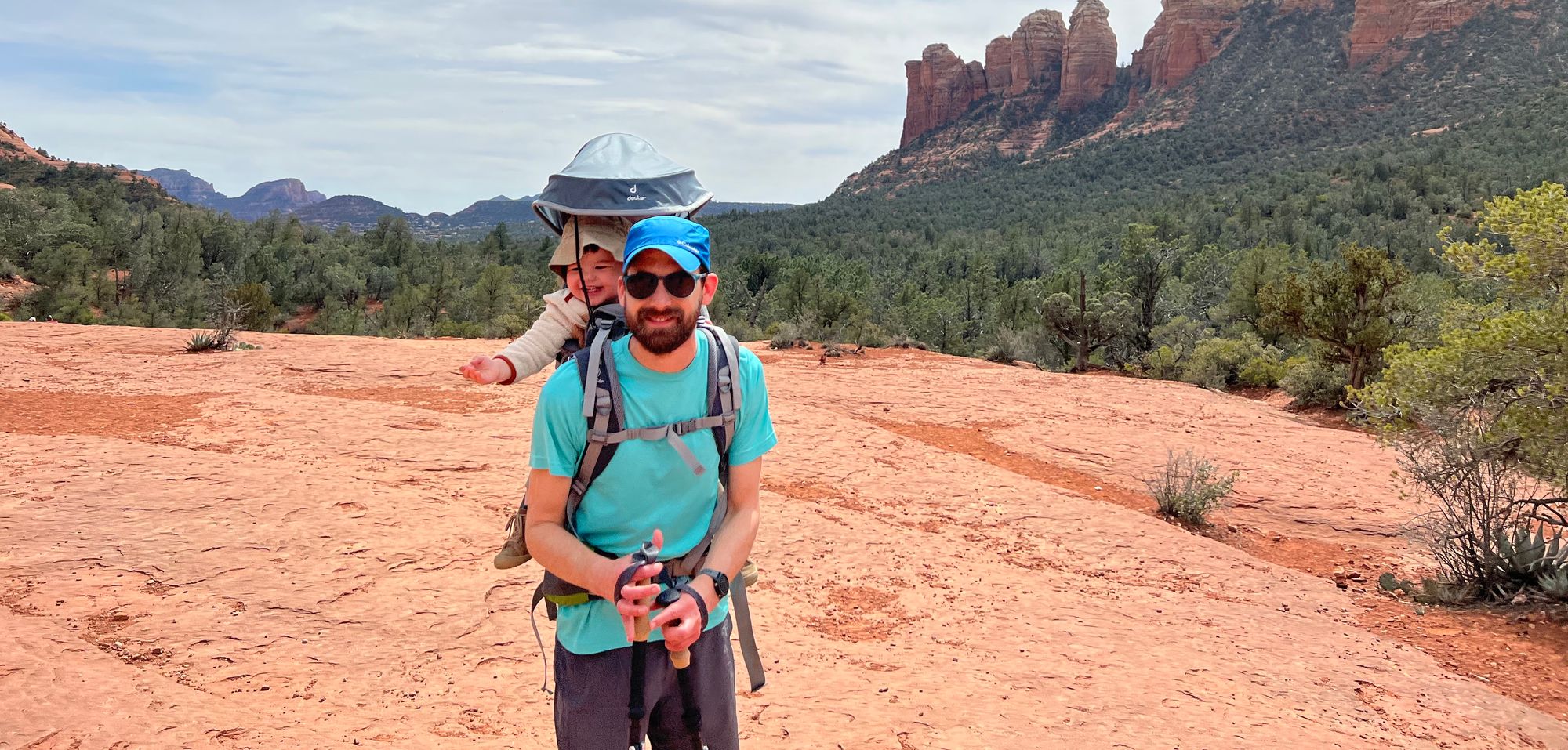 Hi, Lawton Pybus. Tell us a little about yourself.
I'm Lawton, a research manager at UserZoom. My team delivers full-service research for our strategic customers. I've been writing about my perspective on UX research for the better part of a year now. My family and I live in Colorado, so I LOVE spending any free time I can outdoors (especially hiking, cycling, or running).
What's one thing you wish you realized earlier in your research career? It took me a minute to figure out that advanced degrees—I have a PhD in psychology—aren't necessarily appreciated by all companies hiring researchers. Or that folks specializing in research are far outnumbered by designers in our field. As someone joining the field out of grad school, those two facts change your career strategy a lot.
If you had unlimited budget and time for research, what would you do with it?
I'd think bigger than any single project. The two biggest challenges in our field (as I see them) are training new researchers and participant recruiting—both of which could, ostensibly, be solved with enough time and money, and would unlock the potential for so much important work. There are a number of UX-focused companies today working through these "grand challenges," and I'm excited to be working for one of them.
How can people learn more about you and your work?
I write a monthly newsletter on our field called The ¼" Hole. And I'm on all the usual spaces: LinkedIn, Twitter, and Medium. Please do connect and reach out—I love to meet researchers!
Thank you, Lawton!
---
Spotlight > Articles > Video > Audio
🎉 Highlights.
What the rise of Gen Z means for user research
We conducted research to provide you with tips for understanding and researching this important generation. James Vinh
Tips for user experience research presentations
What I have learned over the years about giving powerful User Experience Research presentations. Mark Wehner 04/06
How to identify product assumptions (for user research)
A case study + three techniques for identifying assumptions that can (and should) be evaluated with user research. Bartosz Krawczyk 04/10
Re+Ops Conference giveaway (Sponsor)
Do you want to up your Research Operations game this June, and attend the first in-person Re+Ops conference in 2 years? We're giving away a free ticket and a travel voucher. Just tell us why you want to go and one lucky winner will be selected at the end of April!
Get a shot at a free ticket
🗣 Methods.
Demand characteristics in UX research
Cues can sometimes reveal the hypothesis to the participant and are known as "demand characteristics". What to do about them. Dr Maria Panagiotidi 04/11
A new statistical approach for predicting usability problems
A relatively new approach for modeling problem discovery was suggested by Bernard Rummel in a personal communication. It's based on a pattern he noticed: the total number of unique problems tends to have a linear relationship with the cube root of the sample size. Jeff Sauro & Jim Lewis 04/05
Trying to recruit specialized users? focus on finding one person first
Finding a way in to a specialized community can be difficult and important. Christopher Kai Wong 04/06
How to conduct a cognitive walkthrough workshop
Step-by-step directions for running a cognitive-walkthrough workshop with examples and templates included. Kim Salazar 04/10
How to create a UX scorecard (8 steps)
If you're faced with questions such as "How does our product compare to others in the industry?" or "How has our product changed over time?" Try creating a UX scorecard. Nikki Anderson
🛬 Approaches.
7 pieces of advice to consider before running sensitive research
To ensure your participants feel comfortable while sharing potentially difficult stories, keep these tips in mind. Karen Eisenhauer
How peer review creates strong collaborative teams
While technology can help us bridge that gap digitally, it's adopting a new mindset around inclusive, honest, open communication that will pave the way for strong teams in a virtual world - and peer review gives us the tools to do just that. Stefan Stenroos
Introducing UX research to your organization — how to communicate your value and navigate misconceptions
Research is not a job that can be done in isolation, so getting buy-in from different departments at your company is critical to your success. Audrey O'Keefe 04/07
Leading in and with UX Research (Sponsored)
How does Research Leadership look like? And how can Research lead other disciplines? Grab key-takeaways and highlights from the expert panel with Klara Pelcl (Senior Design Research Manager at eBay), Anna Avrekh (UX Research Manager at Meta), and Dr. John Pagonis (Principal UX Researcher at Zanshin Labs). Condens
📚Case Studies & Growth.
First 90 days as a UX research team of one at Nestcoin
When I joined Nestcoin, I wasn't sure what to expect. Part of me felt like I was taking on a little more than I could handle, while the other part was ecstatic I'd be spearheading UX research (UXR) at a web3 company. Hillary Omitogun 04/11
How to build a UX research resume that stands out (in 7 steps)
So, you're trying to get a UX Researcher job, but your resume isn't grabbing their attention? There might be a number of reasons why. Saba 04/11
Subscribe to stay up to date on User Research news and trends.
---
Spotlight > Articles > Video > Audio
🎥 Videos of the Week.
Challenging UX research norms: positioning qualitative research to succeed
Organizations need to ensure that designs are anchored in human stories, but as we move from design to development, research is not considered core to the process. There are so many moments of success to consider and promote, that we often overlook. Should we be able to leverage these moments, everyone will feel that much closer to what is created, while also challenging and growing our design processes. YouTube 04/10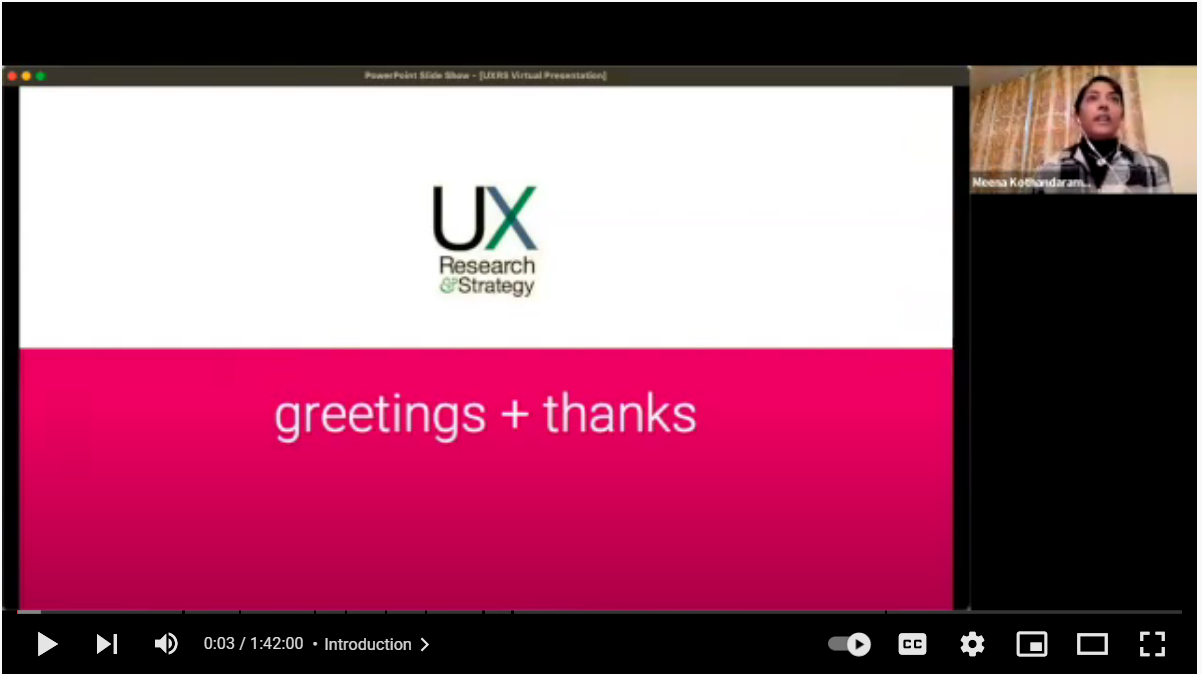 ---
Spotlight > Articles > Video > Audio
🔉Audio of the Week.
The state of user research 2022 with Roberta Dombrowski
An insider's look into how The State of User Research 2022 Report was made and what one creator thinks of the insights. Spotify Apple Podcasts 04/05

Happy researching,
🗞 Jan
User Weekly Newsletter
Join the newsletter to receive the latest updates in your inbox.