🗞 Inclusive LGBTQIA+ research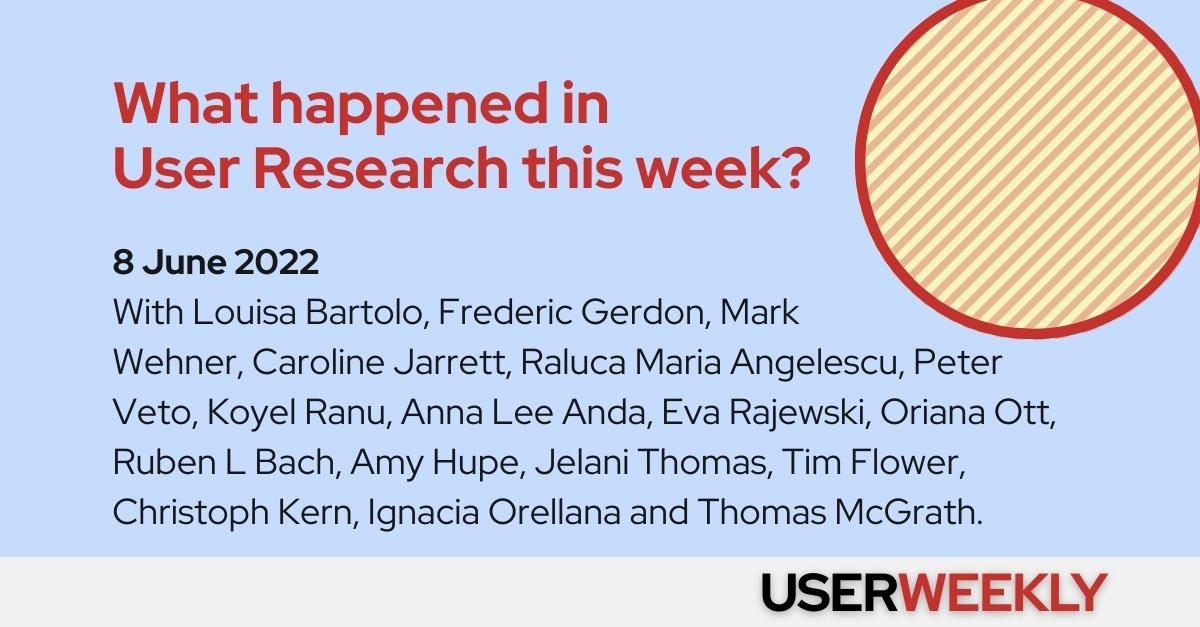 Hi there! 👋 Thanks for stopping by. USERWEEKLY is your weekly email to understand what is happening in User Research. It's the best way to keep up on trends, methodologies and insights in UX Research. It is written by me, Jan Ahrend. Each week I capture the pulse of our community and answer a simple question: What mattered in User Research this week?
😌 Humans of User Research with.. you?
Are you interested in being featured in the 'Humans of User Research' section in a future newsletter episode? Or do you know a fellow user researcher who you think would be a great fit? Then I'd love to hear from you! Please let me know by filling out this short form.
In the meantime, check out the previous 35+ featured researchers in the archive.
Happy researching,
🙌 Jan
PS: This is the last week there's a 10% discount on the User Weekly store with code "EARLYREADER". Consider getting an inspirational/sarcastic/cringy UX Research mug, shirt or poster designed by me! :)
---
Spotlight > Articles > Video > Audio
🎉 Highlights.
Qualitative humanities research is crucial to AI
The importance of thoughtful humanities research is heightened if we are serious about grappling with the potential broader social effects of machine learning systems (both good and bad), which are often delayed, distributed and cumulative. Louisa Bartolo & Rachel Thomas 06/01
Best practices for inclusive LGBTQIA+ research
Whether you want to conduct an experience gap study with LGBTQIA+ populations or make sure they're included in your general research recruitment efforts, there are inclusive research practices you need to consider and implement throughout the research lifecycle. 06/03
Social impacts of algorithmic decision-making: a research agenda for the social sciences
Academic and public debates are increasingly concerned with the question whether and how algorithmic decision-making (ADM) may reinforce social inequality. In this overview, we highlight how social sciences can apply their knowledge on social stratification and on substantive domains of ADM applications to advance the understanding of social impacts of ADM. Frederic Gerdon 05/31
How often are you speaking with your customers? (Sponsor)
Customer centric companies like Zapier are speaking with their customers on a daily basis. Learn how to support more research at your organization.
Listen to the session
🎯 Impact.
Scale your research influence: include, listen, and share broadly
If I take a close and honest look at my career and the actual tangible outcomes from my research, most of this came from people outside of this small sphere of high-up organizational influence. Here are 3 stories of how my work influenced others unexpectedly. Mark Wehner 06/07
How to share research in design systems
The needs we discovered in our meta-research: user research with designers and developers about how they use the research that supports a design system – and what they need from it. Caroline Jarrett 06/01
Present your UX research - sharing my experience
Wearing the hat of a UX researcher for a while in my last projects and working closely with my team to show our work to the client, I put together some key aspects that made my clients nod in approval and say, "Amazing job!" at the end. Raluca Maria Angelescu 06/06
🛠 Research Ops.
Automating recruitment for user-research panels
Unless your use case is very generic, you must build your own user panel to get a usable database of participants. Your leads, prospects, and customers naturally have the desired needs and qualities you require for your research. Here are strategies to set up and automate your panel building. Peter Veto 06/05
📚 Career.
Barriers to getting a job in UX as faced by women
In my research, where I explored the challenges faced by women jobseekers in UX, I didn't ask any of my participants how did the pandemic affect them, yet all of them talked about it. I wanted to know about how they came to the point of considering UX as a career option, because I was interested to know about the alleged problem one gets to hear about in almost every quarters of UX corridors and rooms nowadays — that an influx of newcomers are creating this situation of massive job applications, and of diluting the discipline, understanding & rigor of UX. Koyel Ranu 06/05
Common avoidable mistakes made when applying for UX research roles and how to overcome them
Steps to improve your chance to get your first/next UXR role. Anna Lee Anda 06/03
Subscribe to stay up to date on User Research news and trends.
---
Spotlight > Articles > Video > Audio
🎥 Video of the Week.
The human side of research with UX researcher at Indeed
UX Researcher at Indeed Eva Rajewski talks about: The day to day of working as a UX Researcher. Studying Anthropology before pivoting into UX. Navigating assumptions and the human side of research. The future of UX Research. YouTube 06/02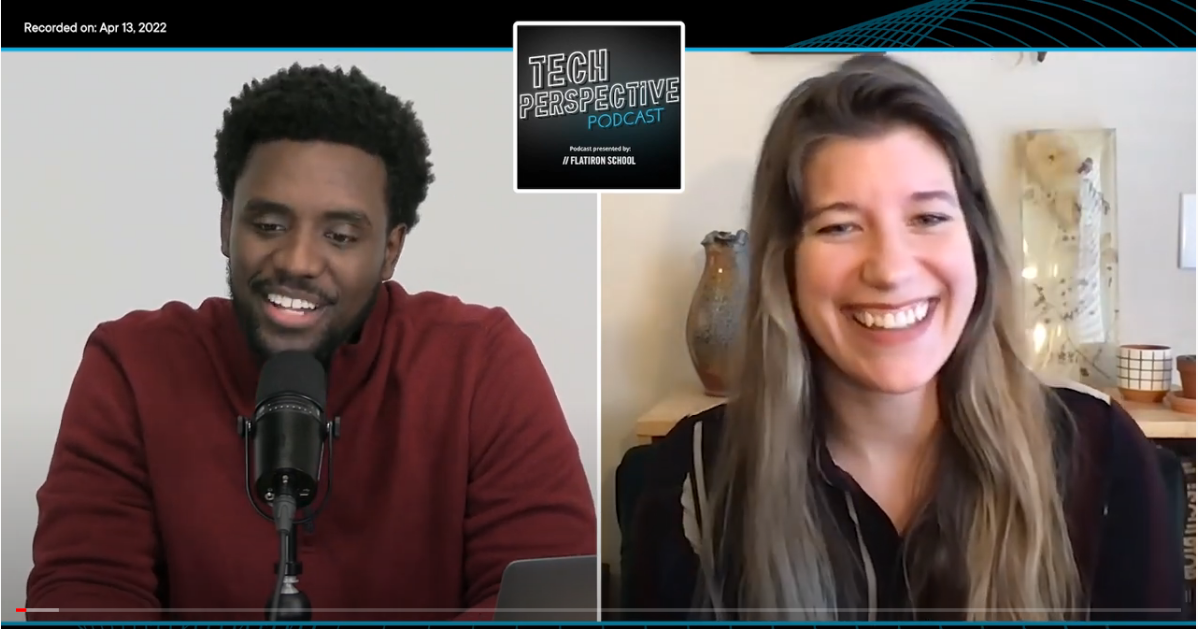 ---
Spotlight > Articles > Video > Audio
🔉 Audio of the Week.
From computer people to politicians: Psychology in Tech
About the intersection between psychology and tech and how they're bridged by data. Why IT has shifted from strictly computer-facing to incorporating more human factors. What qualitative and quantitative data shows the importance IT specialists and human interactions. How psychology and technology will continue to grow together. Spotify Apple 06/07

---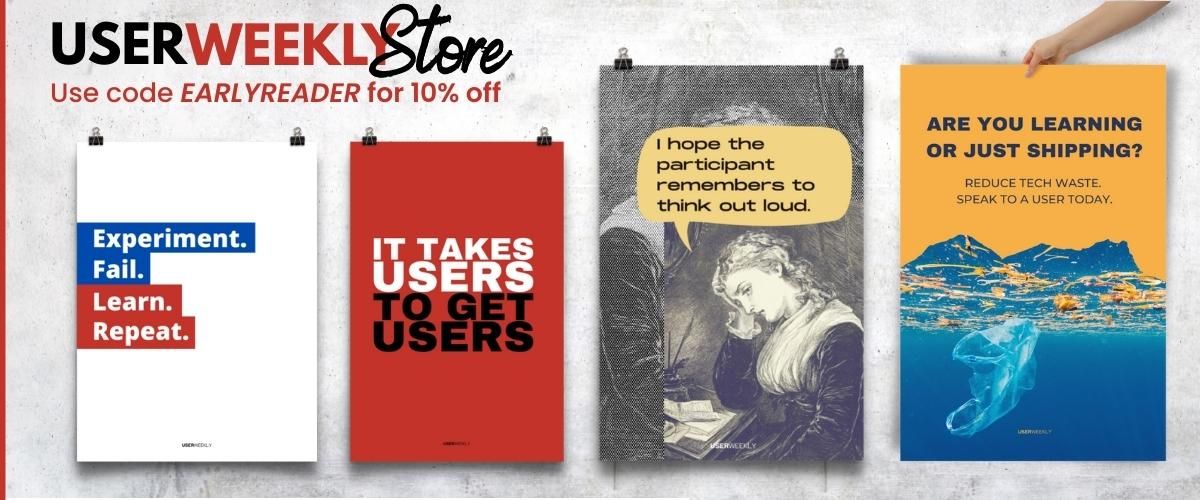 User Weekly Newsletter
Join the newsletter to receive the latest updates in your inbox.