🗞 UX Research Approaches in Teams with Low UX Maturity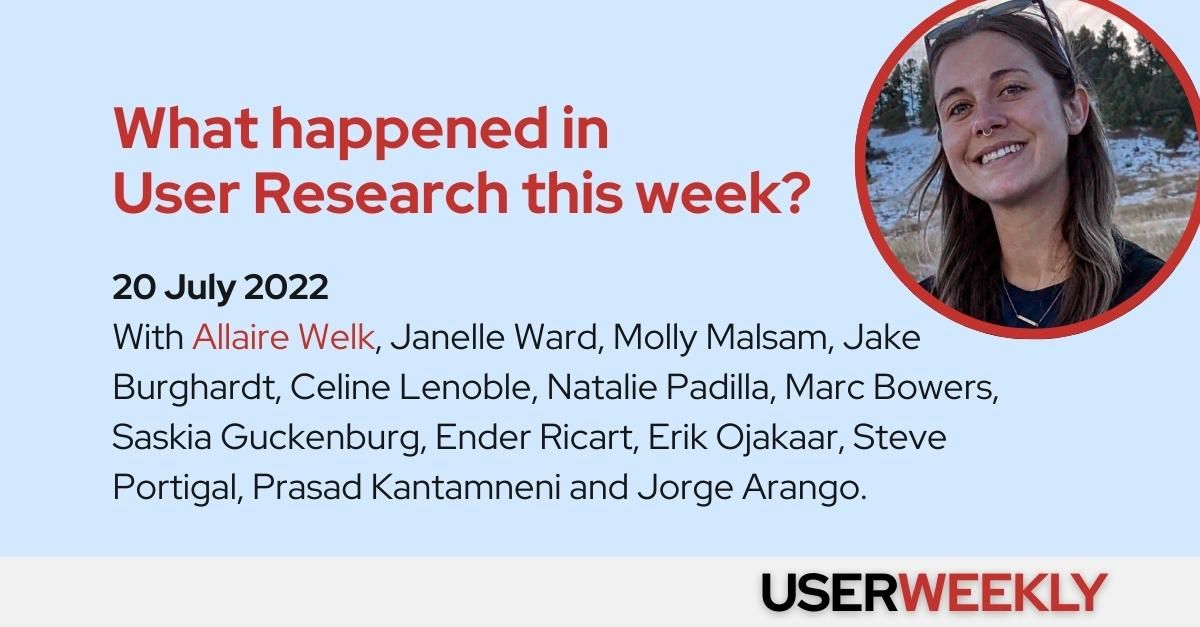 Hi there! 👋 Thanks for stopping by. USERWEEKLY is your weekly email to understand what is happening in User Research. It's the best way to keep up on trends, methodologies and insights in UX Research. It is written by me, Jan Ahrend. Each week I capture the pulse of our community and answer a simple question: What mattered in User Research this week?
😌 Humans of User Research with Allaire Welk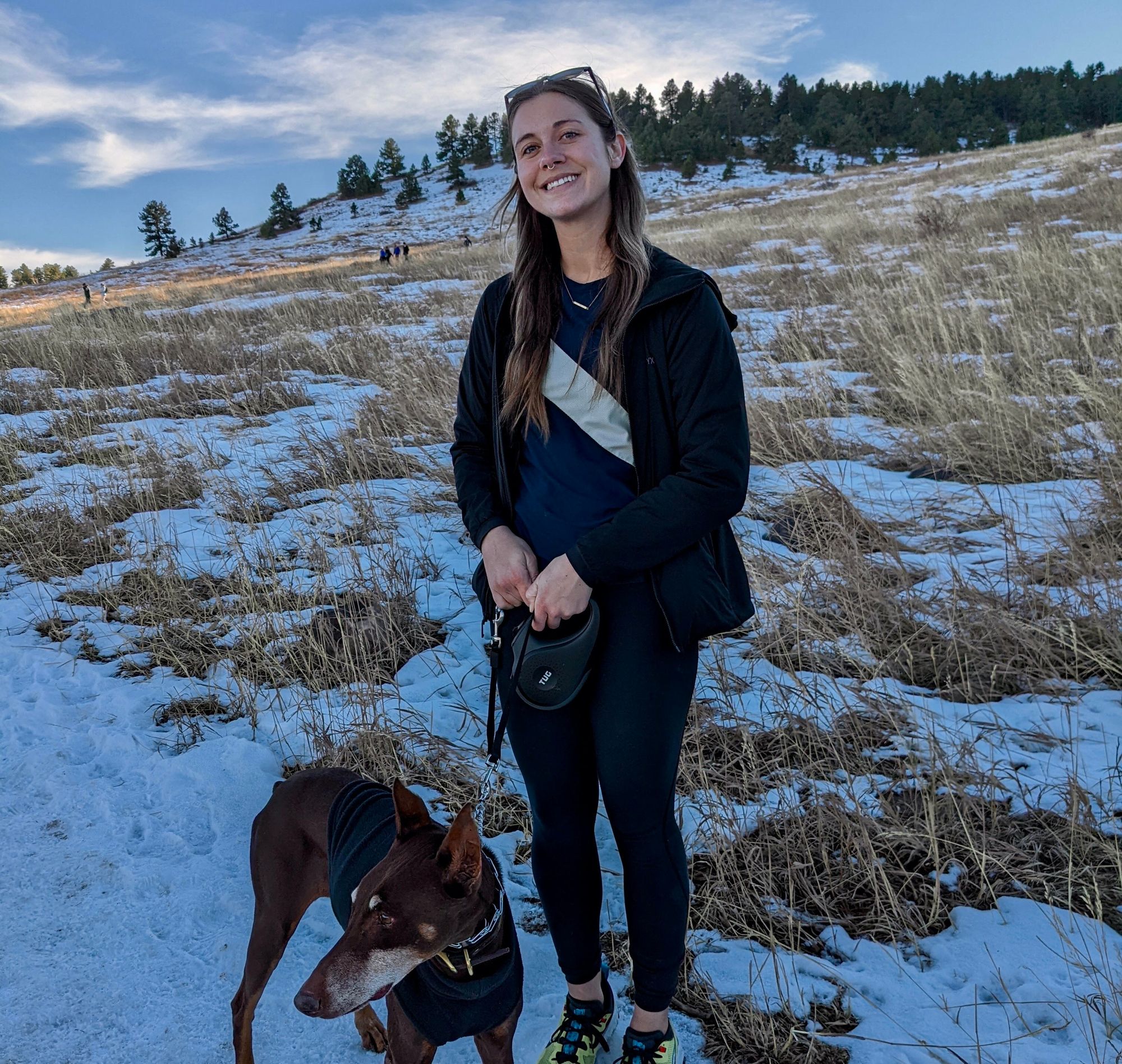 Hi Allaire, tell us a little about yourself.
I'm Allaire Welk! I'm formally trained in Human Factors; I got my PhD from North Carolina State University - where I studied attention, perception, and decision making - in 2017. Since then, I've worked at WillowTree, UserZoom, Peloton, and I'm currently a Senior UXR at Google. I'm passionate about mixed methods research, creative problem solving, and building products that improve people's lives. Outside of work, I love all types of cycling (gravel, mountain, road) and trail running with my dog, Dobie.
What originally got you interested in UX Research?
I distinctly remember the day I became interested in UX research! I was an undergraduate sophomore and trying to figure out what I was going to do after college. One day as I was walking through Poe Hall at NCSU, I saw a flier requesting research assistants for Dr. Anne McLaughlin's Learning, Aging, and Cognitive Ergonomics (LACE) Lab. There was a small write-up describing the type of research I would be able to support if I was selected for the opportunity; the first line went something like this: "Gains through gaming: determining how video games affect older adult cognition." This was the first time I'd heard of Human Factors, and everything about it appealed to me immediately; understanding human behavior through cognitive mechanisms, the challenge of communicating complicated concepts in an accessible way, and leveraging research with the goal of improving people's lives. I took one of the contact cards, sent an email, volunteered with the LACE lab for over a year, and ultimately fell in love with the research process and outcomes.
If you had unlimited budget and time for research, what would you do with it?
I'd invest in a series of foundational research studies on a broad topic that could impact a lot of people in a positive way, something like understanding the future of collaboration and remote work or identifying effective strategies for motivating people to embrace activity and exercise. I personally love diving deep and really getting to know the intricacies of a problem space, and this type of work typically allows you to leverage fun combinations of qualitative and quantitative research methods and generate creative, impactful deliverables. Beyond being fun and challenging, I find that having a solid foundation of knowledge leads to more impactful research down the line and dramatically increases a team's ability to positively impact the people for which they're designing.
What can people reach out to you about and how can they find you?
I'm an open book! I love chatting with folks who are looking to break into the UX research field, UX researchers early in their career who are running their first few studies and learning their personal research style, and UXR veterans. I particularly enjoy chatting about ways to leverage human attention and perception research within industry contexts and how to creatively implement research methods. Oh and all things running! The best way to contact me is either through LinkedIn or email.

Thank you, Allaire!
Subscribe to stay up to date on User Research news and trends.
---
Spotlight > Articles > Video > Audio
📚 Articles
🎉 Highlights.
How UXR leaders approach research in a low UX maturity organization
Research consultant Janelle Ward provides advice for leaders on how to shift your organization's cultural attitudes toward research. Janelle Ward
Introduce small studies to your org with the bento box program
If your organization has high demand for research and limited staff, the "bento box" training program might be right up your alley. Molly Malsam
Activating insights to overcome common barriers to product impact
Collections of unapplied insights build up quickly in tech organizations. As streams of research are conducted, key insights for better serving people are too easily left on the cutting room floor, piled away in locations that product people do not frequent. If your organization has been around a minute, then chances are good that your past research could have a lot more to say about your future product direction. Jake Burghardt 07/18
🎯 Approaches.
How UXR can avoid discrimination bias in machine learning models
With ML facing so many users, there is a case to approach the conception and design of ML-powered applications from a UX research perspective. This is how. Celine Lenoble 07/17
Stop trying to be an expert on the user
The value of beginner's mind in UX research and how to achieve it (again). Natalie Padilla 05/31
How to get the most from user testing with relaxation
Whilst we can't always recreate the exact context i.e. the mood and mindset product users may experience, what we do have control over, is the ability to create a testing environment in which participants feel relaxed and comfortable. Marc Bowers 07/14
From SAP: why inclusive research is the new gold standard
Designing with people, rather than for people, is at the heart of our UX transformation. Saskia Guckenburg 07/14
🛠 Methods.
Rapid & large-scale research: hub-and-spoke model for data collection
When in-situ field research is required for succesfully answering research questions and deliver a successful product or service, the Hub-and-Spoke Model can help. It is a rapid and scalable research method for data collection and analysis. Dr. Ender Ricart 07/16
Subscribe to stay up to date on User Research news and trends.
---
Spotlight > Articles > Video > Audio
🎥 Video of the Week.
How do I hire a rockstar UX researcher! (Amazon UX research)
Erik is a recognized e-commerce and mobile UX expert, he is known for building research teams, and planning and leading multi-phase research projects across companies. He has worked for companies such as Amazon, Linkedin, and eBay. YouTube 07/12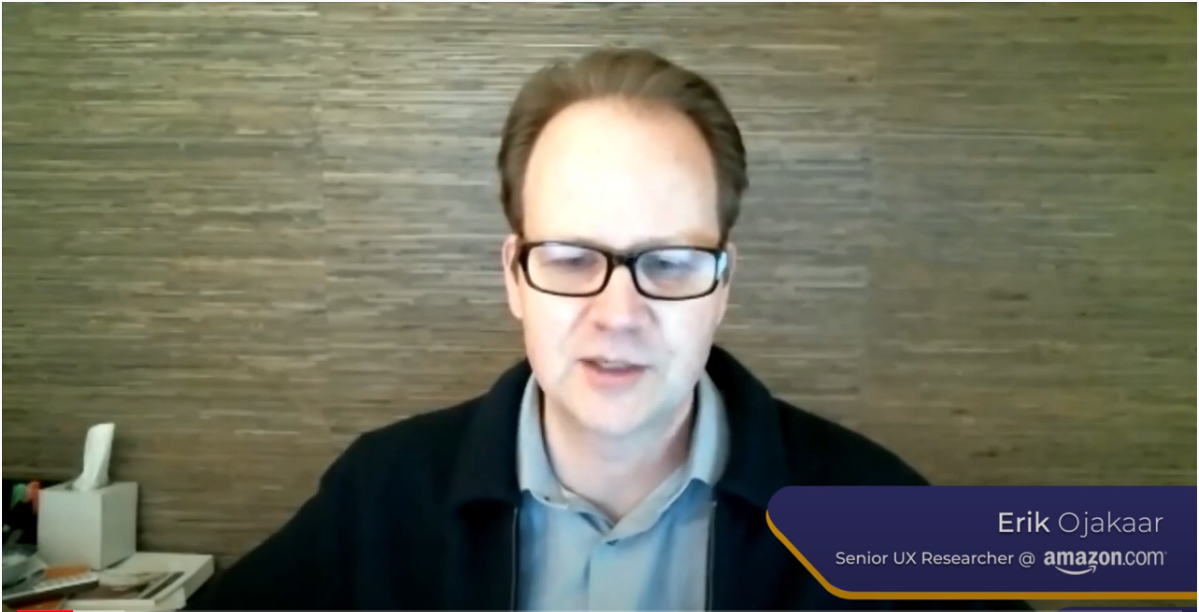 ---
Spotlight > Articles > Video > Audio
🔉 Audio of the Week.
Steve Portigal on research skills
"The more you do it, the more you either make mistakes or feel uncertain about an experience that you're having and reflect on it, whether it's through listening to a podcast where people are talking about this or reading a book, or, working with someone who's more experienced, who can reflect back to you. Those are all ways that we do become more confident with these sort of… surprising or unexpected aspects of what the nature of the work is". Spotify Apple 07/17

Happy researching,
🗞 Jan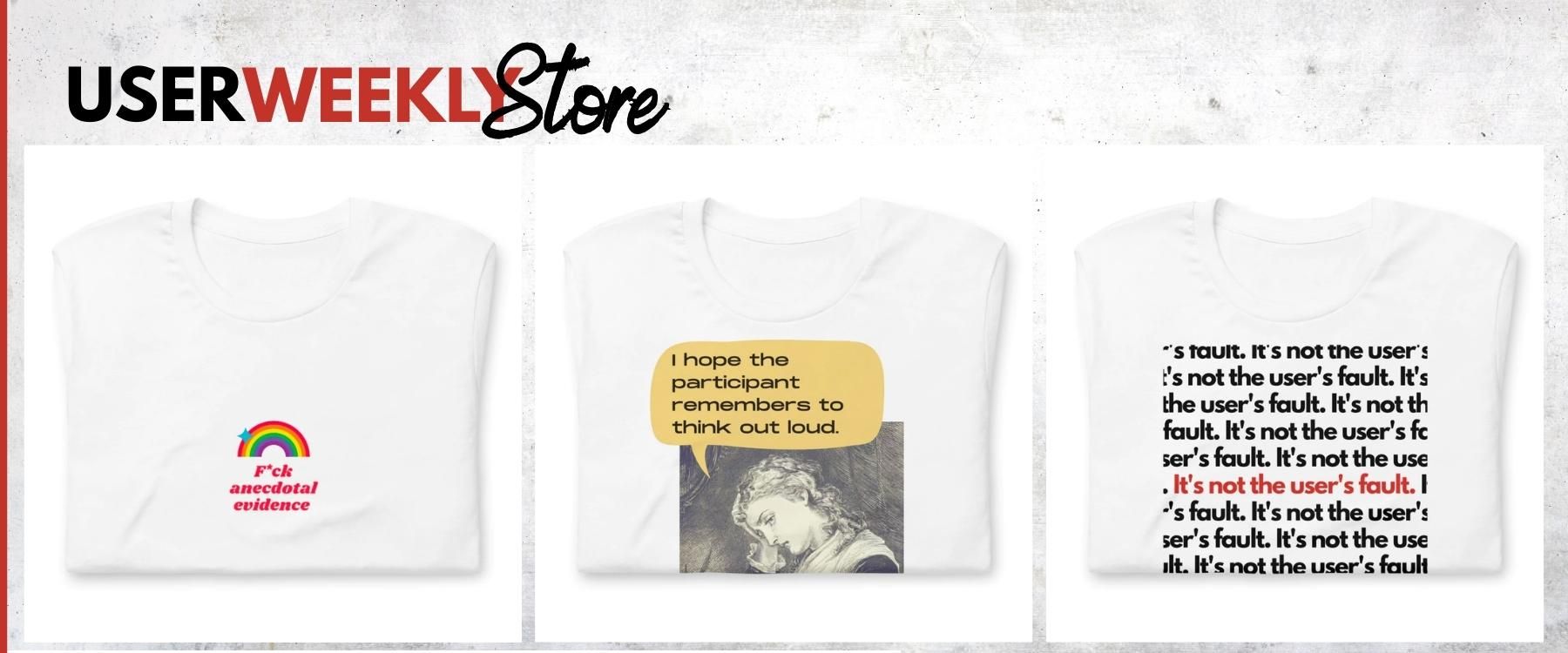 User Weekly Newsletter
Join the newsletter to receive the latest updates in your inbox.