🗞 Meta Analyzing UX Research Outputs for Compiled Learning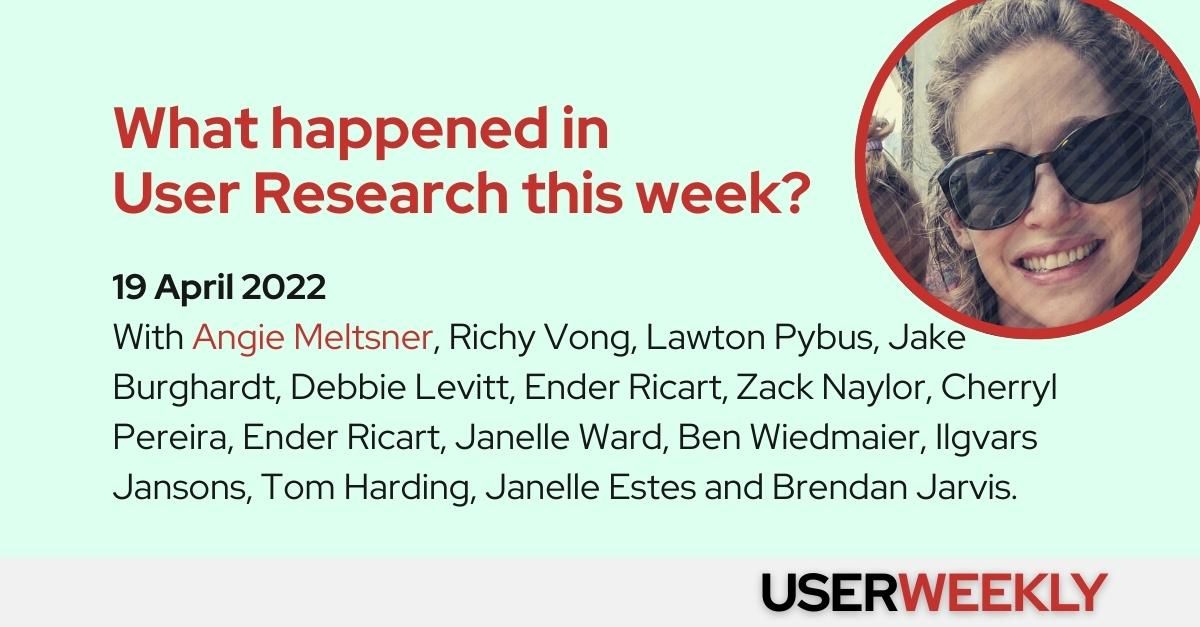 Hi there! 👋 Thanks for stopping by. USERWEEKLY is your weekly email to understand what is happening in User Research. It's the best way to keep up on trends, methodologies and insights in UX Research. It is written by me, Jan Ahrend. Each week I capture the pulse of our community and answer a simple question: What mattered in User Research this week?
😌 Humans of User Research w/ Angie Meltsner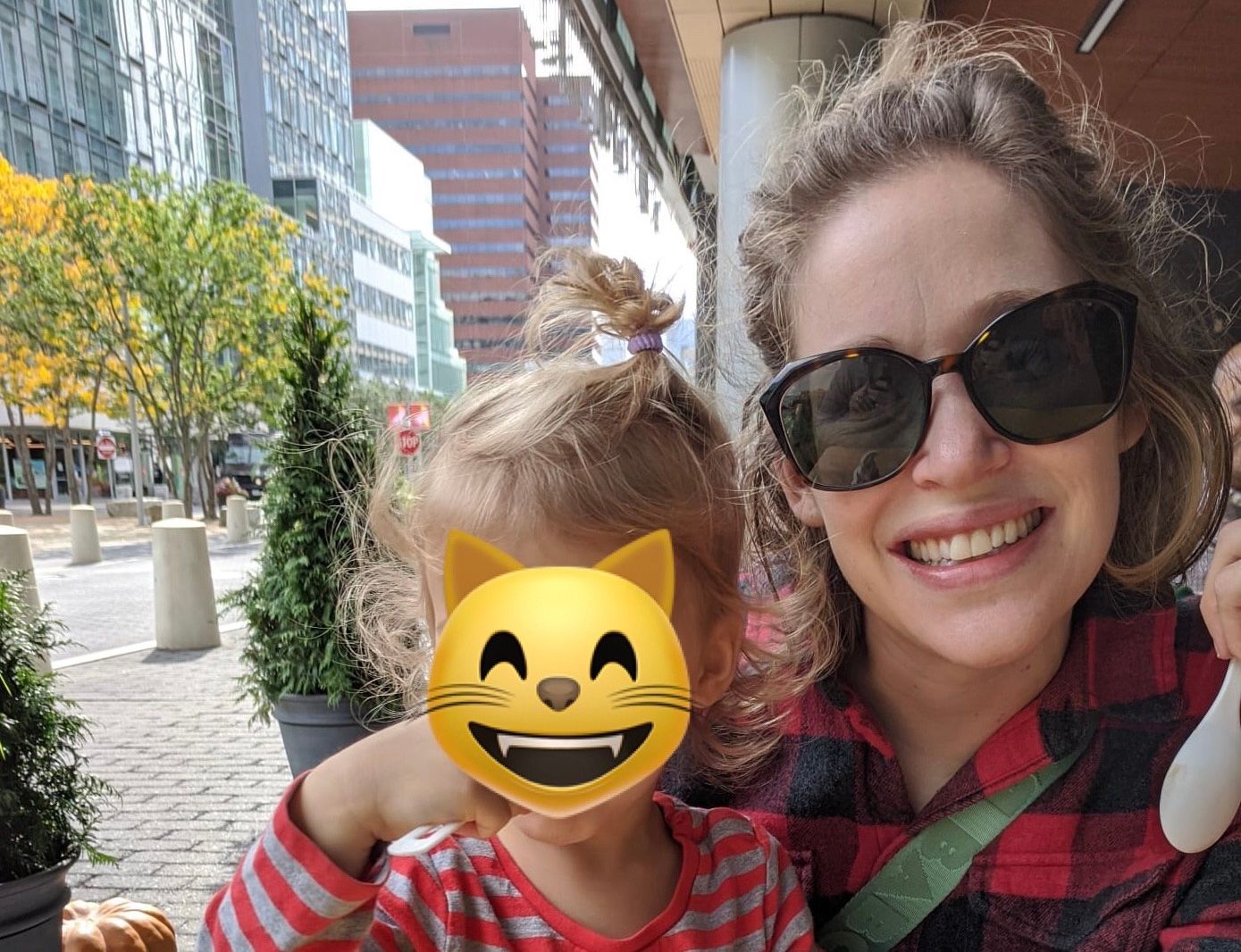 Hi Angie, tell us a little about yourself.
Hello hello! I am a user researcher based in the city of Boston, in the US. I work at an awesome research and design firm called Blink UX where I focus on mixed methods research, with a specialty in survey. UX is kind of my third career path; I started out in advertising media planning, then moved into marketing research, and now I'm very happy to be in user experience! Across all those paths, I've almost always been on the agency/consultancy side, and I love the variety that brings and being surrounded by people who love the craft. Outside of work, I'm usually with my husband and our young daughter, exploring all the great playgrounds and cafes around the city. Keeping up with pop culture is also a big hobby of mine, so I really enjoy reading, listening to podcasts (any UX Wholigans out there?), and chatting with my friends about some of the more light-hearted things happening in the world. You want me on your trivia team!
What originally got you interested in UX Research?
It probably started when I was a kid… I remember reading my older sister's journal (sorry Kiki) – my first diary study! I have always been very curious and fascinated by what is going on in other people's lives.  When I learned about user research and realized I could harness the power of nosiness and gossip for the better, I knew I had found the right job for me. After 10+ years in marketing/advertising, I was ready to start thinking about "users" rather than "customers", and was so glad to find a great opportunity to make the move over.
What's one thing that can instantly make your day better?
Each weekday morning, I get to spend about 45 minutes one-on-one with my daughter while we take the bus and walk to her preschool. I love her curiosity and observations (they inspire me as a UXR!), and she never fails to make me laugh with questions or statements that only a 3 year-old could come up with. It always gives me something cheerful to hold onto throughout my day.
What would you like to talk about with other researchers and how can they find you?
I love nerding out about the power of mixed methods research, the art and science behind writing a good survey questionnaire, and celebrity gossip. Catch me on LinkedIn!
I'll be giving a very short talk about finding inspiration from journalists at Blink's ConveyUX conference taking place digitally May 3-5. And I'll be speaking on the power of mixed methods research at the R&D Process Excellence & Product Development World Summit taking place in Boston May 12-13.
Thank you, Angie!
Subscribe to stay up to date on User Research news and trends.
---
Spotlight > Articles > Video > Audio
🎉 Highlights.
A small SaaS team's lean user research methodology
At BugHerd, we don't make any updates or introduce new features to our product without some form of user research to back up our decisions. But as a small team, taking the time to do this, can have a big impact on your product velocity. Richy Vong 04/19
What the UXR job market and the housing market have in common
Similar to the US housing market, UX research supply is struggling to keep up with demand. Our field is expanding at an exponential rate. But the pool of candidates isn't, largely because a majority of researchers are found among the sliver of people with graduate degrees. Lawton Pybus 04/18
Strengthening insights by evolving each research output into a meta analysis of compiled learning
Is 'this just in' the only thing that matters? Researchers can take on more of this interpretive labor, growing more compelling insights by clearly summarizing previous learning within each of their report outs. Jake Burghardt 04/18
🎯 Approaches.
UX Research without a hypothesis and for products that don't exist yet
How do you do qualitative UX research without a hypothesis? How can you do research when we don't have an idea, MVP, or product to show someone? What would we learn, and how is this better than just releasing that idea and learning from testing?. Debbie Levitt 04/15
Archetypes in user research
In this article I am putting forth a definition of "Archetypes" as an intentional merger of quantitative and qualitative data collection and analysis. Ender Ricart 04/16
How to synthesize user research data in 14 steps
When it comes to gaining valuable insights from research, collecting user data is easy. You can create and send out a survey in minutes and schedule user interviews while you're at it. The real challenge lies in organizing research data and drawing insights that achieve your research objectives. Zack Naylor 04/18
6 Tips for democratizing research at your organization (Sponsor)
Companies like Honeybook and Auth0 are scaling their research efforts by training more people to do great research. Use these 6 tips to get better research done faster. Tips from practitioners
🛠 Methods.
Comparative usability testing: Why it matters for your business
In a world where competition is fierce and design trends change rapidly, it's important to stay ahead of the curve. One way to do this is by utilizing comparative usability testing, so you can provide performance insights on designs. Cherryl Pereira 04/13
Deep analysis in UX research: ethnography as an approach not method
The proposition put forward here is that ethnography in the private sector is no longer a specific research method but a goal-oriented approach that can be applied to many different kinds of qualitative research. Dr. Ender Ricart 04/19
🚀 Growth.
Advice for simultaneously managing the UX Research team and the craft
As you progress in your UX career, you'll likely wear two hats: manager and individual contributor. Clear documentation and communication with your team is critical to finding a good balance between the roles. Janelle Ward
Reconsidering the "Core" knowledge of UX
DesignIt and UX Book Club Chicago's Sharon Bautista unpacks the importance of organizational learning cultures and interrogates whose perspectives inform our practice. Ben Wiedmaier
5 lessons learned after 2 years of doing research operations
After 2 years and experience in 3 companies I feel have learned some valuable lessons about doing Research Operations. Most of them are very obvious, but usually, those are also the first ones to be forgotten in day-to-day work and situations. Ilgvars Jansons 04/15
UX research as an introvert: a match made in heaven
Despite what society seems to expect of me, I don't really want to talk to anyone. I am an introvert. However, I found a career where I can make "conversation" and I absolutely love it. I am a UX Researcher. 04/13
Subscribe to stay up to date on User Research news and trends.
---
Spotlight > Articles > Video > Audio
🎥 Videos of the Week.
Building a user research function at NHS test & trace
Since February 2021, Nomensa have partnered with NHS Test and Trace to provide user research support and capability across multiple work streams. In this talk, Tom will cover his experiences building a user research function in a new team (The Single Digital Front Door team - Testing guidance on NHS UK). YouTube 04/13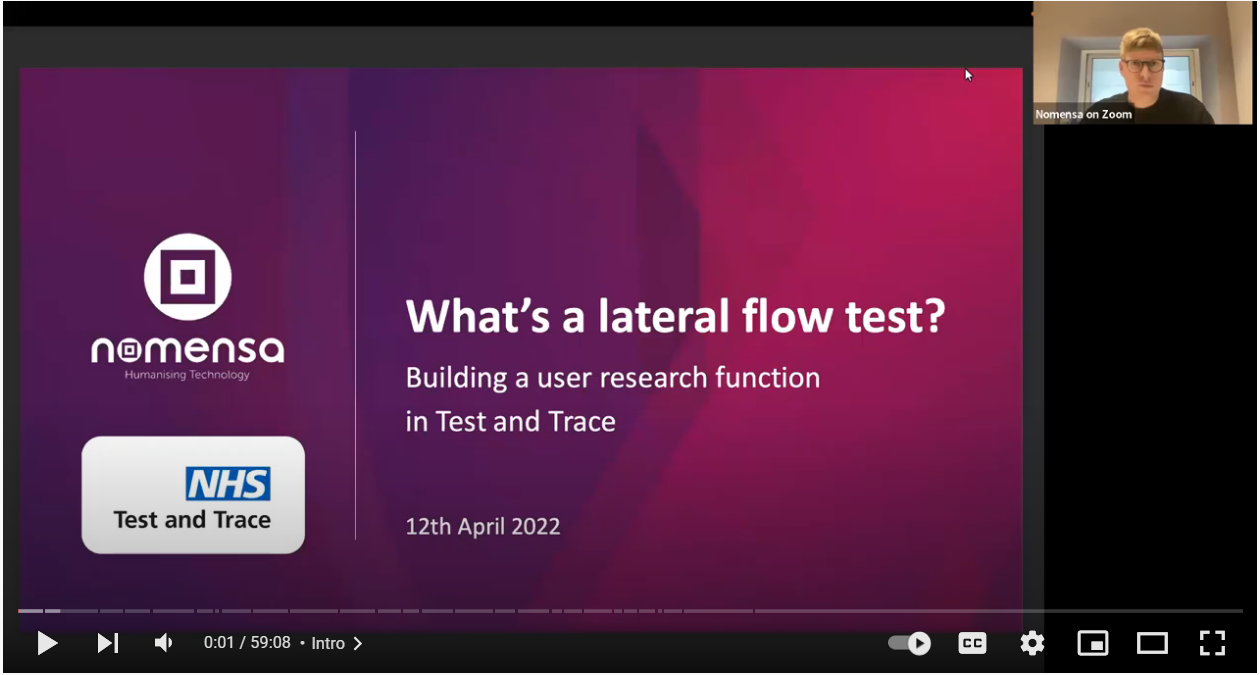 ---
Spotlight > Articles > Video > Audio
🔉 Audio of the Week.
Janelle Estes on scaling Design Research
Janelle Estes shares the importance of executive leadership staying connected to customers, and what the best design leaders are doing to successfully scale design research. Spotify Apple 04/18

Happy researching,
🗞 Jan
User Weekly Newsletter
Join the newsletter to receive the latest updates in your inbox.