User Weekly #23, November 23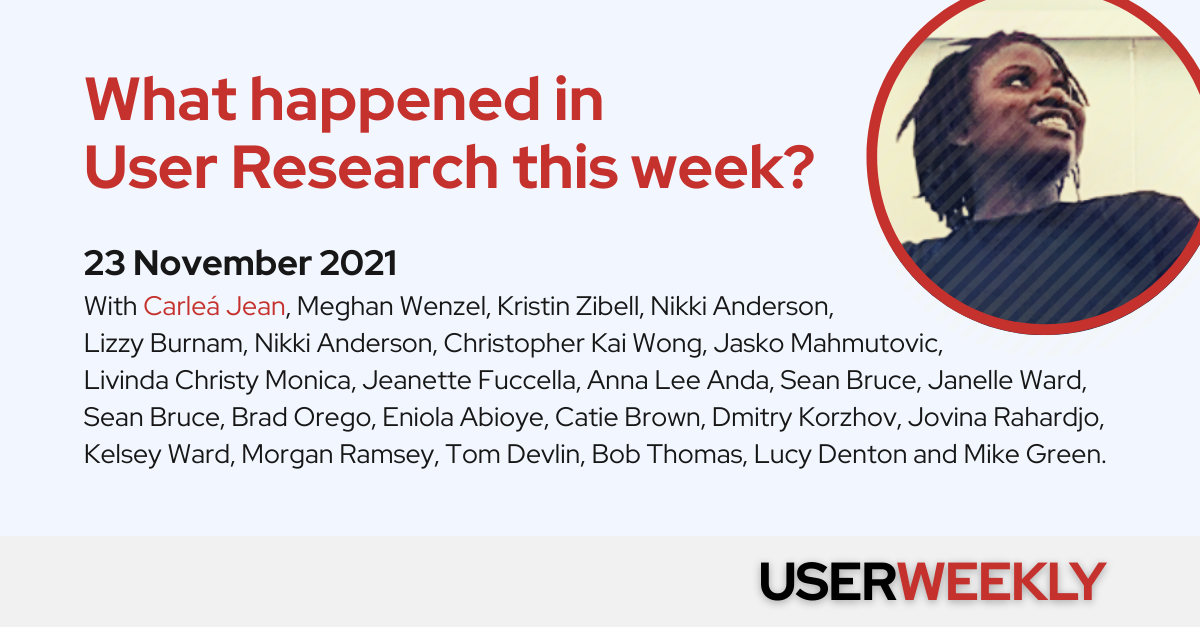 USERWEEKLY is your weekly email to understand what is happening in user research. It's the best way to keep up on trends, methodologies and insights across the industry. It is written by me, Jan Ahrend. Each week I go through content from mainstream media to small blogs to capture the pulse of our community and answer a simple question: What mattered in User Research this week?
😌 Humans of User Research w/ Carleá Jean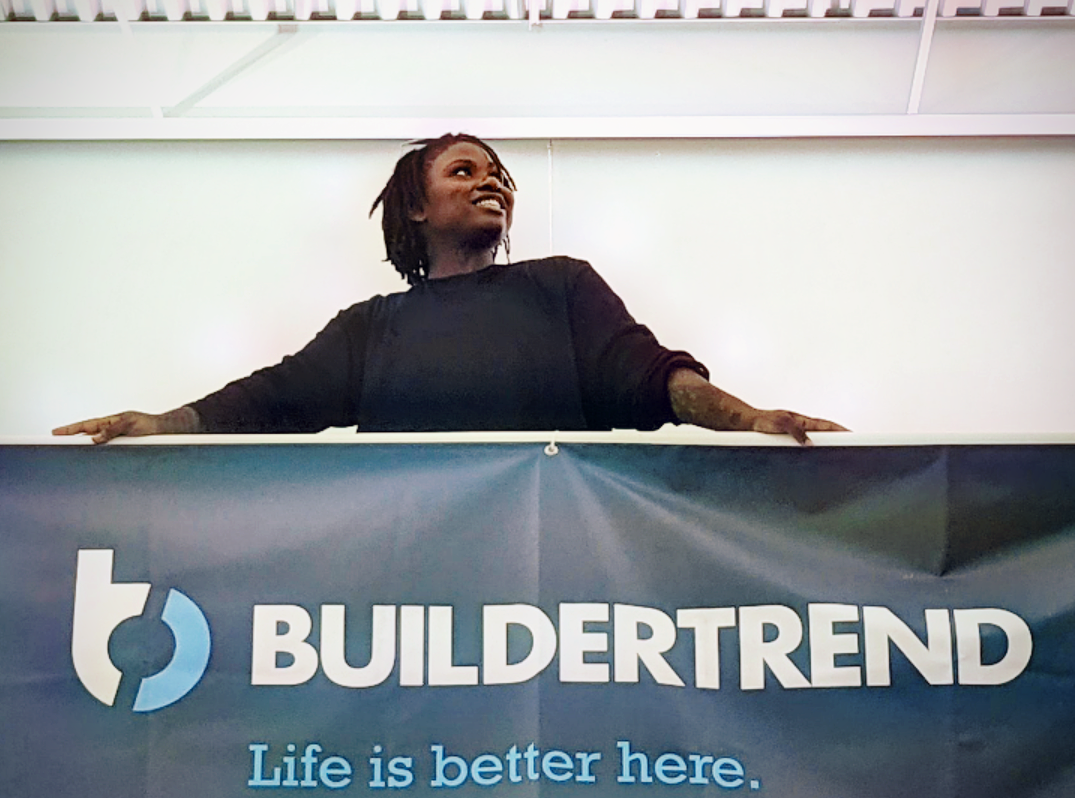 Hi Carleá, tell us a little about yourself.
Hello everyone! I'm Carleá Jean, UX Research Intern at Buildertrend, a construction project management software company, and the Founder of the Omaha Chapter of The Black In Technology Foundation. My background is in Psychology, Clinical Counseling, and Applied Behavior Analysis (Board Registered). My favorite things to do are things I've never done before, I've been everything from a Chef to a Stand-Up Comedian!
What's the best career decision you've made?
The best career decision I've ever made was transitioning into tech. My work as a Behavior Analyst consisted of, for the most part, in-home therapeutic services. Due to COVID, I lost my job, but I recognized this loss as an opportunity to gain skills and knowledge in an industry that I have always found interesting, technology. I honestly did not know that UX Research was a career path until I took the Google UX Design Professional Certification course and was mind-blown that the field encompassed all of my interests and previously obtained skills!
If you could only use one method for the rest of your career, what would it be?
As a behavior nerd, if I could only use one method it would definitely be Natural Language Processing (NLP) utilizing the Natural Language Toolkit (NLTK) in Python! As a neurodiverse woman, I don't always understand the ambiguities of human language. The availability of algorithms that can contextually mine text to understand nuances, such as sarcasm and metaphors, amazes me! Accessibility in all forms is also very important to me and NLP artificial intelligence (AI) can do anything from language translation to asking my Google assistant to remind me to take out the trash!
How can people learn more about you and your work?
Feel free to connect with me on LinkedIn, Twitter, or Instagram (@CarleaJean), and follow Blacks In Technology Omaha to keep up with all of the amazing programs they offer to help you upskill, network, transition, and more (@BlackInTechOMA)! If you are looking for more comedy-based UX Research/Tech tips and tricks, follow me on TikTok (@itscarleajean)!
Thank you, Carleá!
---
Spotlight > Articles > Audio
🧐 Thought pieces.
How you can exponentially increase the impact of your research with two small changes
Understanding a product's mindset and reality can help you influence roadmaps more effectively. By Meghan Wenzel (UX Collective 11/22)
Check your bias: how to moderate research sessions with an inclusive approach
Inclusive research means not only that participants bring diverse backgrounds and ethnicities, but also that these underrepresented voices feel welcomed and their feedback is incorporated into product design decisions. By Kristin Zibell (AnswerLab 11/17)
To ask or not to ask? How to design research for difficult questions
Tips for matching the question to the method and identifying which inquiries can't be researched. By Nikki Anderson (dscout 11/21)
💯 Methods.
How to conduct a terrible focus group study
When they're bad, they're terrible. No matter your opinion on focus group studies, here's the sure-fire way to screw them up. By Lizzy Burnam (User Interviews 11/18)
Level Up Your Usability Tests with SUS and SEQ
See the use cases for each technique and which caveats to look out for. By Nikki Anderson (dscout 11/20)
How to use guerrilla research to guide your project discovery phase
How to validate your value proposition with your users efficiently. By Christopher K Wong (Data & Design by Kai Wong 11/17)
What is a cross-sectional survey and why should I use one?
Are you in retail, healthcare, education, psychology, or marketing? Looking for a fast way to collect a large amount of data? Then you may want to consider a cross-sectional survey. In this blog, we'll look at what they are, how to use them, the pros and cons, and more. By Jasko Mahmutovic (SurveyLegend 11/16)
🎯 Impact.
The process of prioritizing a feature improvement based on user research results
How to create an affinity map, an action plan and prioritize feedback. By
Livinda Christy (Medium 11/22)
Building a framework for prioritizing user research
As someone who's not terribly good at saying no, I needed a framework to help me decide how to focus my time and energy. By Jeanette Fuccella (Medium 11/21)
How not to do "theoretical" research
Make your research more impactful. By Anna Lee Anda (askwhy 11/20)
🛬 Approaches.
Tell us what you really think: Jared Spool on democratizing research
"Democratizing is such a funny word." By Sean Bruce (Dovetail 11/19)
Becoming the user
Why we need to put ourselves in our users' shoes both to better empathize and identify areas where we can improve their experience. By Janelle Ward (dscout 11/19)
What is the democratization of user research?
A controversial topic in some circles, democratization could be the secret ingredient for research in large organizations. By Sean Bruce and Lucy Denton (Dovetail 11/20)
When to (and not to) build an ops-first Research Practice
In Part 1, we covered why you should do it, and in Part 2, we got into the details of what we've done and how we've done it so far at Auth0. This surprise 3rd part will discuss things to consider if you want to go the Ops-first route. By Brad Orego (Medium 11/18)
🔁 Refreshers & Misc.
Top 9 blogs every UX Researcher should start reading right now
There are a lot of blogs out there that put out really cool content to share research experiences. But you can't keep track of everything at once, so this list highlights the 8 most useful ones. By Dmitry Korzhov (Medium 11/19)
How research builds the designer
The symbiotic relationship of research and design, and why need to do both effectively as a designer. By Jovina Rahardjo (UX Collective 11/3)
Tips on developing the right audience
Tips to help you identify and reach the right audience for your research survey. Avoid the pitfalls and ensure your data provides valuable insights into your market and drives your new product or feature to success. By Kelsey Ward (Feedback Loop 11/22)
Enter your email to receive the latest updates in your inbox.
---
Spotlight > Articles > Audio
🔉 Audio of the Week.
Transition from HR analyst to AIUX Researcher
To jump from HR to the research ladder is nearly impossible at Google, especially for someone who doesn't have a Master's or PhD. However, Morgan Ramsey proved all the critics wrong by planning her unconventional way into UX Research. This episode discusses her resilient journey to becoming a UX Researcher. By Morgan Ramsey (Spotify 11/18)

Tom Devlin - founder and principal consultant at UserLab
The challenges and benefits of founding (and growing) your own UX agency, and why researchers should never be afraid of awkward silences. By Tom Devlin and Mike Green (PodBean 11/10)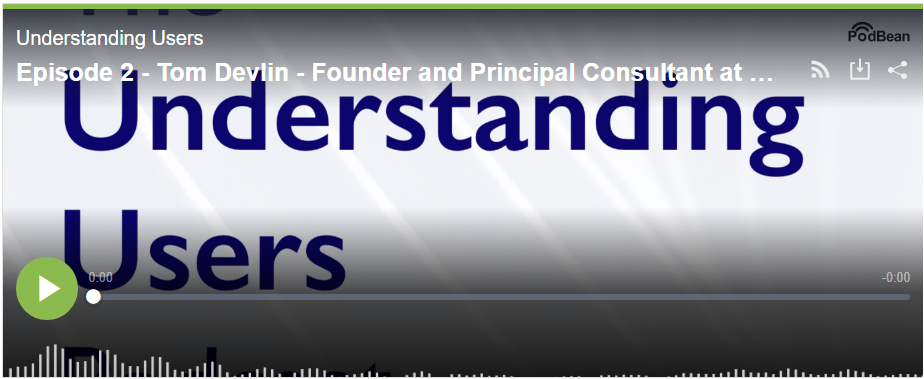 Bob Thomas - bring rapid User Research methods to agile teams
Bob Thomas discusses his experience implementing rapid research at a large company. By Bob Thomas (Spotify 11/16)

User Weekly Newsletter
Join the newsletter to receive the latest updates in your inbox.