User Weekly #24, November 30
Splitting up user research work between "tactical" and "strategic" creates an artificial boundary that takes away from the potential impact of the work.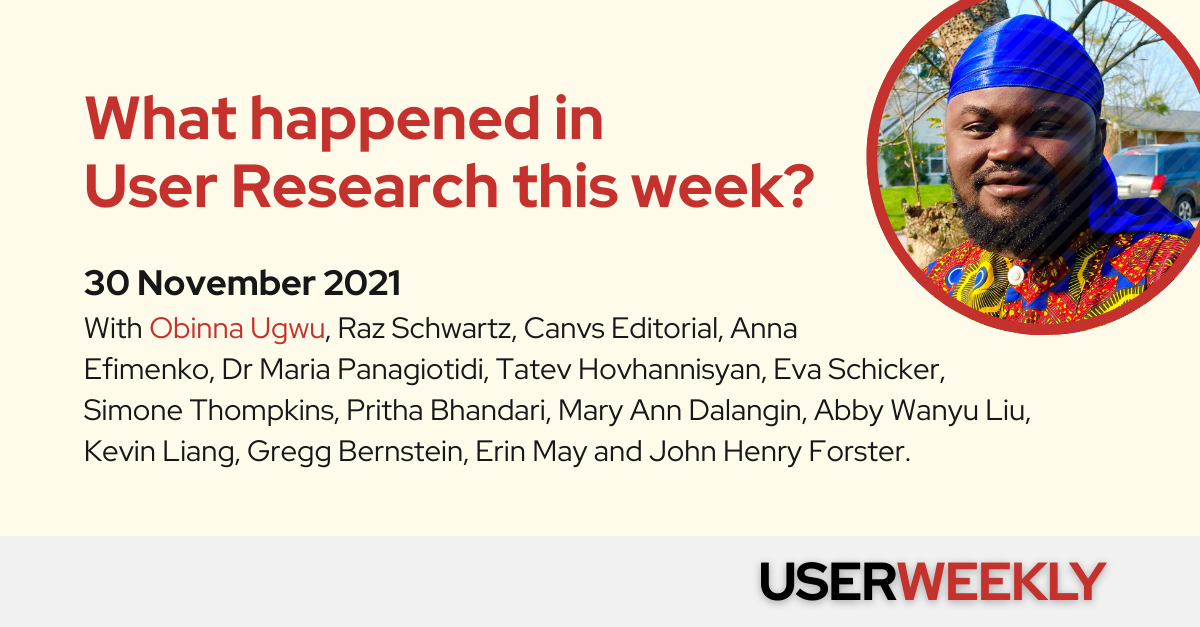 USERWEEKLY is your weekly email to understand what is happening in user research. It's the best way to keep up on trends, methodologies and insights across the industry. It is written by me, Jan Ahrend. Each week I go through content from mainstream media to small blogs to capture the pulse of our community and answer a simple question: What mattered in User Research this week?
😌 Humans of User Research w/ Obinna Ugwu
Hi Obinna, tell us a little about yourself.
I am Obinna Ugwu, a human factors Ph.D. student at Virginia Tech. I got my bachelor's degree in industrial engineering from the University of Ibadan, Nigeria. In grad school, I am interested in the intersection of human-computer interaction, user experience and mixed reality. Next summer, I will be interning at Meta as a User Experience Researcher on the privacy team and I look forward to it. In my free time, I rewatch old series, MCU movies, read fiction and play chess. Recently, I have begun to try out new food recipes I find on instagram.
How did you discover UX Research?
While I gravitated to engineering after high school, I had long preferred to work with the people I design for and not just focus on technical details. I enjoyed psychology as much as I enjoyed engineering. This was why I chose to study industrial engineering in undergrad. Now, in grad school, I decided to study human factors and discovered UX Research as one of the possible career paths in this field. It was a perfect fit since it was a combination of a lot of my interests. So I spent considerable time reading everything I could find related to UX research, watching hours of YouTube videos, doing online courses, participating in and eventually carrying out a small research project.
What do you most look forward to in your internship at Meta?
I look forward to carrying out research projects that significantly and directly improve experiences for users. I also look forward to improving my skill set as a user experience researcher, learning and utilizing not just qualitative methods but also working on quantitative methods. Finally, I'd love to explore other parts of the United States.
What can people reach out to you about and how can they find you?
People can reach out to me to discuss user experience research. I am also interested in discussing the evolution of technology in Nigeria and Africa, augmented reality, philosophy and psychology. To wind down, we can discuss Greek mythology, world history, Nigerian food and a long list of varied topics. You can send me a personalized invite on Linkedin or check me out on Twitter. I recently started writing on Substack too.
Thank you, Obinna!
---
Spotlight > Articles > Video > Audio
🧐 Thought pieces.
4 Myths about tactical research by Spotify UXR
Splitting up user research work between "tactical" and "strategic" creates an artificial boundary that takes away from the potential impact of the work. In practice, tactical research is more powerful than we researchers give it credit for. By Raz Schwartz (Medium 11/26)
How to make the Net Promoter score richer
NPS is outdated but there are ways to make it richer. By Canvs Editorial (UX Collective 11/28)
4 Mistakes I made as a UX researcher & how to avoid them
Have you ever done research without involving stakeholders? In this article, I'll share this and other UX research mistakes I made, explain why they are problematic and give tips on how to avoid them. By Anna Efimenko (UXinsight 11/26)
🛬 Methods & Approaches.
4 Reasons why research participants (unconsciously) lie and how to prevent it
When doing user research with participants, we frequently consider that the information they are providing may be flawed. If we try to separate error types in participant responses, we will see the following causes of errors: memory, motivation, communication, and knowledge. Here are methods to combat these error traps and obtain truthful information. By Tatev Hovhannisyan (Medium 11/26)
How to thank your testers
When you think of "incentives" in user testing, the first thing that comes to mind might be a free product or a gift card. And yes, those are both common and viable ways to reward testers for their participation. But an incentive isn't just a reward. By Simone Thompkins (centercode 11/29)
Writing the perfect problem statement for UX research
How to choose the right sentence structure. By Eva Schicker (Medium 11/25)
5-second tests: Measuring first impressions
Are they valid? When should you use them?. By Dr Maria Panagiotidi (UX Psychology 11/29)
🔁 Refreshers.
A step-by-step guide to user research note taking
See out how epiphany can help you keep track of your learnings from user research and make them available for decision-making. By Epiphany (Medium 11/25)
A guide to data cleansing
Data cleansing involves spotting and resolving potential data inconsistencies or errors to improve your data quality. An error is any value (e.g., recorded weight) that doesn't reflect the true value (e.g., actual weight) of whatever is being measured. By Pritha Bhandari (Scribbr 11/23)
User Observation in User Research
Observing is one of the vital activities in user research as it provides us with the most accurate information on our users, including their tasks and needs. By Userpeek (userpeek 11/26)
Enter your email to receive the latest updates in your inbox.
---
Spotlight > Articles > Video > Audio
🎥 Video of the Week.
Communicating UX Values as a researcher
Abby is a Senior UX Researcher at Celonis and talks about "Communicating UX Values as a researcher" during the UX Research Munich Meetup in November 2021. With Abby Wanyu Liu (YouTube 11/25)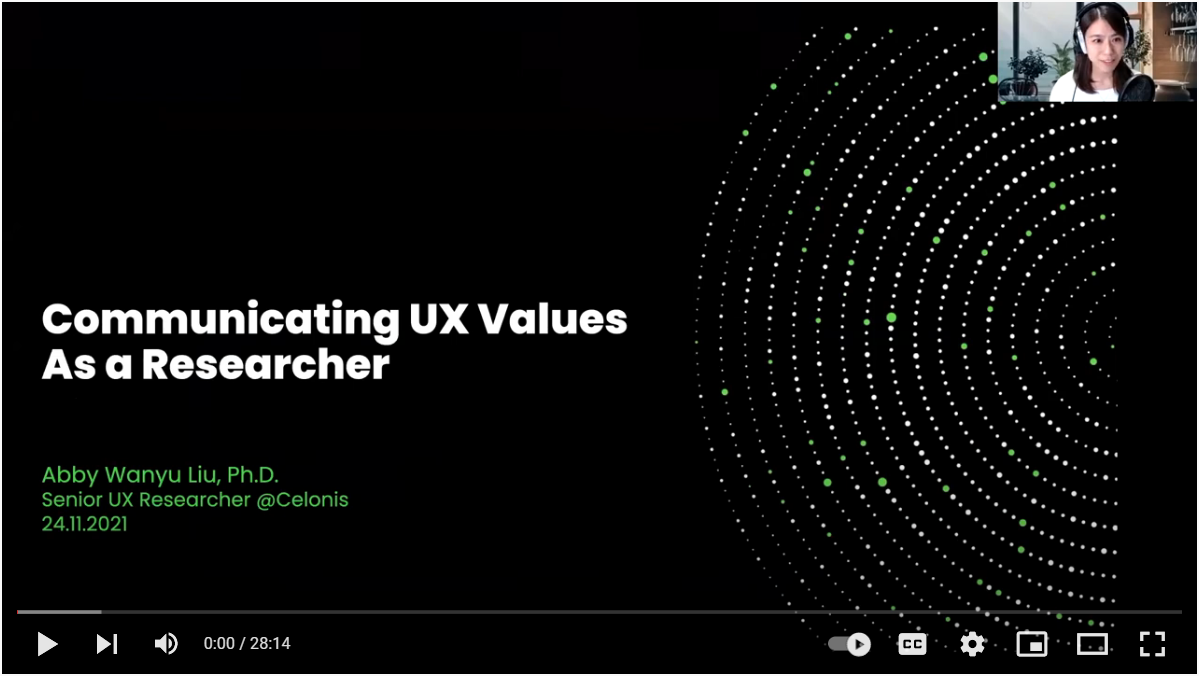 Working with recruiters to land UX Research roles
You applied to several UX Research positions and got a response from a recruiter. Now what? What do you need to prepare? With Kevin Liang (YouTube 11/25)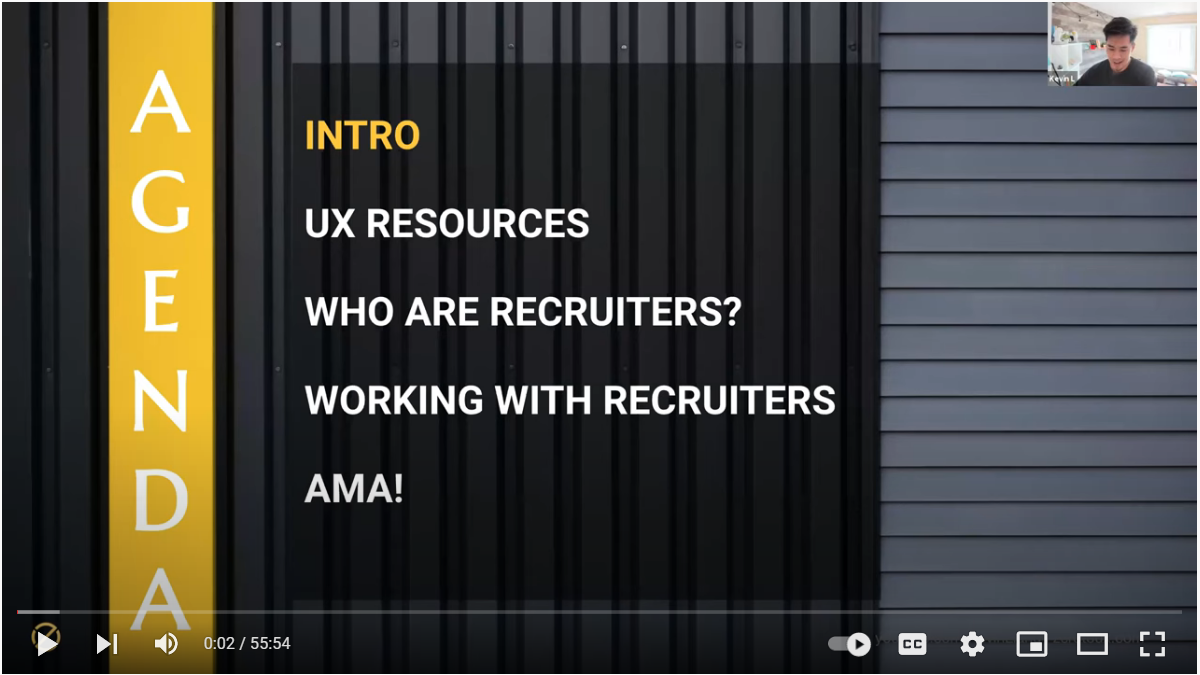 ---
Spotlight > Articles > Video > Audio
🔉 Audio of the Week.
How to build a healthy research culture
How to create and maintain a healthy research practice. With Gregg Bernstein (Spotify 11/23)

User Weekly Newsletter
Join the newsletter to receive the latest updates in your inbox.