User Weekly #19, October 26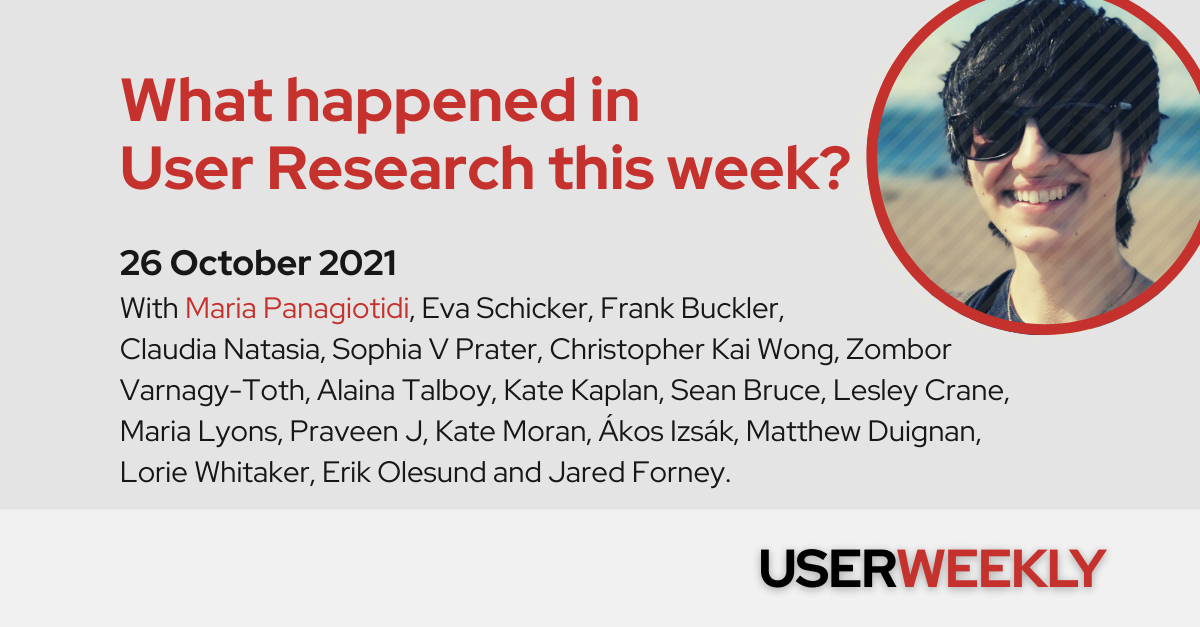 USERWEEKLY is your weekly email to understand what is happening in user research. It's the best way to keep up on trends, methodologies and insights across the industry. It is written by me, Jan Ahrend. Each week I go through content from mainstream media to small blogs to capture the pulse of our community and answer a simple question: What mattered in User Research this week?
😌 Humans of User Research w/ Maria Panagiotidi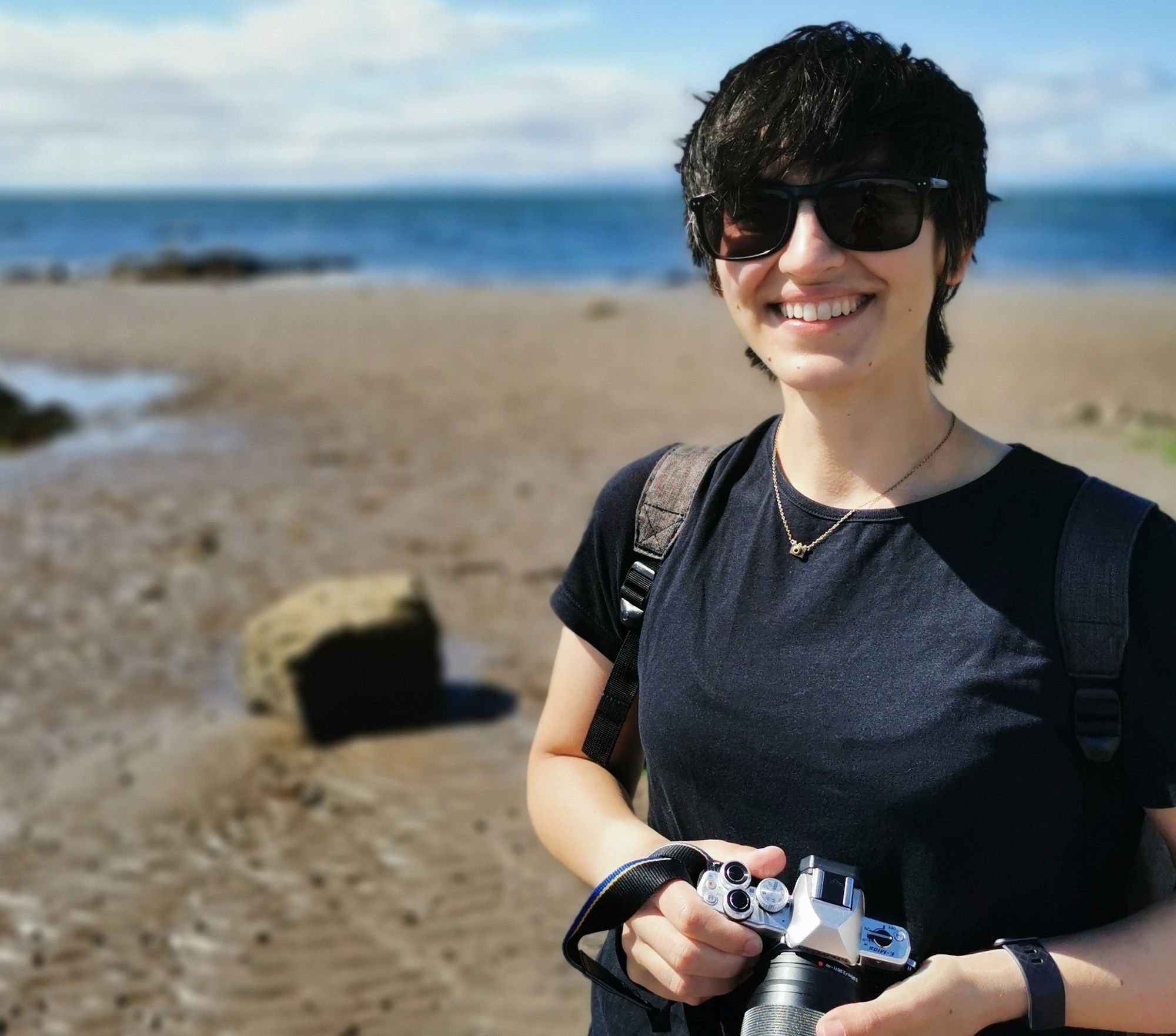 Maria, tell us a little about yourself.
Hey! I'm Maria Panagiotidi. I'm a senior UX researcher at Oyster HR, a startup and platform that helps companies through the process of hiring, onboarding, and caring for employees regardless of location. Before moving to the UX world on a full-time basis, I was a university lecturer specialised in Cognitive Psychology and human-computer interaction. I live in Sheffield, one of the greenest cities in the UK, with my partner and our pet rat. When I'm not working, I enjoy baking and trying new recipes, reading, writing about UX, learning new skills, playing tennis, watching films, and playing video games!
What do you wish you knew when you began your research journey?
There is no room for perfectionists in UX research. I wish I'd been more flexible when I began my journey. Research doesn't need to be perfect to be helpful and provide useful insights. Coming from academia I was used to applying rigorous scientific methods and it took me a while to feel comfortable using methodologies I didn't consider myself an expert in.  
Have you ever had "imposter syndrome"? How did you deal with it?
Yes! The more I learn, the worse it gets! It always intensifies when I'm about to take on a new project or start a new job. Reminding myself about the Dunning-Kruger effect (people with low ability tend to overestimate their abilities while people with high ability do the opposite) usually helps. It's important to recognise that we can't know everything and that making mistakes is part of the human experience.
How can people learn more about you and your work?
I love writing about UX and a few months ago I started publishing my work online. I used to publish on Medium but I recently started my own substack, UX Psychology. People can also say hi to me on LinkedIn or Twitter.
Thank you, Maria!
---
Spotlight > Articles > Video > Audio
🧐 Thought pieces.
Amplifying research impact
Emily Chu — Insights Manager at Spotify, encourages you to examine how you think about impact, and identify new ways to drive meaningful change throughout your research process. (Medium 10/21)
Transcending gender identity in user personas
Open up to broader societal definitions of personas. (UX Collective 10/22)
Predictive qual: How to turn the art of qual into a science of impact?
Qual is excellent and indispensable but alone not enough. How to use quant to support qual to tell a more complete story. (Researchworld 10/21)
Let's take UX Research more seriously
A case in expanding value through protecting blindsides, decreasing variability and unlocking world B. (Prototypr 10/18)
How to sell UX Research with two simple questions
How to collaboratively expose misalignment and gaps in the team's shared understanding by bringing the team together around two simple questions. (A List Apart 10/21)
🛠 Methods & Approaches.
Adopt-A-Participant: Five tips for engaging stakeholders in large foundational projects
Here, Spotify Senior User Researchers, Akshay Verma and Kathy Lin, dig into the tips and lessons they learned from creatively engaging 40+ stakeholders through a longitudinal diary study with 60+ participants — and how they humanized research along the way. (Medium 10/15)
What a quantitative user study that nearly failed taught me about metrics
The benefits to collecting metrics while user testing, even with a few users. (UX Collective 10/21)
"3 out of 5 users have this issue"
"3 out of 5" is misleading because it gives false confidence in the results. (Medium 10/19)
It's beyond time to put ethics at the core of UX Research
Part 1 of 4: How do we start incorporating ethical research practices in the industry?. (UX Collective 10/15)
🚀 UX Research Operations.
UX-Maturity stage 3: Emergent
A company's UX efforts at this stage are functional and promising, but inconsistent and inefficient. (nngroup 10/24)
Human-centered design with Canva's Nadia Surtees
Sometimes, you can't see the answer to a problem staring you in the face because you're looking at things from the outside in rather than the inside out. (Dovetail 10/24)
The wild west of User Research contracting
Recipe for a successful partnership in UXR contracting. (Medium 10/25)
📚 Case Studies.
User Research in mental healthcare
The first lesson for a UX professional is to go out and talk to users. But what if your users aren't easy to access? Or the subject is a person's mental health?. (Medium 10/20)
How we built a user research culture slow and steady
Making a cultural shift in a company with decades of legacy is a big challenge. Sharing the experience of building a user research culture. (Bootcamp 10/19)
🎓 Career Entry & Refreshers.
Context methods: Study guide
Unsure where to start? Use this collection of links to articles and videos to learn about ethnographic methods like field studies and diary studies. (nngroup 10/24)
UX Research internship 101: How to make the most of It?
In a competitive field like UX, experience makes the difference. So much so that it's required even on the junior level. And the easiest way to gain real-life experience before actually entering the job market is to do a UX research internship. (UXfolio 10/22)
Enter your email to receive the latest updates in your inbox.
---
🎥 Video of the Week.
UX Research repository tips and tricks: A panel discussion
A panel discussion on UX Research repositories with UXRs from Microsoft, Instagram, Okta and Indiana University. (YouTube 10/21)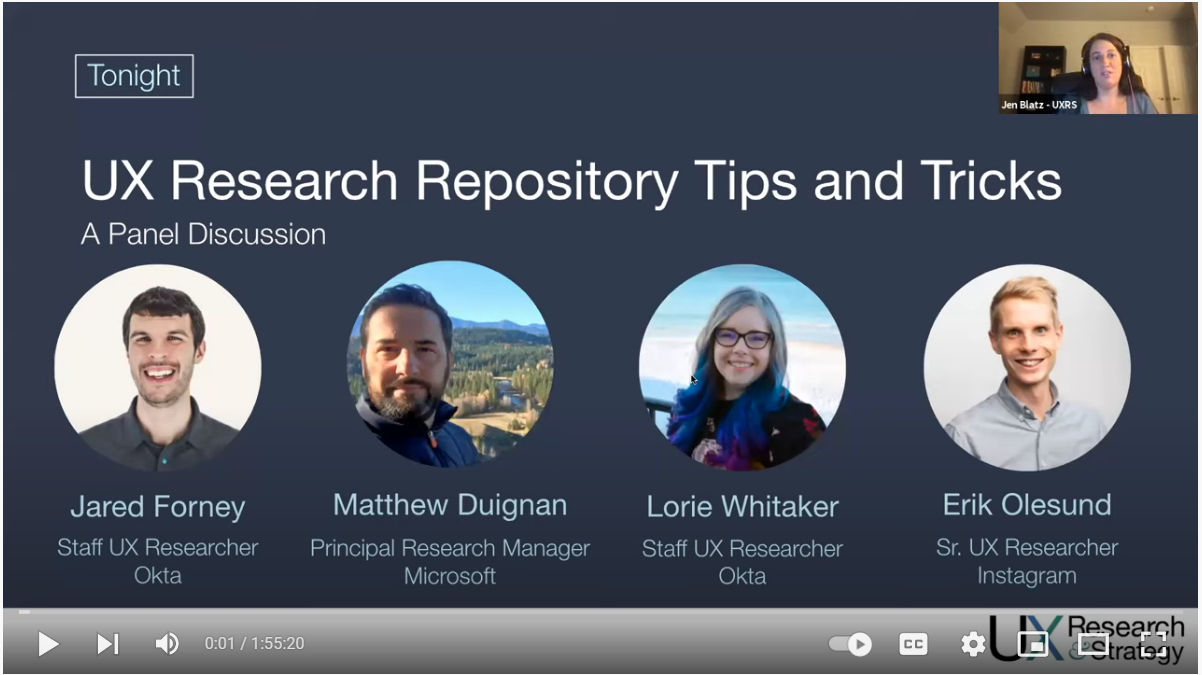 ---
Spotlight > Articles > Video > Audio
🔉 Audio of the Week.
Scrappy Research
This is one of the first episodes of the new UX podcast "UX IRL". The episode is about what user research can really be like - scrappy!. (Spotify 10/21)

User Weekly Newsletter
Join the newsletter to receive the latest updates in your inbox.