🗞 Is "research" the best word to describe what UX researchers do?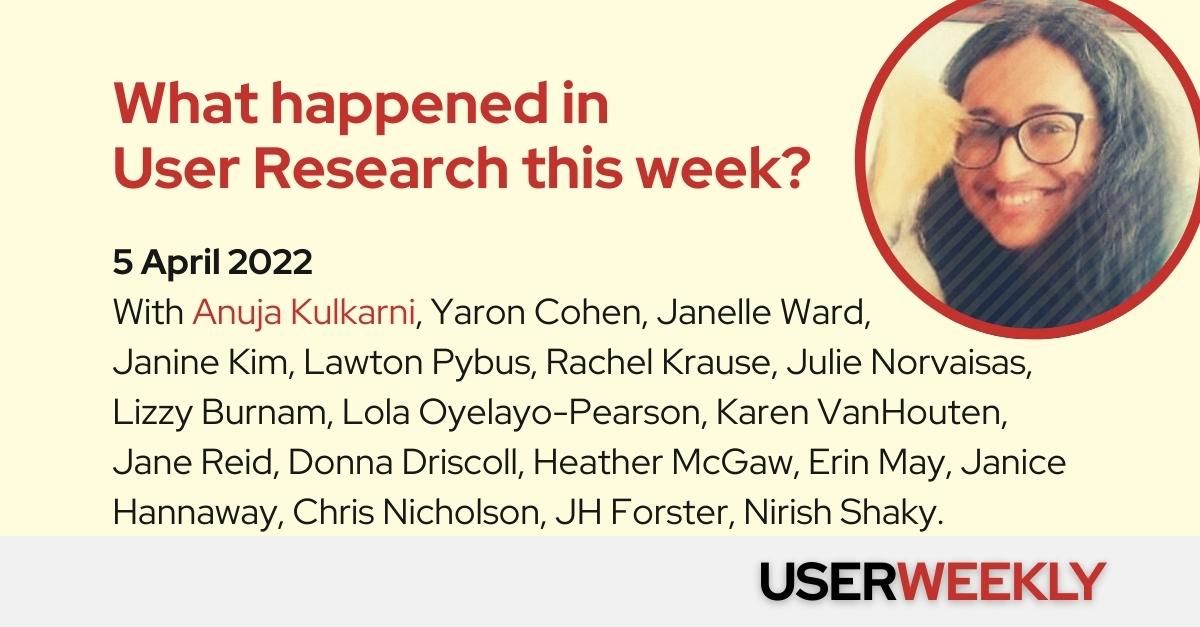 Hi there! 👋 Thanks for stopping by. USERWEEKLY is your weekly email to understand what is happening in User Research. It's the best way to keep up on trends, methodologies and insights in UX Research. It is written by me, Jan Ahrend. Each week I capture the pulse of our community and answer a simple question: What mattered in User Research this week?
Spotlight > Articles > Video > Audio
😌 Humans of User Research w/ Anuja Kulkarni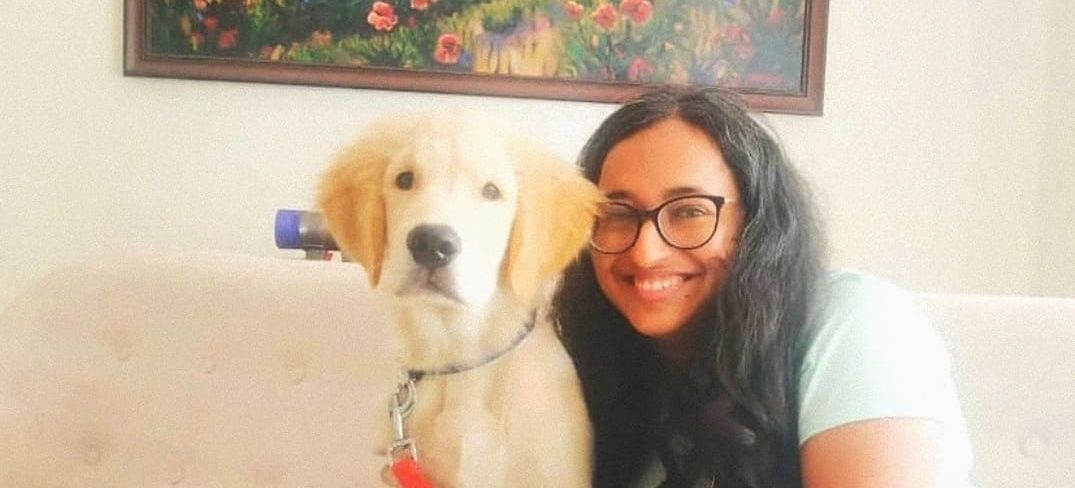 Hi Anuja, tell us a little about yourself.
Hi everyone! I am Anuja Kulkarni, a UX researcher at Uber. I work across the Rider products particularly new bets and Growth. I have nearly a decade's experience of working in different tech sectors spanning healthcare, transportation, FMCG and B2B products. I am a strong believer in good-tech and more so having lived in the emerging economy world, I dream of a world with tech parity. I also spend my weekends mentoring UXR entrants to break-into the industry. Outside of work, I am usually found playing around with all kinds of fur-babies, baking or gardening.
What energizes you about your career?
It's actually two things - Influence and People
Influence:  Being a cautiously optimistic person, I believe we have great influence in shaping good tech. I have personally seen how tech has changed landscapes, created earning opportunities and democratized learning. I love being a UX researcher, because 'in a right setup' - you are really in the center of it all - bridging user needs and those of the businesses- making all of this happen. I have seen how much product peers rely on our point of view to steer key decisions in moments of doubt.
Secondly, the people: For me, personally, it has been humbling meeting users from different cultures, continents and values. It has broadened my world view, made me more aware as a person. It is always energizing to form connections, however short or long, with people from different backgrounds than yours, often the ones you don't get to meet everyday. It changes you in subtle yet significant ways.
What was the funniest/weirdest experience you had in a user study?
It was one of my very first home visits years back when we were meeting green tea consumers. We were in one participant's home discussing green tea and its usage. 30 mins into the conversation, I asked the participant if they could show us how they prepared a perfect cup; and it's only then we realized the participant was talking about -'lemon grass' all along and had never actually used green tea. It was super funny to think that all those screeners and 30 mins of conversations discussing benefits of sipping green tea, the participant was actually a non-user. We happily had the lemon grass brew though and it was lovely.  
How can people find you?
1)  Linkedin has been the best way to find me for a quick chat. I get a variety of inbounds which I try to respond to periodically.
2)  I am also available on the ADP list, Ladies that UX Amsterdam for UXR aspirants seeking career advice or connections in the industry to help them land a great UX career.
3) I recently joined Mentor Dial platform to advice startups and early businesses.
I am always looking for ways to give back to the community in whatever small way I can, so if you have better ideas, I'd love to know!
Thank you, Anuja!
---
Spotlight > Articles > Video > Audio
🎉 Highlights.
Is "research" the best word to describe what UX researchers do?
As a UX researcher, using a different lingo to describe what you do could be beneficial to promoting the craft. Yaron Cohen 04/04
Why UX researchers should revisit academic resources
Explore a few examples of academic materials from the past that can help future UX research. Janelle Ward
How responsible are UX researchers for a real-life user experience and consequences?
I know the serious implications my work could have on real patients. As the UX Researcher, I probably won't ever be held responsible legally for a bad user experience as long as our product was "proven" that it passed tests designed to match IEC regulations. But is it right that the end user is, and the makers of the user experience, are not?. Janine Kim 03/25
Building a UX Research Practice (Sponsor)
Learn how Jane Davis of Zoom has successfully built research teams at Zoom, Zapier and Dropbox. Hear her perspective and take part in this live Q&A.
Register for the event
💯 Methods.
Infographic: 6 creative qualitative research methods
We are slowly building up the level of creativity used in research design and insight generation, and understanding the need to think outside of the box to build creativity in it's purest sense into market research. So here are six creative qualitative research methods to spark your imagination. 04/04
Qualitative coding: how to turn complex data into conclusive insights
Drowning in textual data and unsure where to begin? This analysis method can help you make sense of complex qualitative datasets. Lizzy Burnam 03/31
🛬 Approaches.
Achievements for your UX Research career
Oh, the badges you'll earn along the way. Lawton Pybus 04/01
Creating engaging reports & asynchronous presentations
To keep your stakeholders and team members engaged, incorporate storytelling techniques such as writing for your audience, adding anecdotes, and using analogies in your asynchronous research deliverables. Rachel Krause 04/03
Getting smarter about democratization
Research democratization can feel overwhelming. Consider the variables "Control" and "Access/Mindset," to align stakeholders and start smarter. Julie Norvaisas
📅  Events.
UX Research Meetup & Event Guide for April (Sponsored)
This April's virtual talks, meetups, networking events, and conferences around UX Research. Condens
Subscribe to stay up to date on User Research news and trends.
---
Spotlight > Articles > Video > Audio
🎥 Video of the Week.
Inside Shopify: shifting to product research and strategic foresight
Host and UX director Lola Oyelayo-Pearson speaks with senior staff product researchers, Heather McGaw and Chris Nicholson about how the practice of research at Shopify UX has changed in the last year. We cover the shift from UX to product research, the power of research to steer decision-making, and the optimism of critical inquiry and strategic foresight. YouTube 03/29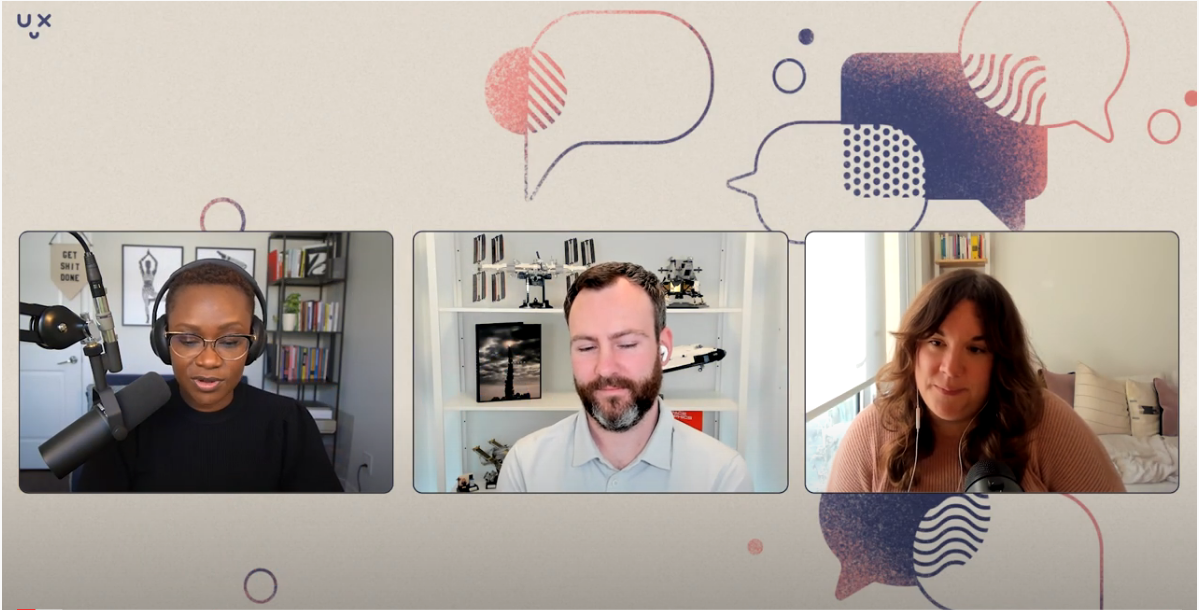 ---
Spotlight > Articles > Video > Audio
🔉 Audio of the Week.
UX research agencies: setting clients up for success with Karen VanHouten
Doing user research in an agency setting comes with its own set of challenges—from context switching to stubborn clients to less-than-optimal tool stacks. In this podcast episode, Karen VanHouten shared some great advice on setting expectations, fostering ongoing client relationships, and why she thinks more researchers should be involved in the sales cycle. Spotify Apple 03/30

Self-care for user researchers with Jane Reid and Janice Hannaway
If you're a user researcher, you probably put your users first. But maybe it's time to put yourself first. In this episode, user researcher Jane Reid and user researcher and psychodynamic therapist Janice Hannaway stress the need for self-care in user research. Spotify Apple 03/31

Happy researching,
🗞 Jan
User Weekly Newsletter
Join the newsletter to receive the latest updates in your inbox.