🗞 The State of UX in 2023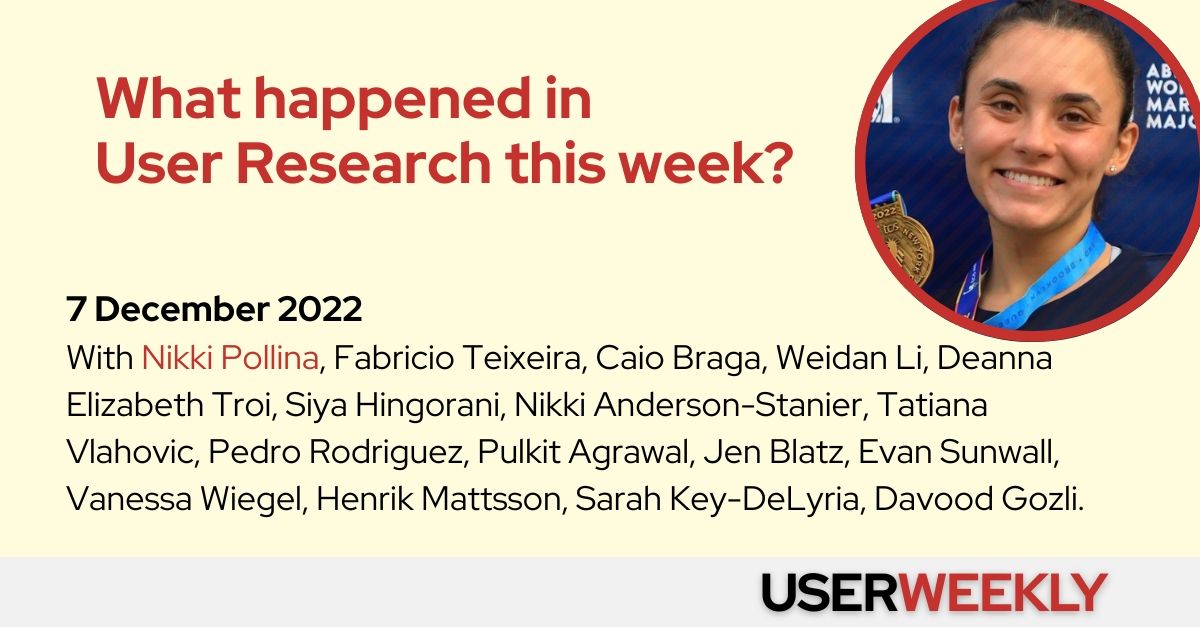 Hi there! 👋 Thanks for stopping by. USERWEEKLY is your weekly email to understand what is happening in User Research. It's the best way to keep up on trends, methodologies and insights in UX Research. It is written by me, Jan Ahrend. Each week I capture the pulse of our community and answer a simple question: What mattered in User Research this week?
😌 Humans of User Research with Nikki Pollina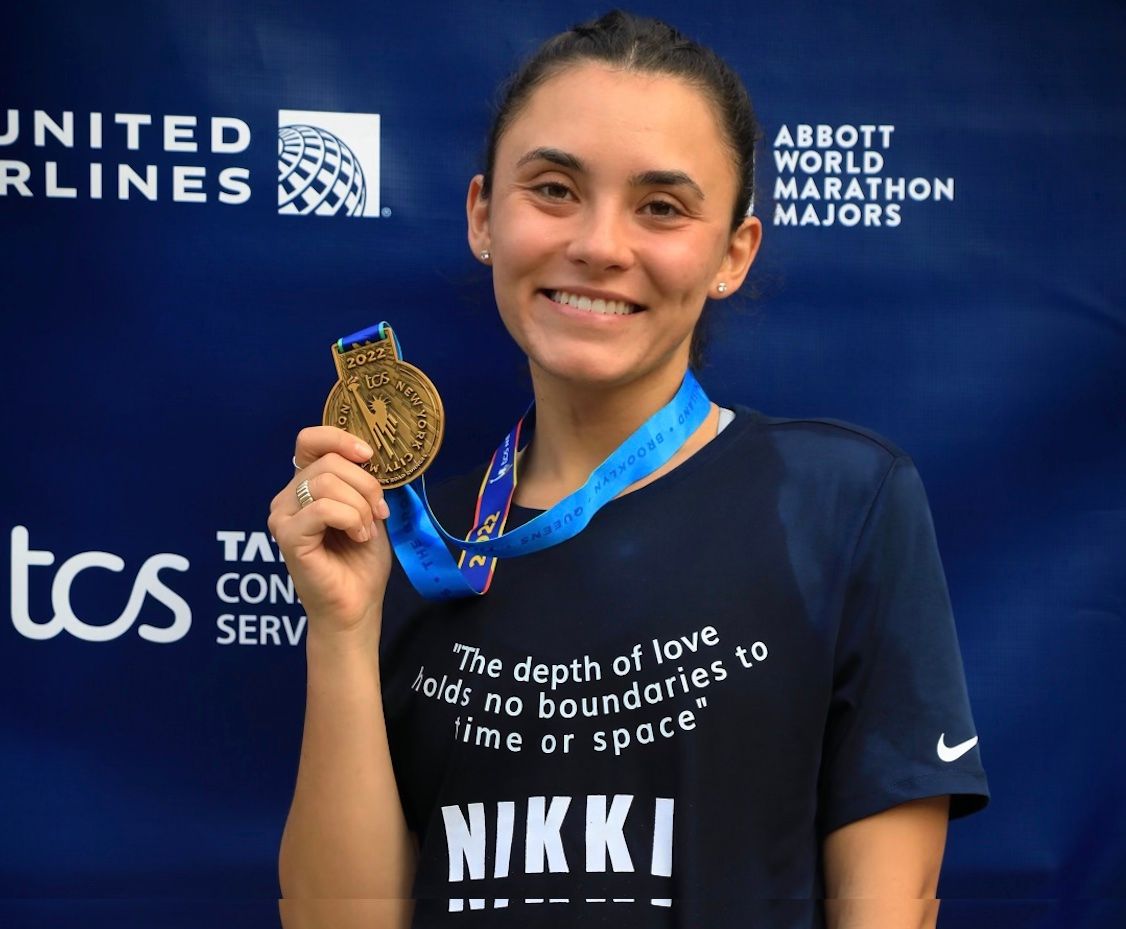 Hey Nikki, tell us a little about yourself.
Hi - I'm Nikki. I currently live in New York, NY and I grew up outside of Detroit, MI. I'm a content creator and career mentor. I'm passionate about technology, design, fashion and education. I am currently a UXR at Google for Education and have worked at Google in the NYC office for the past 4.5 years. I have worked in a variety of different tech roles including a front end developer, data analyst, product owner, and UX consultant. In my non-working hours, I love to explore NYC. I have a long list of restaurants, stores, and shows ready to share with anyone. I am obsessed with all things fashion. I also volunteer for organizations that prioritize leveling the playing field for diverse groups interested in learning about and working in STEM.
What originally got you interested in UX Research?
I took an interesting path to UX research. I have had a variety of different roles in the tech field, but every role I had I found that I was having the most fun when I was talking to our end users. I loved to hear about their backgrounds, learn about their lives, see how they used our products, and get the hard feedback to take back to the teams. Somehow, even in my developer role, I found a way to get in touch with the end users. The work I was doing as a developer, analyst, or product owner honestly felt irrelevant if I couldn't hear what our users thought. I generally love talking to people and I think this role is for those who are truly interested in others.
What energizes you about your career?
I love taking on new challenges and I love learning. I think the tech field is a great space to be in if you like those two things. Working at a company like Google, I get to work on products that will touch millions of users - that level of responsibility I take very seriously and am extremely motivated by. I truly feel that I get to build our future. Last, I love using technology to share my excitement for life and career with others. My content creation is a new challenge and learning opportunity for me that I have really been enjoying lately.
What do you remember most about your first UXR job?
In my first UX research job, I actually performed research in a factory where they created airplane parts. I did a ton of observational research to learn more about how our users interacted with the digital tools that the product team made. I would walk around the shop floor and take pictures of how their paper-based operations worked. I did user interviews and focus groups with the factory employees. I learned about their preferences and their fears about working with technology. It was fascinating to learn about our users. I would reiterate this information back to the product team. It was so fun and such a hands-on experience. It definitely got me excited about the UXR career path.
What was the funniest/weirdest experience you had in a user study?
One time, I was interviewing a participant via video chat when they started smoking weed while answering the questions. I definitely felt awkward, but I kept going and finished all my questions I had planned. We surprisingly (or maybe unsurprisingly) got a lot of good information from the participants though.
How can people find you?
I have a TikTok where I talk about a lot of things including career and being a UXR. Follow me @nikpollina or feel free to add me on LinkedIn.
Thank you, Nikki!
Subscribe to stay up to date on User Research news and trends.
---
Spotlight > Articles > Video > Audio
🎉 Highlights.
The state of UX in 2023: a vibe shift is coming
This is the 9th edition of The State of UX report by the UX Collective: a critical look at our industry based on 1k+ articles published. Fabricio Teixeira & Caio Braga 12/06 And ChatGPT AI also took a stab at writing the UX trend report: ChatGPT's UX trend report.
UX research democratization is an educational practice
Five learning theories that inspire research education: User research is a craft. Behaviorism learning theory and behavior reinfocement. Cognitivism learning theory and learners' initiative. Constructivism learning theory and the former knowledge. Humansim learning theory and self-actualization. Connectivism learning theory and social learning. Weidan Li 11/27
5 UXR AI-Ethicist theories
What academic theories have predicted the UXR AI-Ethicist convergence? Ethics of Care vs Justice: Maintaining Relationships (C. Gilligan). Use-Theory of Meaning: Actual Usage. (L. Wittegenstein). Act of Identity: Idealized Socialized Values (RB LePage). Intelligence = Zeal + Capacity (F. Galton). Action Theory (M. Humm). Deanna Elizabeth Troi 12/05
The 2022 UX Research Tools Map (Sponsored)
The 4th annual UX Research Tools Map is an illustrated guide to the ever-changing world of UXR software. Navigate the landscape with this fantastical map, featuring 230+ tools for recruiting, usability testing, analysis, insight management, and more.
Explore the Map
🙌 Team & Culture.
Scaling UX teams through researchOps
Components of ResearchOps That Support Democratization: competency, advocacy, knowledge management, tools, participant management, governance, recruiting. Siya Hingorani 12/05
A guide to hiring and growing your UXR dream team
Before you hire another researcher, check out this thoughtful approach on figuring out the right people and roles for your team. Nikki Anderson-Stanier 12/05
🛠 Methods & Tools.
Using journey mapping as a tool for cross-functional research
When Credit Karma wanted to understand the car buying experience, they approached journey mapping to engage stakeholders from insights to activation. Tatiana Vlahovic & Pedro Rodriguez 12/05
How to design successful onboarding flows with UX research
Mastering user onboarding flows is tricky. Here's how to craft your onboarding flows and how to apply user research along the way. Pulkit Agrawal 12/02
Share findings on the fly with spontaneous talks frameworks
Sometimes neither you nor your stakeholders have the time for a full presentation. These hacks allow you to present information on a short timeline. Jen Blatz 12/05
How to develop the right taxonomy for your UX research repository (Sponsored)
The tag structure or taxonomy is a central part of a UX research repository. It helps researchers to store data in an organized manner and to retrieve it quickly when needed. Understand basic principles behind a 'good' taxonomy by looking at real-world examples. Read more
🔭Career.
How to answer UX job interview questions
Shine brightly in your UX job interviews by demonstrating stellar communication skills to common types of interview questions using STAR and METEOR. Evan Sunwall 12/04
Subscribe to stay up to date on User Research news and trends.
---
Spotlight > Articles > Video > Audio
🎥 Video of the Week.
Quantitative UX research: interview w/ Sarah Key-DeLyria
Sarah Key-DeLyria has a PhD in Communication Sciences & Disorders and currently works as a quantitative UX researcher at Meta. We spoke about her UX research journey, some of her observations and recommendations, and about the difference between data science and quantitative UX research. YouTube 11/29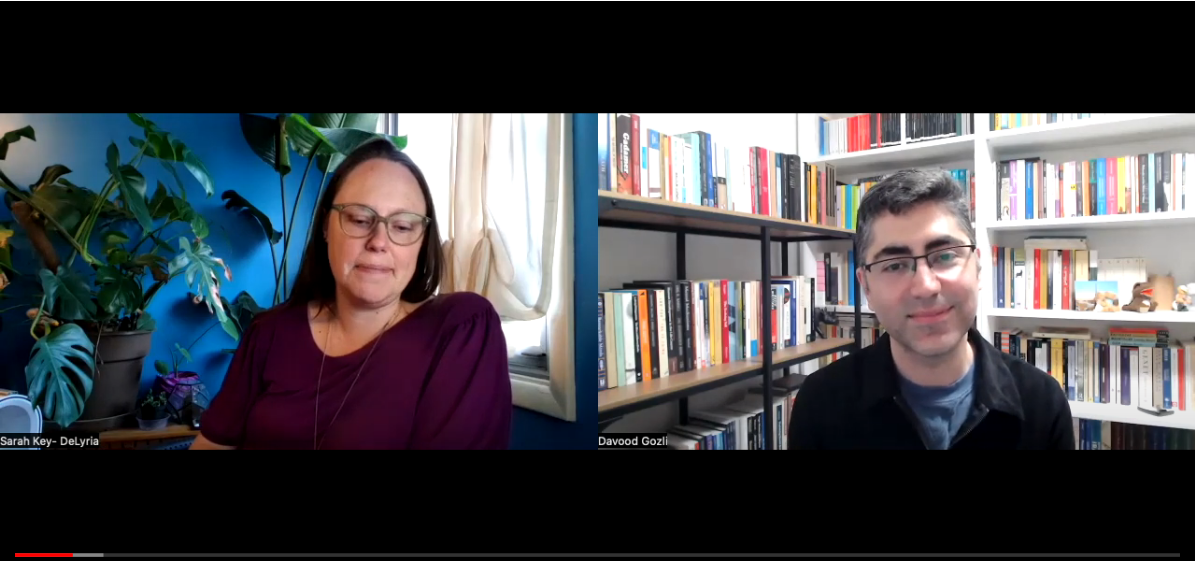 ---
Spotlight > Articles > Video > Audio
🔉 Audio of the Week.
Vanessa Weigel, Sr Director of UX and human factors research at Motional
Vanessa has a unique background working on autonomous hardware products, currently and motional and previously at iRobot. Vanessa and Henrik talk about the challenges of working on hardware products, growing research teams, and why it's important to remember to be kind to yourself as you try grow your impact as a researcher. Spotify 12/01

Happy Researching
🗞 Jan
User Weekly Newsletter
Join the newsletter to receive the latest updates in your inbox.