Hi there! 👋 Thanks for stopping by. USERWEEKLY is your weekly email to understand what is happening in User Research. It's the best way to keep up on trends, methodologies and insights in UX Research. It is written by me, Jan Ahrend. Each week I capture the pulse of our community and answer a simple question: What mattered in User Research this week?
😌 Humans of User Research with Kate Kerr (Rylance)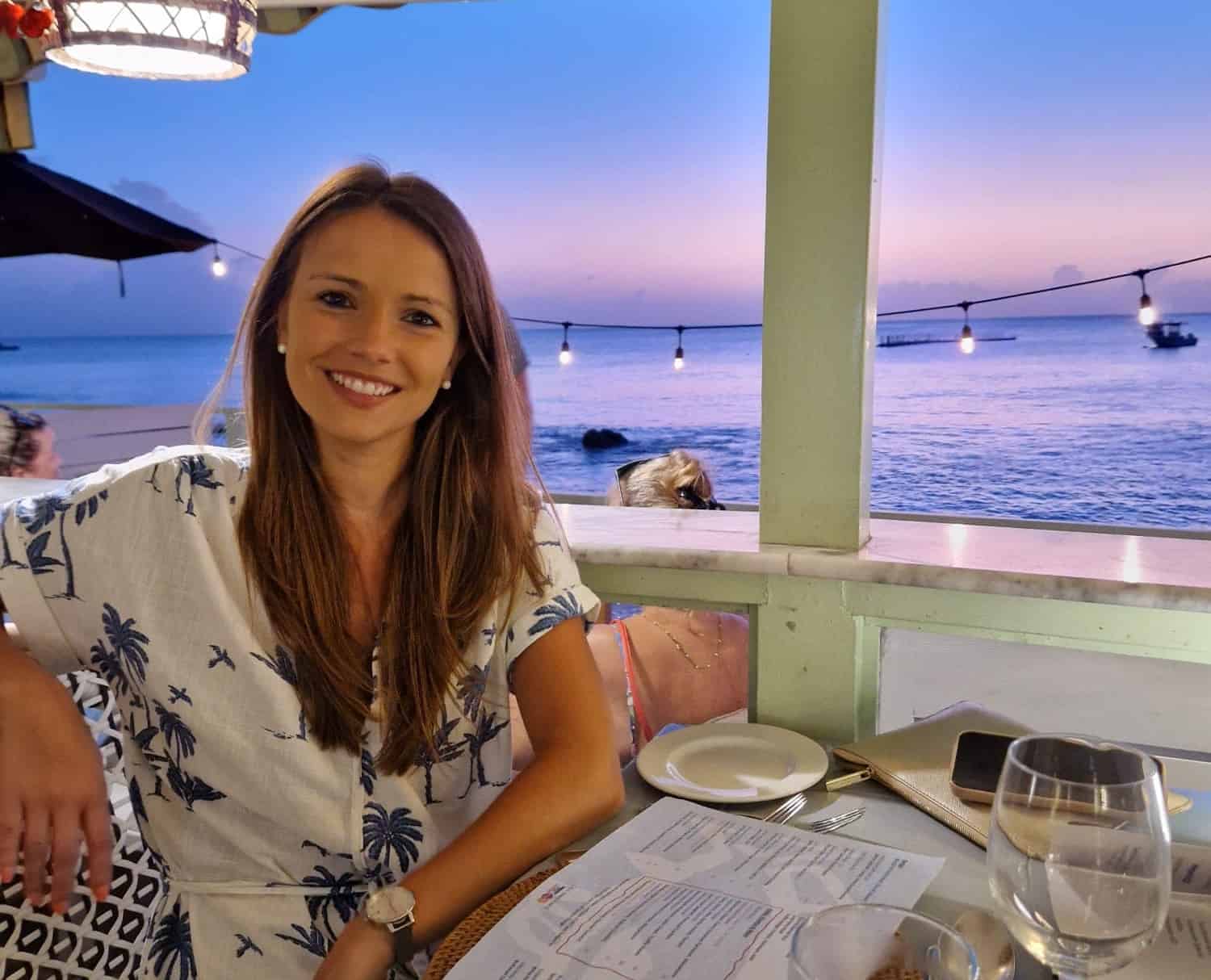 Hi Kate, tell us a little about yourself.
I'm Kate, a lead researcher at Monzo with a background in consumer and business Psychology. I've always been fascinated in human behavior and using that to create products that are deeply rooted in solving user needs. Prior to Monzo I was in e-commerce, leading the design and research team at Very.co.uk. Beyond that, I'm a board member for a charity that's helping young people across the globe get into STEM careers, I run the northern user experience (NUX) meetups in Liverpool and am a mentor for Women in Tech. I also love exploring new parts of the world I've not yet discovered with my husband, friends or family.
What do you wish you knew when you began your research journey?
That the most important part of the research process begins after you have your learnings!
Knowing this when I first started would have definitely saved some blood, sweat and tears along the way. The longer I've been in the field, the more I've started to think about where we spend the bulk of our time as researchers and how that balance is so commonly off.
We spend huge amounts of time writing robust research plans, making sure our recruitment is representative, polishing our scripts or survey design, engaging the team to get involved during the research, synthesizing the insights and writing up the findings and then we're done… right?! Wrong!
All that time spent means nothing if the outputs of my work don't influence the right people or make it into the product. I've now re-balanced my time and spend a big chunk of my day to day socializing the insights, visualizing my insights and drip feeding them into daily conversations. I've also learnt the importance of repetition. It's very unlikely that research insights land and embed in people's brains the first time, repeating your findings again and again in different ways through different mediums and creative outputs is crucial!
If you could only use one method for the rest of your career, what would it be?
Oooh I think it'd have to be depth interviews / speaking to people. When you're at a foundational / exploratory stage there's no better way to understand people's pains, problems and motivations. In a world where companies are swimming in data it really helps put a face to the numbers and challenges us to make sure we're solving real world problems rather than our own pet projects or making our own narrative out of the data. You can also be really versatile with the methods you use within depth interviews. Asking people to bring along artifacts like a spend diary, using creative collaboration tools to help people visualize their ideas or using vision prompts to encourage open thinking.
How can people learn more about you and your work?
A lot of my work has sensitivities being linked to how people think about and manage money so it's not something I publish in detail. I'm on Linked in and Twitter (X?) though so say hello over there :) Twitter. Linkedin.
Thank you, Kate!
---
Spotlight > Articles > Video > Audio
📚 Articles of the Week.
Introducing — Systems UX Research
Discover the emerging field of Systems UX Research, extending beyond traditional UX into the integration of user-generated input within technical systems. Ender Ricart introduces this crucial branch that emphasizes the need for holistic understanding of technical systems and the seamless translation between human and computer systems, ensuring optimal interoperability and user-centered experiences. Dr. Ender Ricart 08/12
Striking the balance: the intersection of common sense and user research in UX design
Navigating the balance between intuition and empirical data in UX design is a crucial challenge. While established design patterns and common sense are important, the article underscores that comprehensive user research remains essential to truly understand user behavior, preferences, and context, ultimately ensuring a refined and effective user experience. Erik S. 08/15
Airbnb's product management shift and the future of UX Research
Amid Airbnb's transformative shift in product management and the evolving tech landscape, UX Researchers must adapt strategically. The article delves into the impact of changing PM roles, highlighting the importance of aligning research insights with business acumen for more impactful and lasting results. Meltem Barcelona 08/15
Need to persuade higher-ups to align with user needs? Use data storytelling
Master the art of data storytelling to effectively advocate for user-centered changes within your organization. Learn how combining data, narrative, and visualizations can help persuade stakeholders and drive impactful design decisions. Christopher K Wong 08/16
Relationship mapping: strategically focus on key people
Prioritize work relationships in UX by creating relationship maps. Identify key individuals and resources, enhancing collaboration and access to vital insights, which leads to increased job effectiveness and personal well-being in the field. Evan Sunwall 08/13
Part 1: AI use among UX professionals
Discover insights into how AI is being embraced by UX professionals. While many are optimistic about its potential to transform the field, there's a cautious approach due to concerns about ethics, job disruption, and the need for human touch. The article also highlights key AI tools being utilized, their applications, and emphasizes the balance between AI and human capabilities in the UX domain. Dr Maria Panagiotidi 08/17
Your user research questions don't have to start with "What do you do?"
Unlock the power of effective user research questions by tailoring them to B2B or B2C contexts. This article outlines key tips, including clarity, open-endedness, avoiding bias, and using follow-up questions, to ensure interviews yield valuable insights for informed product decisions. Unique-Gift Amah 08/12
📆 Events
UXDG Summit September 6th - 7th, 2023 (Discount code) Innovation in UX is increasingly important as industries are evolving and emerging technologies are constantly changing. UXDG will cater to this trend and offer a unique platform for world's best UXers to showcase their successful UX strategies - from innovative design thinking processes, product design strategies, to user research and testing. As an official media partner of UXDG, User Weekly readers can use a 15% discount by signing up until August 30th using promo code UWY15. Register now
Subscribe to stay up to date on User Research news and trends.
---
Spotlight > Articles > Video > Audio
🎥 Video of the Week.
The changing role of UX research
Embrace the changing landscape of the tech industry impacting UX research. Learn from design and product leads' perspectives on prioritizing research efforts, communicating findings, and adapting to ensure ongoing value delivery in this evolving field. YouTube 08/10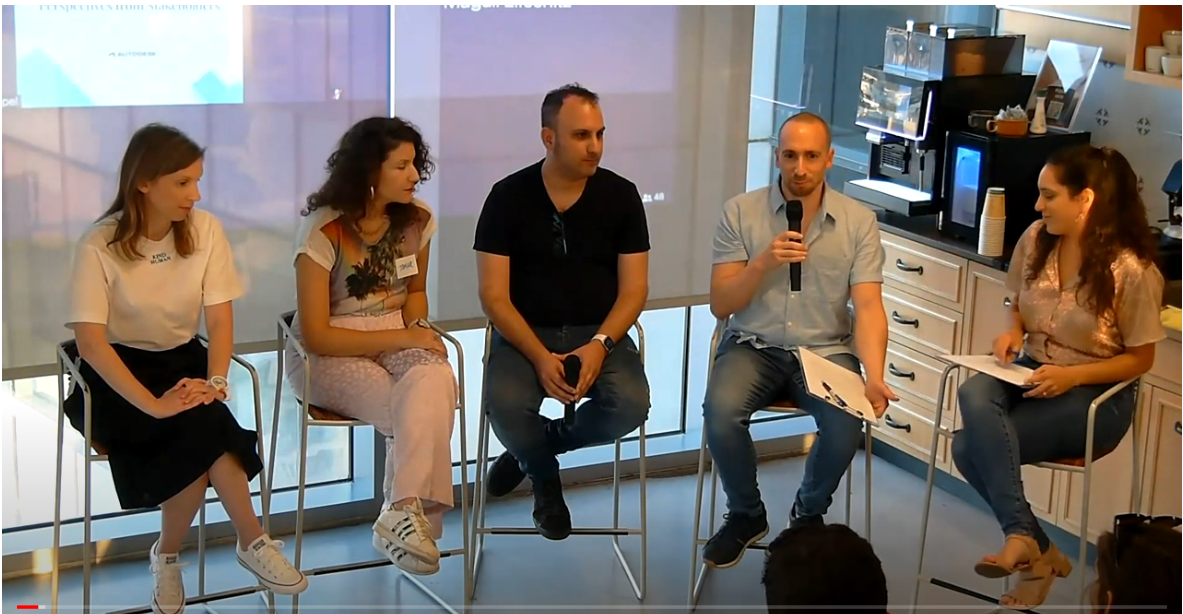 ---
Spotlight > Articles > Video > Audio
🔉 Audio of the Week.
Decision-driven research: driving action from insights
Unlock the power of actionable design decisions by aligning with stakeholders. UX expert Pejman Mirza-Babaei discusses effective collaboration, challenges, and specificity in decision-driven research on the Awkward Silences podcast. Tune in for valuable insights from his 15+ years of experience. Spotify Apple 08/16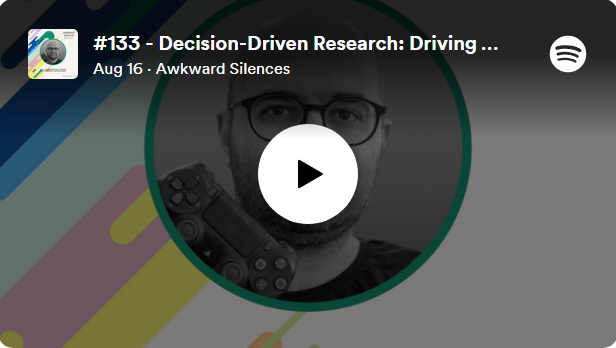 Happy Researching,
🗞 Jan
User Weekly Newsletter
Join the newsletter to receive the latest updates in your inbox.