🗞 Have you tried these research methods? FIDO, Run of Post, Cloze Test, True Intent Study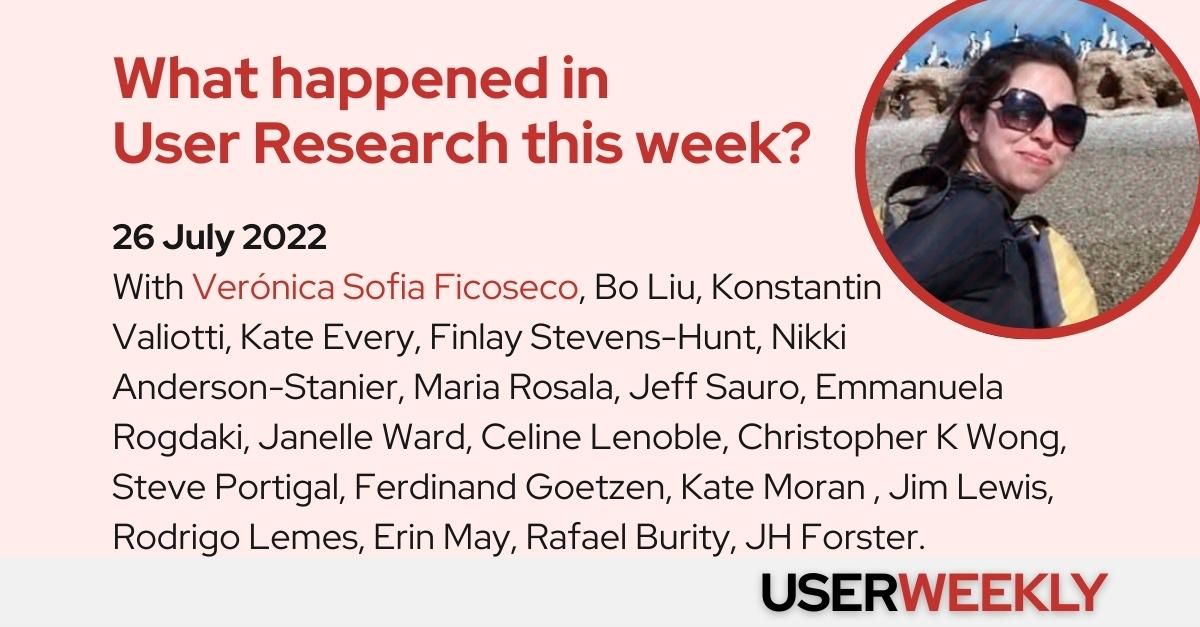 Hi there! 👋 Thanks for stopping by. USERWEEKLY is your weekly email to understand what is happening in User Research. It's the best way to keep up on trends, methodologies and insights in UX Research. It is written by me, Jan Ahrend. Each week I capture the pulse of our community and answer a simple question: What mattered in User Research this week?
😌 Humans of User Research with Verónica Sofia Ficoseco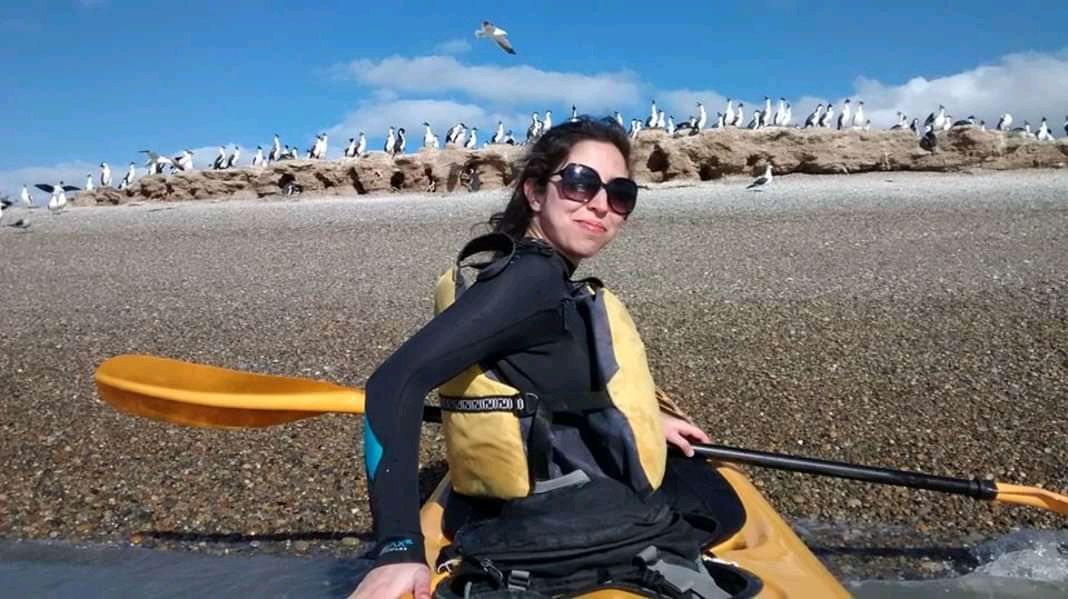 Hi Verónica, tell us a little about yourself.
Hi, I'm Verónica, a UX Researcher at Treinta, a Colombian fintech startup focused on the digitalization and financial inclusion of microbusinesses in Latin America. I have a PhD in Digital Communications, one Postdoc in Social Studies of Technology and another in User Experience. I also have an associate degree in Computer Science. I'm obsessed with understanding "what people do with digital technology?" and fascinated by the infinite possibilities and opportunities that question opens. I'm from Argentina living in Brazil and working remotely with a fantastic multi disciplinary international team.
What energizes you about your career?
I'm passionate about UX Research, working in understanding people's needs and having the chance to help improve their experiences with and through digital tech. Those things are a professional challenge and a personal satisfaction. I strongly believe that better and more responsible and inclusive digital product design can solve real problems, open valuable opportunities and improve some aspects of life and society.
If you could only use one method for the rest of your career, what would it be?
I define myself a mixed-method researcher, i see the world through a qualitative-quantitative glass, so if i had to choose one method it would be user interviews, because they allow us to produce different types of data: discourse, observational-gestual, nominal variables, etc. Also the dialogue and connection with users is enriching, enlightening and fun!. I would complement this by choosing two analysis frameworks, one qualitative and one quantitative, both also very open to combining in a mixed-perspective research: SNA and Grounded Theory.
What would you like to talk about with other researchers and how can they find you?
I would love to talk with other researchers about ground breaking theory in AI and HCI studies related to UXR and about the future and tendencies of UXR. Feel free to connect with me at Linkedin.
Thank you, Verónica!
Subscribe to stay up to date on User Research news and trends.
---
Spotlight > Articles > Video > Audio
🎉 Highlights.
A 3-step guide for a better partnership with UXR stakeholders
Step 1: Understand: The research maturity. org structure, business model, success metrics, and expectations for each other. Step 2: Build trust through liking (becoming part of the team) and authority (position yourself as the expert). Step 3: Make it a routine. Bo Liu 07/20
In search for a data-informed way to build product vision and positioning (Part 1)
Instead of guessing what decision points we should highlight, we'll uncover and quantify those points directly from key decision makers through stakeholder interviews. Konstantin Valiotti 07/20
Embracing complexity: is it time to rethink empathy and user needs?
We're reducing the breadth and the complexity of the things that we're trying to look at by stuffing them into this rigid narrow concept of user needs in the format of user stories. It makes our approach to design a bit reductive and a bit deterministic. Kate Every 07/22
Who is your research BFF? (Sponsor)
Research can't do it all, you need help from design, product, marketing... who's on your team? If you don't have at least a product trio, read this book, for free!
Get the book
🛠 Methods.
Defining what 'easy' really means to your users
Product people love the word easy, but it's vague and not helpful. To achieve easy, we must become more nuanced. Here is how and why. Finlay Stevens-Hunt 07/19
Mix up fresh studies with these 4 uncommon UXR methods
Using the same methods over and over again can make your research methods and results dull. Consider some new studies to mix it up: FIDO, Run of Post, Cloze test, True intent study. Nikki Anderson-Stanier
The funnel technique in qualitative user research
The funnel technique has been around since qualitative interviews emerged as a research method. This technique involves asking broad open-ended questions before gradually introducing more narrowly-scoped open-ended questions, as well as closed questions. Maria Rosala & Kate Moran 07/24
🧐 Analysis.
Segmentation, clusters and personas: how to group consumers
Grouping consumers is a crucial stage in the market research process, whether before or after insight teams implement research tasks, grouping consumers in a way that is relevant to the research and business can help provide great context to insights. 07/22
How to compare two proportions with the N−1 two-proportion test
In 2007, Campbell published assessments of the accuracy and power of different methods for analyzing 2 × 2 tables. He found that in most cases, even with small sample sizes, the best performing method was a little-known variation of the chi-square test in which the total sample size N was replaced by N−1. Jeff Sauro & Jim Lewis 07/19
🙌 Stakeholders.
How to get product teams to agree on the problems to solve by SAP
A 5-step approach to collectively define the problems to solve and focus on your end users: 1) Start with what you have. 2) Put your heads together to fill in the gaps. 3) Get comfortable in the problem space. 4) Listen to your end users. 5) Reflect on what your learned and come up with a powerful problem statement. Emmanuela Rogdaki 07/21
The baton handover: making insights actionable
Just as in a relay race, handing off insights must be a smooth and well-planned process. Janelle Ward
A calendar built just for researchers? (Sponsor)
Yes, it exists. One that is integrated with your existing calendar, has buffers and minimum notices and makes it easy for participants to book! Learn more
Subscribe to stay up to date on User Research news and trends.
Spotlight > Articles > Video > Audio
🎥 Video of the Week.
Are we really doing research? with Steve Portigal
Challenges UX Researchers face today and how the field has matured. With Steve Portigal. YouTube 07/20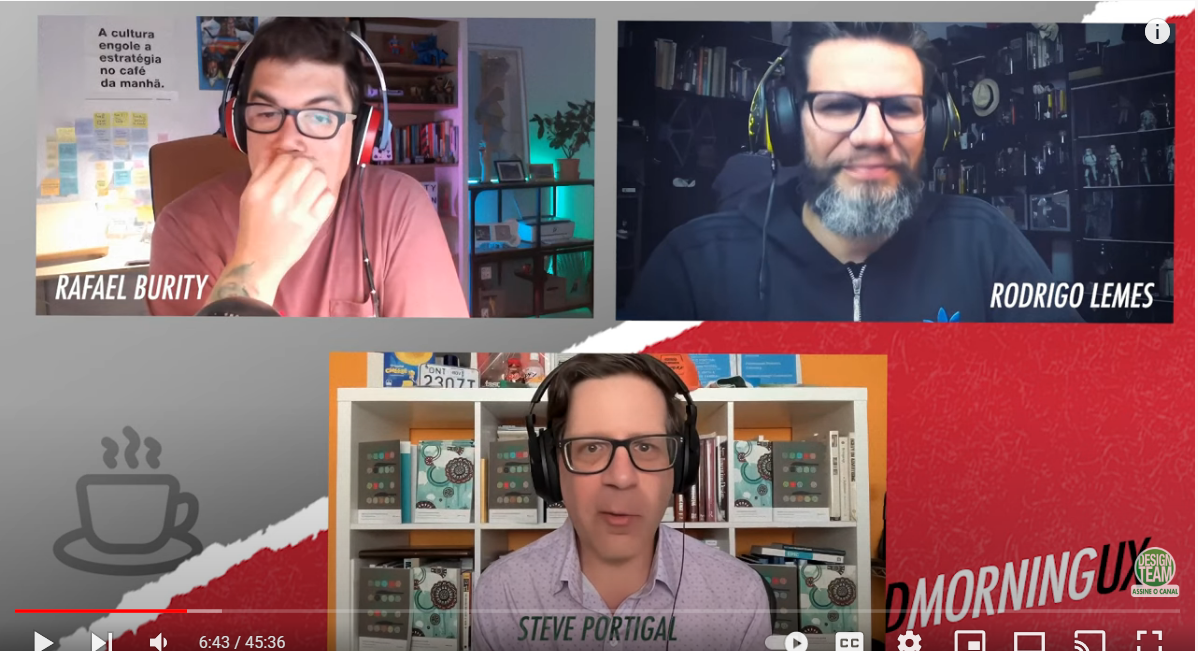 ---
Spotlight > Articles > Video > Audio
🔉 Audio of the Week.
Customer-centricity in practice with Ferdinand Goetzen of Reveall
Ferdinand Goetzen, CEO and Co-Founder of Reveall, joins us to explain how teams can start actually centering their customers by adopting certain practices that will help you collect, analyze, and interpret customer insights on a regular basis. Spotify Apple 07/21

Happy researching!
🗞 Jan
User Weekly Newsletter
Join the newsletter to receive the latest updates in your inbox.