Hello User Researchers!
I hope you had a smooth start to the new year and are ready to dive into the latest edition of the User Weekly newsletter. You will notice that there is no 'Humans of User Research' section in this and last weeks' editions. The reason for this is that I have been busy working on something new - the User Weekly podcast!
Introducing ... 🥁 ...  
The User Weekly Podcast!  🎉
The User Weekly podcast will be a bi-weekly companion to the newsletter, featuring discussions on my favorite three articles from the newsletter in 10-15 minute episodes. So you can stay informed even if you don't have the time to read the full newsletter every week. If this sounds like something you would be interested in, please consider following the podcast. A podcast trailer is up now and the first episodes will be released once we reached 350 followers.

Other options are available here.
The motivation behind the podcast follows my original goals for creating User Weekly - to learn new things, share what I learn with others, and simply have fun. This is also the motivation that led to the creation of the User Weekly Store. It was a lot of fun to set up the store, figure out print-on-demand and design all the tacky merch. But it didn't even get 20 sales. Therefore, I decided to sunset the store on February 1st. If you would like to purchase any items, you can use the promo code SUNSET for 40% off until then. Profits will be donated. (Shoot me an email if you are interested in taking over the Shopify store and designs.) So, I'm on to new projects, that are hopefully more relevant for you.
I hope you will join me on this new journey by following the pod today and will enjoy listening to the User Weekly podcast as much as I will enjoy creating it.
Happy Researching,
Jan
PS: Future newsletter episodes will again include the beloved "Humans of User Research" section! 😊
---
Announcement > Articles > Video > Audio
🎉 Highlights.
Measuring simulator sickness in VR: A guide for UX researchers
Simulator sickness is a phenomenon that occurs in virtual reality experiences and is characterized by symptoms similar to motion sickness. This article provides information on methods of measuring simulator sickness, including self-report measures and physiological measures, and offers recommendations for mitigating its effects. Melissa Schmitz 12/31
Can ChatGPT write a proper usability test script?
Is artificial intelligence ready to take on UX research work? ChatGPT, a generative AI with a chatbot interface, was tested for its ability to write a moderator's guide for a usability test. The outputs were impressive and created in 10 minutes. They were still imperfect however and sometimes worded awkwardly, it proposed tasks that might not be feasible without a prototype, and did not ask clarifying questions about the goals of the study. Lawton Pybus 01/03
The four themes that defined UX research in 2022
The four themes that defined UX research discourse in 2022: 1) Increased demand & scaling, 2) Emerging technologies, 3) Increased focus on historically underrepresented groups, 4) Changing trajectory. Thomas Stokes 01/03
📆 Jan 26: YouX by User Interviews (Sponsored)
UX researchers have never been more in demand, or more stressed. You need connection, and ways to be effective without just working more. Join us at YouX, a free, half-day virtual conference dedicated to connecting self & community through research.
Save your seat
⚙️ Research Ops.
How to set up a UX repository from scratch as a UX researcher
The article discusses the steps involved in setting up a UX repository, including setting goals, writing questions, recruiting, addressing ethical concerns, running the study, and analyzing and reporting on data, and provides recommendations for choosing tools. Marianne Carpentier 01/02
How to build a clean taxonomy for your UX repository
Start small and try to start with what you already know, craft the rest with time. Clean is the key. Remember that having too many tags or properties is as useful as having none. Marianne Carpentier 01/02
13 tips for communicating with product testers
The article discusses tips for effective communication with beta testers in order to get the most out of a beta test and gather useful feedback. The tips include using email sparingly, offering positive reinforcement, giving preferential treatment to certain testers, enforcing communication protocols, writing for the appropriate audience, timing communications appropriately, being timely with responses, and following through on commitments. Emily Hossellman 01/02
Planning 2023 research in a recession (Sponsored)
5 realistic and actionable strategies to help you keep user insights flowing in 2023, plus tips to navigate budget cuts and economic uncertainty in a downturn. Learn more
🛠 Methods.
What is psychographic segmentation?
Psychographic segmentation is a research methodology that divides people into groups based on their psychological characteristics, such as personality, values, and interests. It is often combined with demographic data to create a more complete understanding of a target audience and create personalized marketing messages. Jasko Mahmutovic 12/28
The misguided rivalry between qualitative and quantitative research
If you are a qualitative or quantitative researcher, don't think of the "other side" as competition, they are your allies who can make your work even more valuable. Meet them, talk to them, figure out which problems you share and struggle with!. David Tang 12/29
---
Announcement > Articles > Video > Audio
🎥 Video of the Week.
The world of UX with Darren Hood
In this episode, Darren provides three "nightmare" stories from his career. He focuses on a leadership story, an interview story, and a dysfunctional team operation story, all of which are used to dispel the notion that UX is for the thin-skinned, but also to emphasize more skills, aptitudes, and attitudes that UXers need to be successful. YouTube 12/27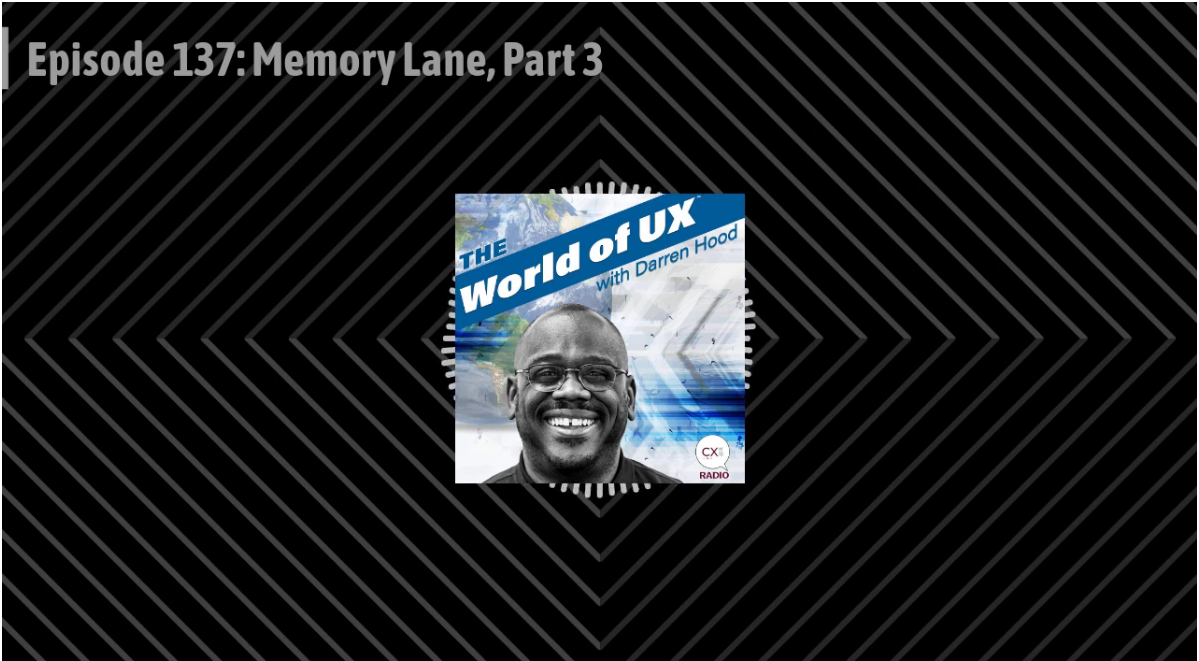 ---
Announcement > Articles > Video > Audio
🔉 Audio of the Week.
UX research & strategy with Homaxi Irani
With over 20 years in experience design, the last 15 years have seen Homaxi Irani in roles providing leadership to build and elevate UX research and design maturity within organisations. Homaxi talks about UX Design Research vs UX Strategic Research, interview preparation for a UX Researcher role and Enterprise vs Startup UX. Spotify Apple 12/28

Happy Researching,
🗞 Jan
User Weekly Newsletter
Join the newsletter to receive the latest updates in your inbox.