User Research in the Post-Covid World (UserWeekly01)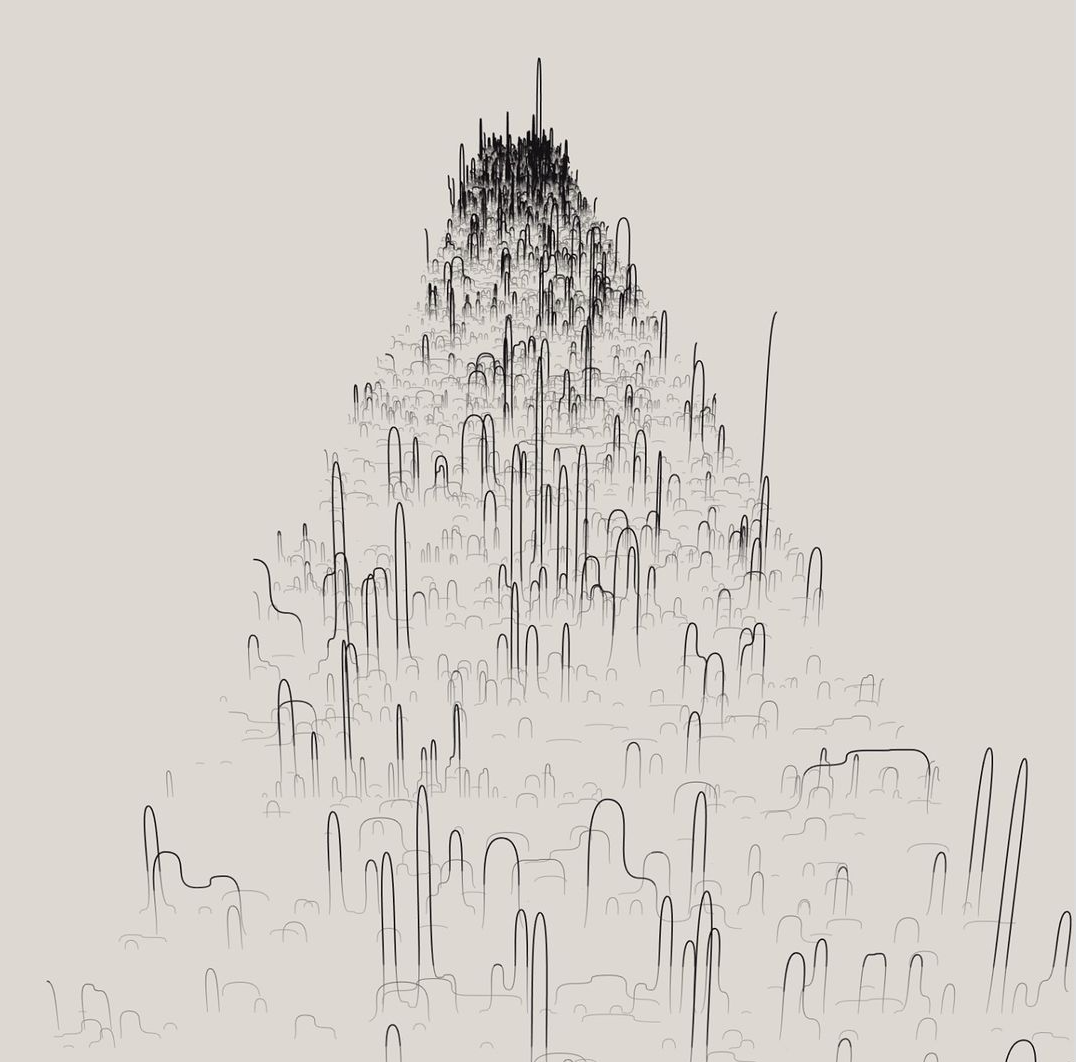 USERWEEKLY is your weekly email to understanding what is happening in user research. It's the best way to keep up on trends, methodologies and insights across the industry. Each week I go through 1k+ articles from mainstream media to small blogs to capture the pulse of our community and answer a simple question: What mattered in User Research this week? Subscribe.
When I was asked to work from home for the first time last March, I made a bet with colleagues on when we would return to the office. I said September, others April and July. We all meant 2020. No one could foresee how long the pandemic would have us work from home and how it would change how we work and live. Not only did the way I communicate and collaborate with co-workers change (and I think largely for the better) but also how I do research. And while we all have settled on a new modus operandi for now, new return-to-office plans will soon roll out in many companies. Many of us wonder:
How will User Research evolve in the Post-COVID world?
Here are the 3 opportunities for the next 12 months I'm most excited about:
1. The need for speed accelerates research innovation.
The rapid shift to work from home and the new work and life order have put more pressure on product teams to understand the quickly changing needs of their users. And their needs won't stop changing this rapidly anytime soon. Insights from today may not be relevant anymore tomorrow. Practices and attitudes may change once people go fully or partly back to the office and socialize in person again. Tools, processes, and people will configure and re-configure themselves as they align on the next new normal. As a result, research will (need to) continue to mature at an accelerated pace. Research processes, tools and teams will become more efficient and goal-oriented as a result.
2. More appreciation for uncertainties that Research can help to reduce
We humans are notoriously bad at predicting the future. To anticipate futures we largely rely on the past. What we can learn from past pandemics like the Spanish Flu is not really applicable to today's society anymore. Our ability to anticipate behavior and attitudes (Who are our users? What do they need? How will users use it?..) from experience is less relevant than before. My hope is that this will help stakeholders realize the need for research. And that ideas, visions, and plans are hypothesis that need to be evaluated, early and often.
3. Research as a Strategic Leader
The more change there is, there more (business) opportunities arise. Businesses fear missing out on opportunitites and being late to market. In addition to the speed and uncertainty, teams will rely more on research to uncover and predict needs more so than before. This competitive pressure will help us strengthen Research's position as a strategic leader and partner. Bottom-up insights (vs. top-down visions alone) will lead the way.
dscout published an interesting report on this "Next Normal" this week. The article is in response to their predictions on how research will change from 2019 and summarizes the anticipations from various industry leaders. Their key points:
Increased demand for strategic research insights.
UX Research is increasingly looked to to provide more inclusive and "whole-person" perspectives.
As the physical distance between stakeholders increased, research democratization will get accellerated.
Research teams will become increasingly diverse. Teams with varied viewpoints can more effectively advocate for the varied viewpoints of users.
Like other functions, Research Teams will need to get better at dealing with the negative effects of the speed and increased demand: burnout, Video fatigue, isolation, lack of empathy. Pushing back, realigning expectations, and making space for "self care" across teams is increasingly important for research leaders.
The remote, often asynchronous environment will require new ways to capture attention and drive engagement of workshops, share outs and deliverables in virtual-only or hybrid spaces.
As timelines shrink, sharing quick, just-in-time insights becomes the norm. Findability and accessibility of insights becomes a priority.
Enter your email to receive the latest updates in your inbox.
---
Bits and Bytes.
4 Ways to Use Research as an Organizational Bridge
Sofia Linse explains how research can be constructed to bring people together, across product verticals, teams, and departments, through a shared understanding of the end-user and their holistic experience: 💎 Broaden the stakeholder map, find engaging and easily digestable formats for delivery, identify synergies with other customer-facing departments, and organize user feedback in a centralized place. (Braze)
Understanding Stakeholders: Exploring The Meaning of Engagement
In this summary of a roundtable event, 7 'insight professionals' share their different experiences with stakeholder engagement, tactics, tricks, and tips. 💎 Include the element of surprise, videos, 'so what', 'KISS' and deeply understand your audience. (FlexMR)
Asynchronous Design Critique: Giving Feedback
This article by Erin Casali (VP, Automattic) isn't about Research per se. It's about giving design feedback and as helpful for how we as Researchers can give more actionable and considerate design suggestions from research findings. It's a great read and unpacks two definitions: 💎 Observation + Impact + Question = Actionable Feedback. And Timing + Attitude + Form = Respectful Feedback. Feedback should incorporate Clarity, Actionability, Framing, Depersonalization and Splitting. (A List Apart)
Sociolinguistics, Design Research, and You-How to Languate Gooder: Part 1
Caylie Panuccio (Seek) began a 3-part series on the intersection of sociolinguistics (how and why we talk the way we do) and design research. This first part answers the question of how the way you sound and the words you use might influence a research participant's responses. 💎 Prescriptivism, Registers and Jargon impact users behaviours. (Medium)
How to Build Powerful In-App Surveys: Put the User First
Oliver Lindberg (Pixel Pioneers) lists what to look out for when showing in-product surveys. 💎 Don't disrupt the experience, keep it short, motivate users to respond, keep the sample to a minimum, segment responses, trigger at the right moment, test your survey, iterate, ensure it's accessible, calculate your margin of error and conduct follow-up interviews. (Shopify)
800+ hrs of user studies reveal mobile sites and apps are quite similar
The Baymard Institute did a lot of usability studies on mobile apps and mobile sites. 💎 They found that almost all (98%) of UX guidelines for mobile websites also apply to native mobile apps. Quantitative data on native mobile app and mobile site usage rates indicate that users are more likely to use a mobile site than the corresponding mobile app for purchasing. (Baymard)
Also this week.
Fun reads.
Refreshers.
Enter your email to receive the latest updates in your inbox.
My Favorite Quote This Week
Research is formalized curiosity. It is poking and prying with a purpose.
---
Video of the Week.
The Nielsen and Norman Group speaks for 3:21 minutes about relying too much on feedback from customers and how it risks hampering innovation. Watch the video to find out what the best balance is for UX Design. Did you know, Henry Ford never actually said the famous quote "If I had asked people what they wanted, they would have said faster horses"?
---
Audio of the Week.
In this interview, Alba Villamil explores the question: When we conduct user research with marginalized communities, how do we as researchers recognize our ability to harm participants? A very important and timely topic. Speaking of diversity and inclusion, I came across The Gender Spectrum Collection this week. It is a library of stock photos featuring images of non-binary people to help better represent the communities.

---
Tweet of the Week.
Steve Portigal, the host of Dollar to Donuts, a podcast where he talks with UXR leads in organizations, came across an interesting job role. Any takers?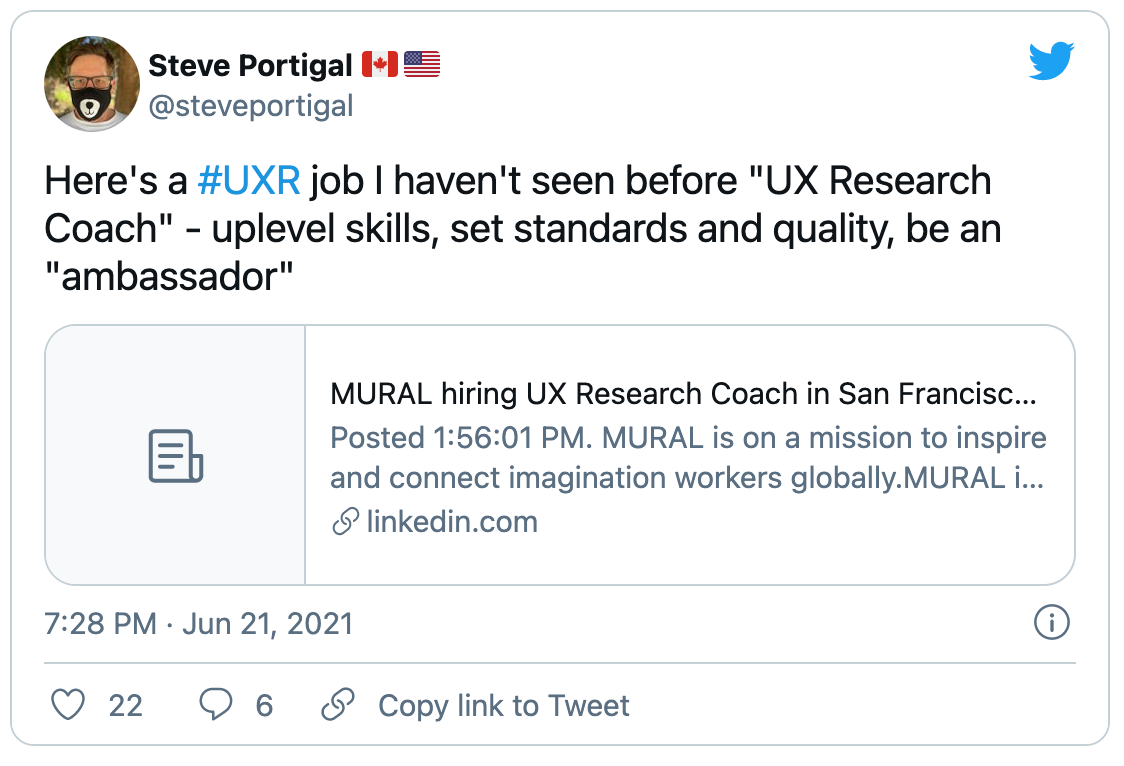 ---
Picture of the Week.
This is a visualization from the publication "Quantifying the Evolution of Individual Scientific Impact" (R. Sinatra , C. Song, D. Wang). The authors looked at the question "Are there quantifiable patterns behind a successful scientific career?" and analyzed the publications of 2887 researchers. They find that the paper with the greatest impact occurs randomly in a scientist's career. But the process of generating a high-impact paper is not an entirely random one. The authors developed a quantitative model of impact, based on an element of randomness, productivity, and a factor that is particular to each scientist and remains constant during the scientist's career. They put all this somehow into this beautiful visualization. And we say a picture says more than a thousand words..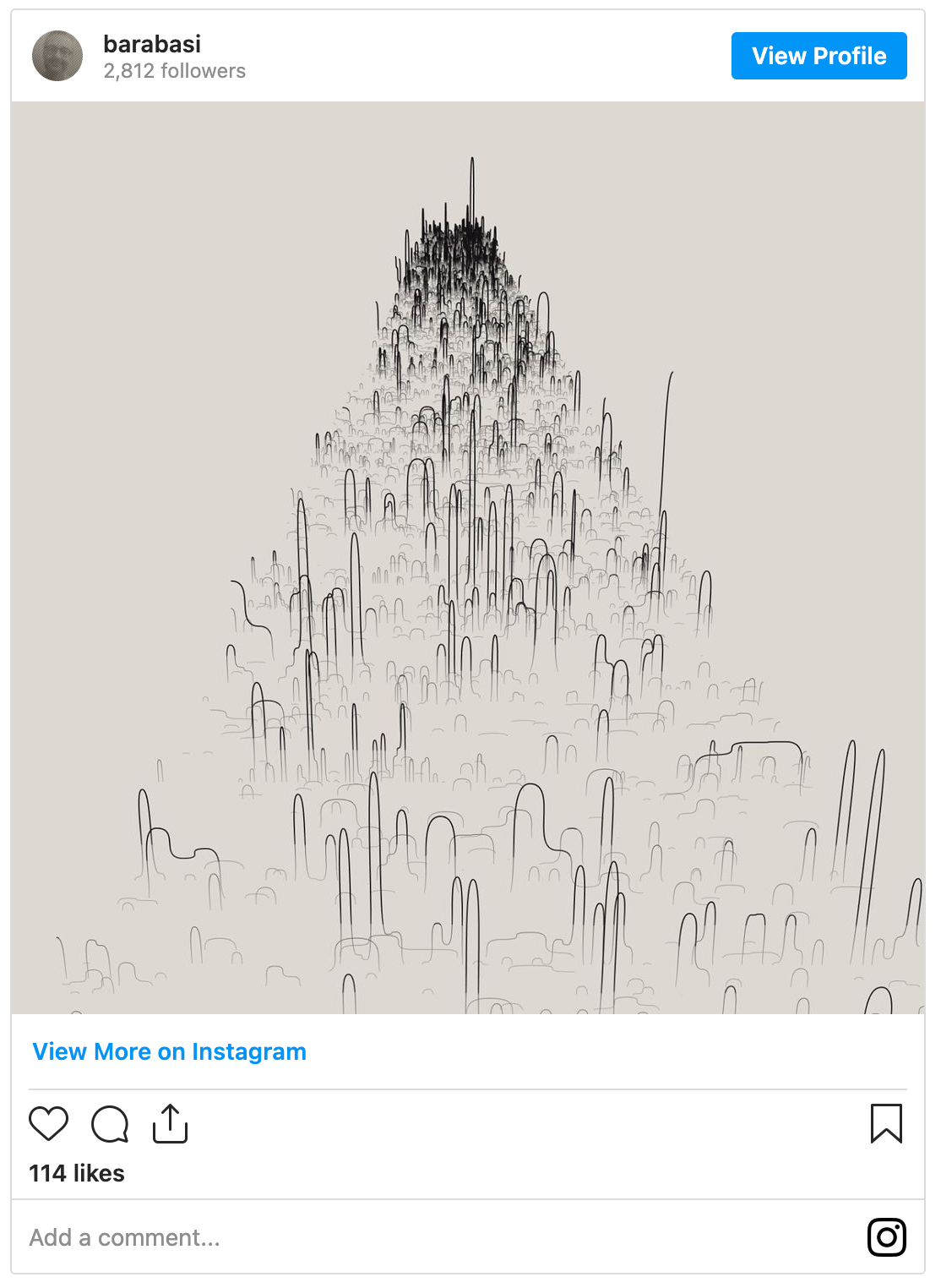 ---
Conversations next Week.
---
This Week in Tooling.
🎈Congrats to Ned Dwyer for launching Great Question. Great Question is a SaaS solution for panel management, study scheduling, incentives processing, study planning and documentation. 🎈 Optimal Workshop now offers a new, cheaper pricing tier: Starter for US$99/m 'for quick, small scale research projects'.
Have a great week and stay well!
Jan
User Weekly Newsletter
Join the newsletter to receive the latest updates in your inbox.