🗞 Evaluating UX in Robots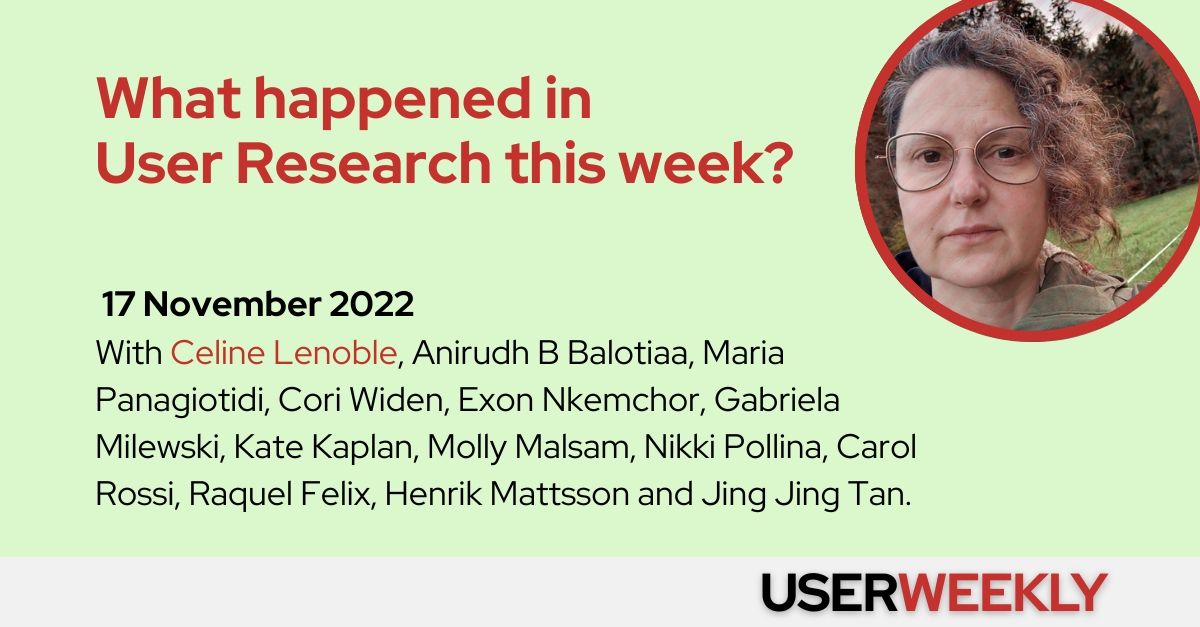 Hi there! 👋 Thanks for stopping by. USERWEEKLY is your weekly email to understand what is happening in User Research. It's the best way to keep up on trends, methodologies and insights in UX Research. It is written by me, Jan Ahrend. Each week I capture the pulse of our community and answer a simple question: What mattered in User Research this week?
😌 Humans of User Research with Celine Lenoble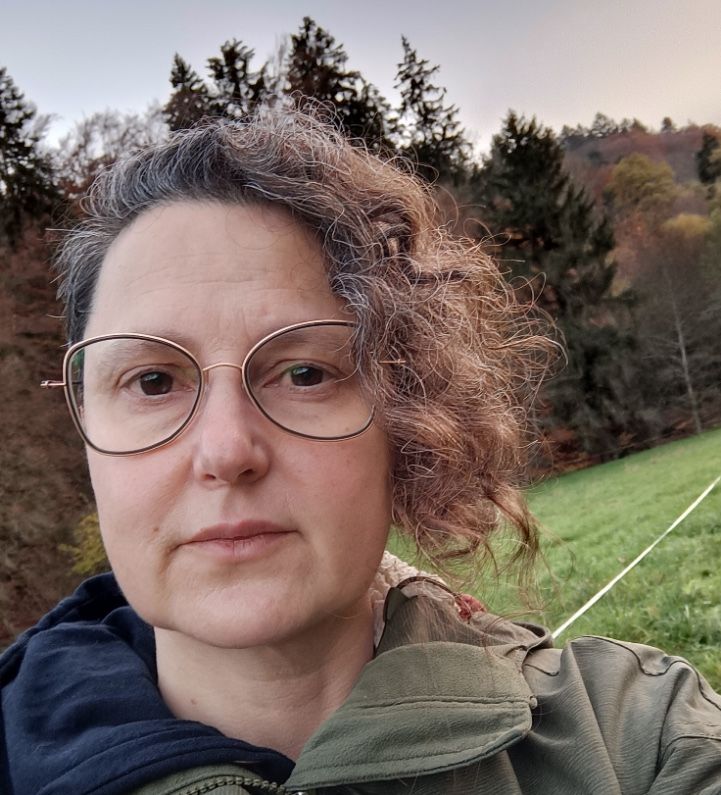 Hey Celine, tell us a little about yourself.
Good Day fellow UXers, Celine here (she/her), Director of UX research at brainlabs (opinions are my own). It has become kind of cliché, but I am a lifelong learner. Curious about (almost) everything, I see each step as a learning opportunity. Native from France, I now live in Switzerland, ended up here by way of Australia and the US.
What's your favorite thing about your current job?
I'm building a mixed method team. It's great when one individual can excel in both qual & quant, but from experience, most researchers have one strong suit, and then picked up a few skills on the other side. Working in pairs in most projects has enabled us to go deeper, deliver more reliable insights, while making the work even more rewarding and fun. And no, it's not doubling the time spent.
If you had unlimited budget and time for research, what would you do with it?
My personal focus is on the new & intriguing types of experiences brought on by ML-powered products. I believe users' mental models have not yet caught up to how recommendation engines work for example. This creates immense challenges at all levels, individual, community and society at large. There are so many research directions possible in this domain, but I would search for ways users can have some degree of meaningful control.
What can people reach out to you about and how can they find you?
I'd love to hear your thoughts and experiences about UXR and AI. You can reach out to me on LinkedIn, Twitter @CelineLenoble , or Medium
Thank you, Celine!
Subscribe to stay up to date on User Research news and trends.
---
Spotlight > Articles > Video > Audio
🎉 Highlights.
What being in research operations taught me? Eight takeaways!
Operations can be an immensely rewarding work provided you enjoy the journey also and not only the outcome. Anirudh B Balotiaa 12/22
Evaluating UX in robots
A recent review by Yung and colleagues reviewed 36 studies and identified four possible stimuli that can be used in usability studies with robots. Maria Panagiotidi 11/11
Improve your competitive analysis with strategic user research techniques
Competitive analysis benefits many stakeholders. Here's how to manage a competitive analysis end-to-end—with better results. Cori Widen 11/10
📅 Soon: YouX by User Interviews (Sponsored)
A free virtual conference dedicated to researchers. Join us for a half-day of connection, lessons from other professionals, and best practices for creating a healthy environment for work in research.
Register now
🔭 Research Approaches.
Use 2x2 frameworks to see the data
2X2s allow us to "see the data" directly in relation to our actual product and service development needs. These visualizations can help us ascertain how to make more informed decisions with confidence. Michele Ronsen 1/09
How to: democratizing UX research
Democracy is something that many believe is worth striving for and fighting for due to its potential benefit. When it comes to research, however, the concept can be confusing if the context isn't clear. Exon Nkemchor 11/09
🛠 Methods.
How to adapt products to the cultural nuances of users?
Lessons from the field: running contextual inquiries in a product trip. Gabriela Milewski 11/14
Remote contextual inquiry: lessons learned
Contextual inquiry can be conducted remotely for certain types of tasks, provided that your participants can share most of their work setting through a video-call platform. Kate Kaplan 11/13
Unsure if your data is statistically significant? Check out these methods
It's not always clear whether the data you've gathered is statistically significant. These methods will help you navigate that question. Molly Malsam 11/13
📚 Career & Growth.
Women in UX: Nikki Pollina about working at Google and growing on TikTok
Read along to find out how Nikki got into Google, what her typical working day looks like, what are her best advices for women looking to start a career in tech and how she is contributing to the UX Research community of TikTok. Nikki Pollina 11/09
Creating a winning UX Research portfolio
Whether you're a career researcher who's just been laid off from your job and your portfolio needs a reboot, just leaving school and starting out in research, or switching from another profession, these tips will help you showcase your work. Carol Rossi 11/11
📆 UX Research Events
UX Research Conferences 2023 (Sponsored)
Want to join a UX Research Conference next year? Check out the list of UX Research conferences for 2023. The conferences take place in-person, fully online, or in a hybrid form, allowing joining in-person or online. And for the early birds among you: Tickets for many of them are already available.  View all events
Subscribe to stay up to date on User Research news and trends.
---
Spotlight > Articles > Video > Audio
🎥 Video of the Week.
Kitch research field trips
Once a week, Raquel Felix runs restaurant sightseeing trips to bring some realness to their work. In this talk, Raquel shares their process for organizing field trips to ensure the team focuses on real needs and opportunities 🍽. YouTube 11/11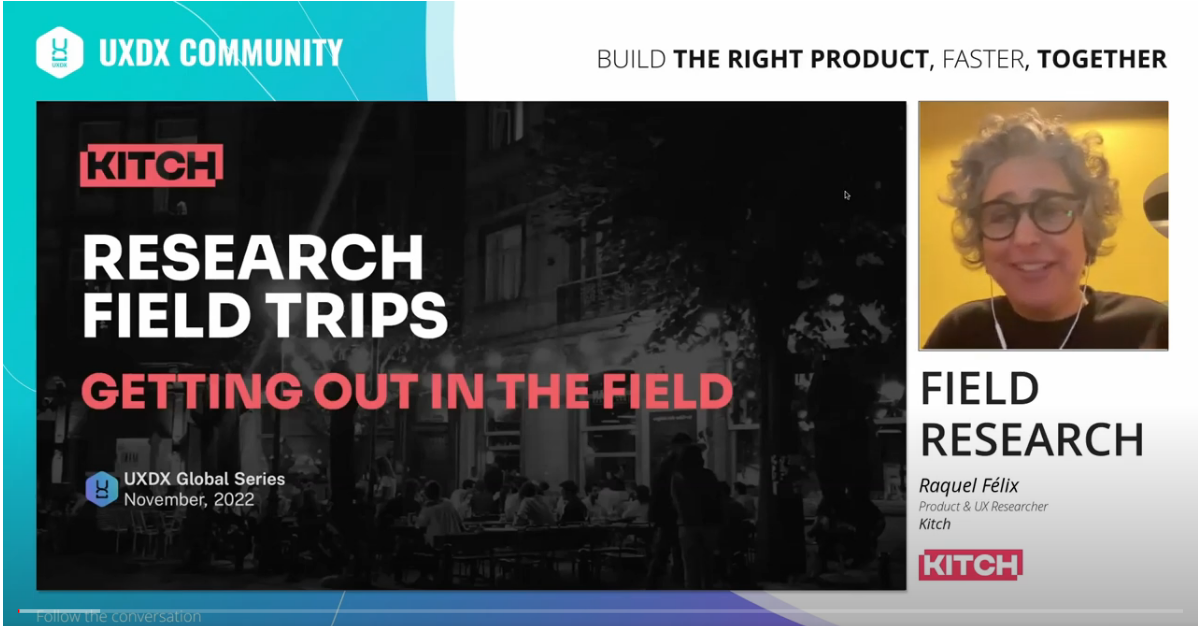 ---
Spotlight > Articles > Video > Audio
🔉 Audio of the Week.
Research leadership at Uber
In this episode Henrik interviews Jing Jing Tan of Uber. They chat about her journey into research and how she ended up at Uber and thinking about research as a bridge between customers and companies. After that they talk about how to influence product strategy and build relationships with product leaders, as well as understanding research maturity in different organizations. Spotify 11/11

Happy Researching,
🗞 Jan
User Weekly Newsletter
Join the newsletter to receive the latest updates in your inbox.