🗞 What UX Researchers can Learn From Therapists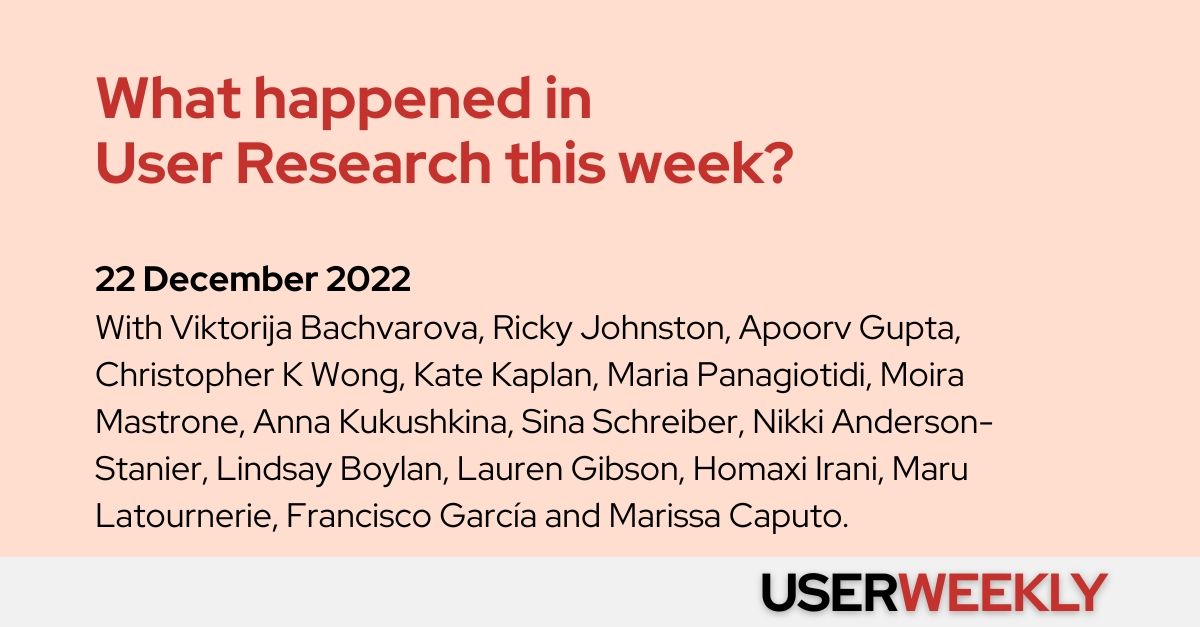 Hi there! 👋 Thanks for stopping by. USERWEEKLY is your weekly email to understand what is happening in User Research. It's the best way to keep up on trends, methodologies and insights in UX Research. It is written by me, Jan Ahrend. Each week I capture the pulse of our community and answer a simple question: What mattered in User Research this week?
Spotlight > Articles > Video > Audio
🎉 Highlights.
Dealing with uncertainty in the early discovery phase of a product
A story about embracing uncertainty, which is essential in any innovation process that not only doesn't avoid it but requires it. A story about the rising north star of intuition. Narrated through a Gestalt therapy perspective. Viktorija Bachvarova 11/30
Metrics every design team should be tracking (by Microsoft UXR)
Teams should track essential metrics in order to improve customer experience and measure the impact of their designs. These metrics include high-level metrics, user-level metrics, task completion metrics, and usage-level metrics, and should be tracked and used effectively in order to achieve the desired results. Ricky Johnston 12/13
4 habits user researchers can learn from therapists
User researchers can learn four habits from therapists in order to improve their interviews and gather more meaningful answers from users. These habits include enabling users to explore their thoughts, helping them reach insights, making them feel at home, and being self-aware. By adopting these habits, user researchers can create a more productive and comfortable environment for users during interviews, ultimately leading to more useful insights. Kritika Oberoi 2/15
How to endure being a UX Researcher during rough times
During rough times, UX designers and researchers may face challenges such as reduced budgets for user testing and research. It is important for UX professionals to find ways to work with the available resources and advocate for the importance of UX within the organization, while also taking care of themselves and seeking support from colleagues and the UX community. Christopher K Wong 12/21
🛠 Methods
How much time does it take to create a journey map?
Data from 343 respondents provide a baseline to help teams understand and estimate the time and cost involved in the journey-mapping process. Kate Kaplan 12/18
Turning NPS into action: how to make the most out of a... dubious metric*
By asking users to explain their NPS score in an open text-box and analyzing the data on a regular basis, UX teams can use NPS data to understand user pain points and opportunities for improvement, and even recruit participants for research. Maria Panagiotidi 12/14
🙌 Stakeholders.
How to present user research insights to different audiences
Presenters should define their audience and presentation goals, use relevant language and examples, and plan their presentation's logistics in advance. Additionally, it is crucial to focus on the main takeaway for the audience and make research findings easy to understand, care about, act on, and share. Moira Mastrone & Anna Kukushkina
Stakeholder intake interview: focus your UX research with this framework by Laura Faulkner
During the intake interview, researchers should cover a variety of topics, including the problem statement, the users and their needs, the stakeholders and their goals, and potential solutions. It is important to use open-ended questions and to dig deep with "why" questions in order to fully understand the stakeholder's research interests. Sina Schreiber 01/26
Subscribe to stay up to date on User Research news and trends.
⚙️ Research Ops.
Structure and scale your UXR team for lasting impact
In building a UX research team, it is important to carefully consider the structure and scale of the team to ensure lasting impact. There are three main models for structuring a UX research team: embedded, centralized/agency style, and hybrid. To scale the team effectively, it is important to consider hiring other roles and aligning on process, as well as providing opportunities for growth and development through development plans and external resources. Finally, it is important to foster a strong team culture. Nikki Anderson-Stanier 12/21
AMA Recap: Xplor's Lindsay Boylan on building a user-focused research practice
On joining an org as the first dedicated researcher, panel building and keeping panelists engaged, and measuring value and impact. Lindsay Boylan & Lauren Gibson 12/19
📆 Events in 2023
UX Research Conferences 2023 (Sponsored)
The year is coming to an end, and this can be a perfect time to think of what you want to learn, reflect and hone around UXR in the future. Joining a UX Research Conference is one way to meet other researchers, discuss our practice, learn from others, and get inspired. Check out the list of UX Research conferences for 2023. The conferences take place in-person, entirely online, or in a hybrid form, allowing joining in-person or online. And for the early birds among you: Tickets for many of them are already available. Discover all events
---
Spotlight > Articles > Video > Audio
🎥 Video of the Week.
How do you communicate user research findings with impact?
Are bullet points enough to create empathy, inform decisions, and inspire action? Canvases like persona maps or user journeys are a great way to summarize user research findings, but even these canvases can be filled with assumptions instead of evidence. In this session, a brief story that communicates research findings with impact is created. YouTube 12/16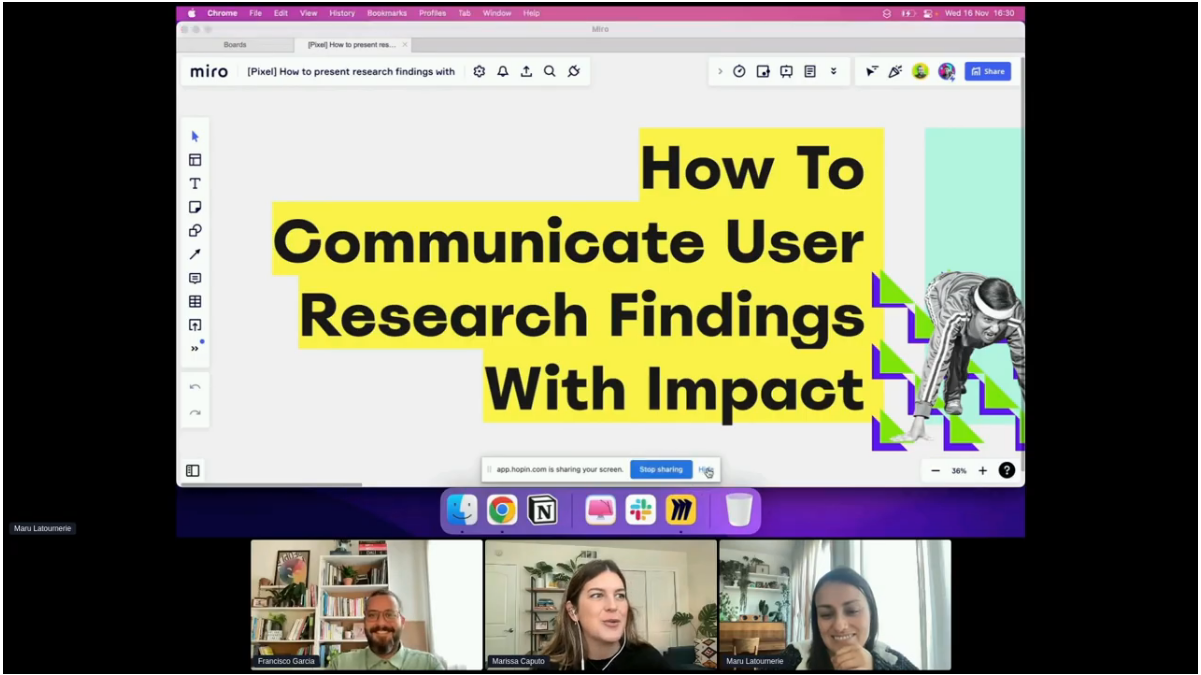 ---
Spotlight > Articles > Video > Audio
🔉 Audio of the Week.
UX research & strategy with Homaxi Irani
With over 20 years in experience design, the last 15 years have seen Homaxi Irani in roles providing leadership to build and elevate UX research and design maturity within organisations. She has worked in Australia and Asia in Group and APAC roles, in both corporate and consultancies. Spotify Apple 12/21

Happy Researching,
🗞 Jan
User Weekly Newsletter
Join the newsletter to receive the latest updates in your inbox.