🗞 On Visual Ethnography, UX Writing Research and Inclusive Personas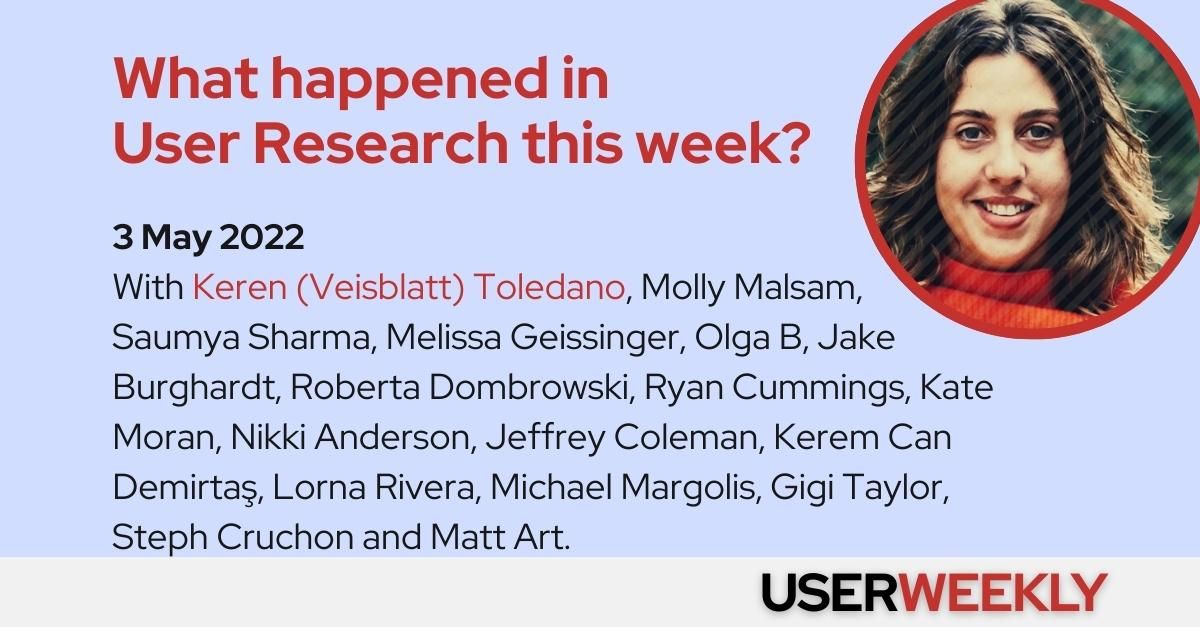 Hi there! 👋 Thanks for stopping by. USERWEEKLY is your weekly email to understand what is happening in User Research. It's the best way to keep up on trends, methodologies and insights in UX Research. It is written by me, Jan Ahrend. Each week I capture the pulse of our community and answer a simple question: What mattered in User Research this week?
😌 Humans of User Research w/ Keren (Veisblatt) Toledano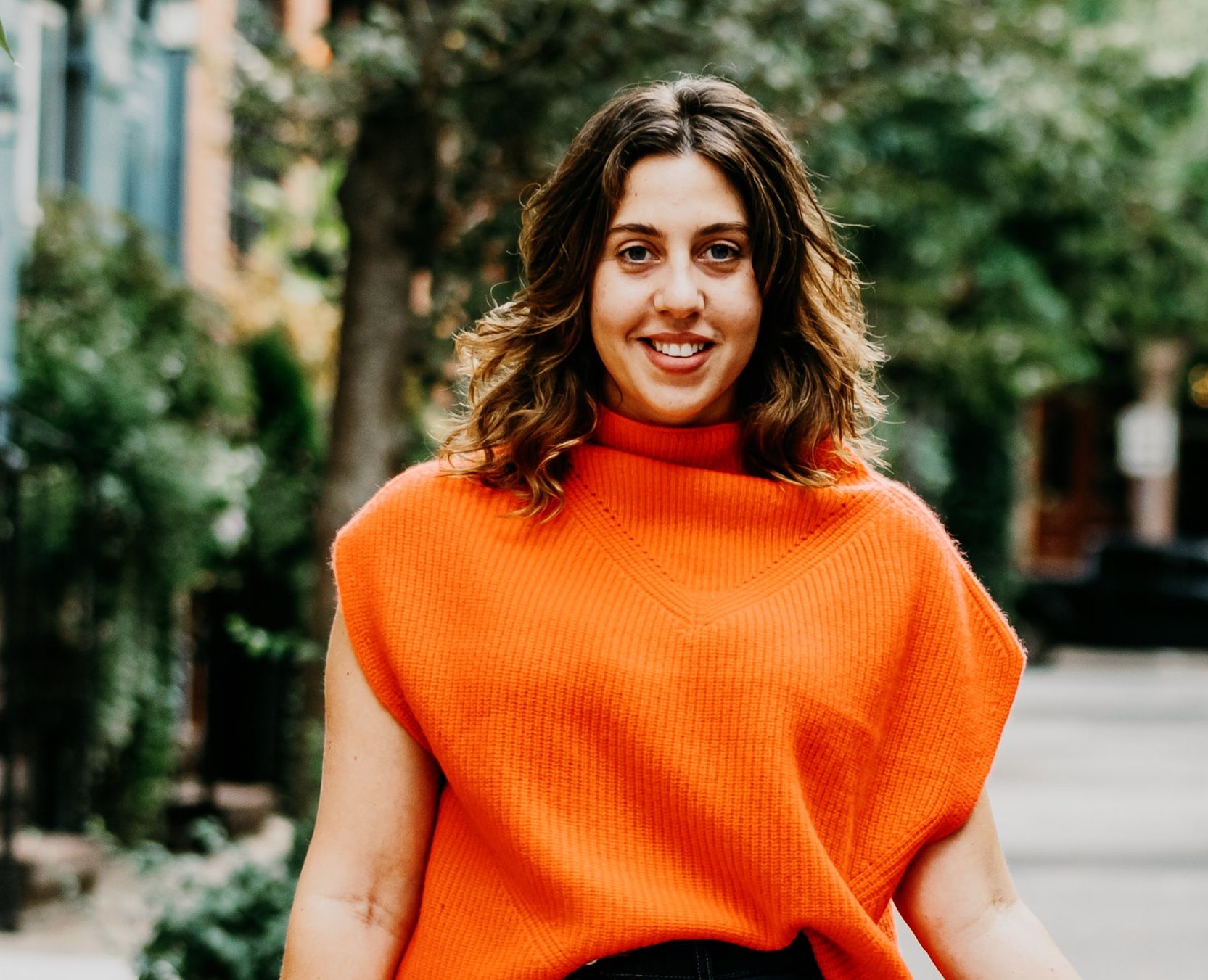 Hi Keren, tell us a little about yourself.
I'm Keren (Veisblatt) Toledano. I'm a Staff Product Researcher at Shopify with a focus on messaging apps, text-based communication, and business chat. In short, I study the way that businesses and customers converse with one another.
I have facilitated research and designed for Shopify, Comcast, The Olympic Games, The Moth, Netflix, AT&T, and more. I think I've always been somewhat interested in how humans engage with digital environments and software (thinking back to so many Geocities websites, Xangas, MS DOS games, and webrings). But, I didn't know it was a career option because my academic background in American Studies and Arts Administration didn't readily make the connection for me. Turns out, those fields have lots of fundamental elements which make me a good researcher. I believe strongly in liberal arts majors working in technology because algorithms and interfaces present social challenges that require critical thinking.
I've worked as a consultant, as a freelance researcher and strategist, and now I work in-house! (Ask me about each!) I live in Philadelphia, PA with my two young kids, a partner, and a three-named cat.
What's one thing you wish you realized earlier in your research career?
I think I once idealistically believed that "great research" would be enough to inspire change. That a well designed, facilitated, and analyzed project would be so obviously powerful that it would speak for itself. That it would need no interpretation. Over time I've come to realize that the "if you build it, they will come" theory doesn't pan out. Research insights should be tailored to real people (colleagues, stakeholders, whomever). The job doesn't stop once the research itself is completed. Disseminating the work, finding multiple audiences who can benefit from the work, crafting findings into actionable takeaways, translating insights into tangible features or investment areas, and editing findings into digestible, meaningful takeaways is also part of the job. I've even turned some of my work into movie trailers! Frankly, our role is to be understandable. Though it might not be as important, a well written, plain sentence is more easily understood than a 60 page deck solely because of brevity.
I often find myself going on "research tours," and like a musician, each venue's set is broadly the same. But factors change: the location, the audience, the size of the concert hall, the length of the show, the fanaticism of the fans, if they want "new hits" or "classics." It's funny how much my background as a theater kid has helped my career!
What's your favorite thing about your current job?
Speaking to strangers helps me to feel connected and aware of people who may be outside my typical bubble. Werner Herzog, the renowned German film director and sometimes documentarian, has a great quote about observing human behavior. He says, "I'm not an interviewer. I have conversations." I like that approach. He speaks on how one doesn't need to agree with someone to understand them, how difference is the thing that brings intrigue and a type of respect. How people shouldn't be treated like subjects of a study.
Growing up, my dad owned a hardware store. Everyone in the family helped with marketing, customer service, and inventory management. I cut lots of keys. But the shop failed. I was drawn to Shopify because I know how important it is to help more people (and communities) build economic independence. It's inspiring that my work matters to millions of small business owners. If attentive listening can eventually make a product better for a single person, that's pretty cool.
It's also exciting to learn about different fields swiftly. Sometimes it feels a bit like cramming for exams. There's adrenaline and joy from immersing oneself in a new subject area. I guess it's odd to admit to liking that?
What's one thing that can instantly make your day better?
A mint chocolate chip popsicle. Coffee. Salt & Vinegar chips. Basically food.
How can people learn more about you and your work?
You can learn about some of the long-term research I've done for Shopify here or watch a talk I gave for Miro on How to Establish Design Principles. I've also written articles and guides on Object-Oriented UX. There are some more goodies on my personal website. Or, you can always find me on LinkedIn and Twitter.
Thank you, Keren!
Subscribe to stay up to date on User Research news and trends.
---
Spotlight > Articles > Video > Audio
🎉 Highlights.
It's time to transition to inclusive personas
As researchers, we know we need to do our best to remove bias and practice empathy towards our users. Reshaping traditional personas is one way we can put more focus on inclusivity. Molly Malsam 5/02
Visual ethnography in real time: UX research & beyond
The uniqueness of Visual Ethnography is that it allows for a detailed interpretation and negotiation of the participants' view of reality, the stimulus affecting it, the emotional response and your research questions. It is a deeper reflexive engagement in ethnographic research. Saumya Sharma 5/02
Leveraging conversation mining for UX writing research
The intention of conversation mining is to put ourselves in the places where our target audience is freely expressing themselves in order to glean from them the different words, phrases, terminology, inflections, and more that allow us to speak to them at their level. After all, a digital experience is, in fact, a conversation between the product's voice and its users, and we should have a common vocabulary. Melissa Geissinger 5/02
🎯 Approaches.
Proper hammering with a microscope: oversimplification in UX research
I wish for each of the research methodologies in researcher's toolbox to be used once in a while when needed. At times it seems to me, that research is being reduced to practicing only one thing: hammering, by using one tool only, the usability test, a.k.a. the microscope. Olga B 4/27
State of UX survey 2022
UserZoom's State of UX Survey 2022 found companies missing golden UX optimization opportunities, including UX Research. Demand for UX research is outpacing supply. DE&I considerations are not standard practice in nearly half of UX teams. 4/26
Demystifying core product uncertainties by meta analyzing across existing research to date
Reducing risk toward big bets with 'old' insights. Even after researchers turn their own streams of studies into ongoing meta-analyses, expansive horizontal topics will emerge where no one source has the whole story. Jake Burghardt 5/02
Scaling research through enablement: a UXR leader's approach to democratization 2.0
Behind-the-scenes of our democratized research culture at UI, with examples, outcomes, & self-reflection questions. Roberta Dombrowski 4/28
Make customer research a habit (Sponsor)
Forming habits that can change your entire organization, just takes repetition. Learn how to make customer research a habit with these 4 tips. Read the blog post
🛠 Methods.
Why the pandemic has changed the qualitative research landscape forever
Fresh from speaking at the recent Qual 360 North America event, Ryan Cummings shares his key takeaways, including why he feels the pandemic has changed the qualitative research landscape forever. Ryan Cummings 4/27
Recruiting high-income participants: challenges and tips
Users who have plenty of money can be hard to motivate to participate in research. Word-of-mouth networking, flexibility in scheduling, and remote studies might help you recruit them. Kate Moran 5/01
How to write an unbiased and conversation-starting discussion guide
A good discussion guide starts with perfect research goals and question. We tell you how to create all three right here. Nikki Anderson 5/01
🚀 Growth.
From academia to UX research: Why mentorship matters
In the UX industry, someone we see today as a total beginner could be 5 years from now a speaker at a UX Research conference. Let's hope that over the next 5 years UX leadership similarly evolves to build teams differently by adapting hiring practices for long-term growth and investing more in Learning & Development. Jeffrey Coleman 4/26
Being a researcher-psychologist in a service design company
What are the contributions of holding a psychology degree to user research and service design?. Kerem Can Demirtaş 5/02
Demystifying research compensation packages in academia and industry
A breakdown of sources, comparison data, and areas to negotiate. Lorna Rivera 5/02
📆 Partner Event
UXinsight Festival 2022 – May 30, 31 and June 1 (hybrid)
UXinsight's sixth annual UX research conference, in-person or online. Created by UX researchers for UX researchers. Three days full of practical workshops, inspiring talks by experts from leading companies and networking opportunities. Be inspired, make connections & improve your skills. Recordings for all ticket holders! Get your ticket now
Subscribe to stay up to date on User Research news and trends.
---
Spotlight > Articles > Video > Audio
🎥 Videos of the Week.
Michael Margolis (Google Ventures) - the research sprint, a pragmatic path to UX research
If his name looks familiar, it's because the UX research partner Michael Margolis appears in the world-famous book "Sprint". He is none other than the creator of the testing process known as "the five-act interview", used nowadays by thousands of startups worldwide. These 1:1 customer interviews are at the heart of his Research Sprint, a 4-day process that combines with the design sprint, and helps startups and big companies test their assumptions and de-risk product ideas, and innovation strategies. YouTube 04/29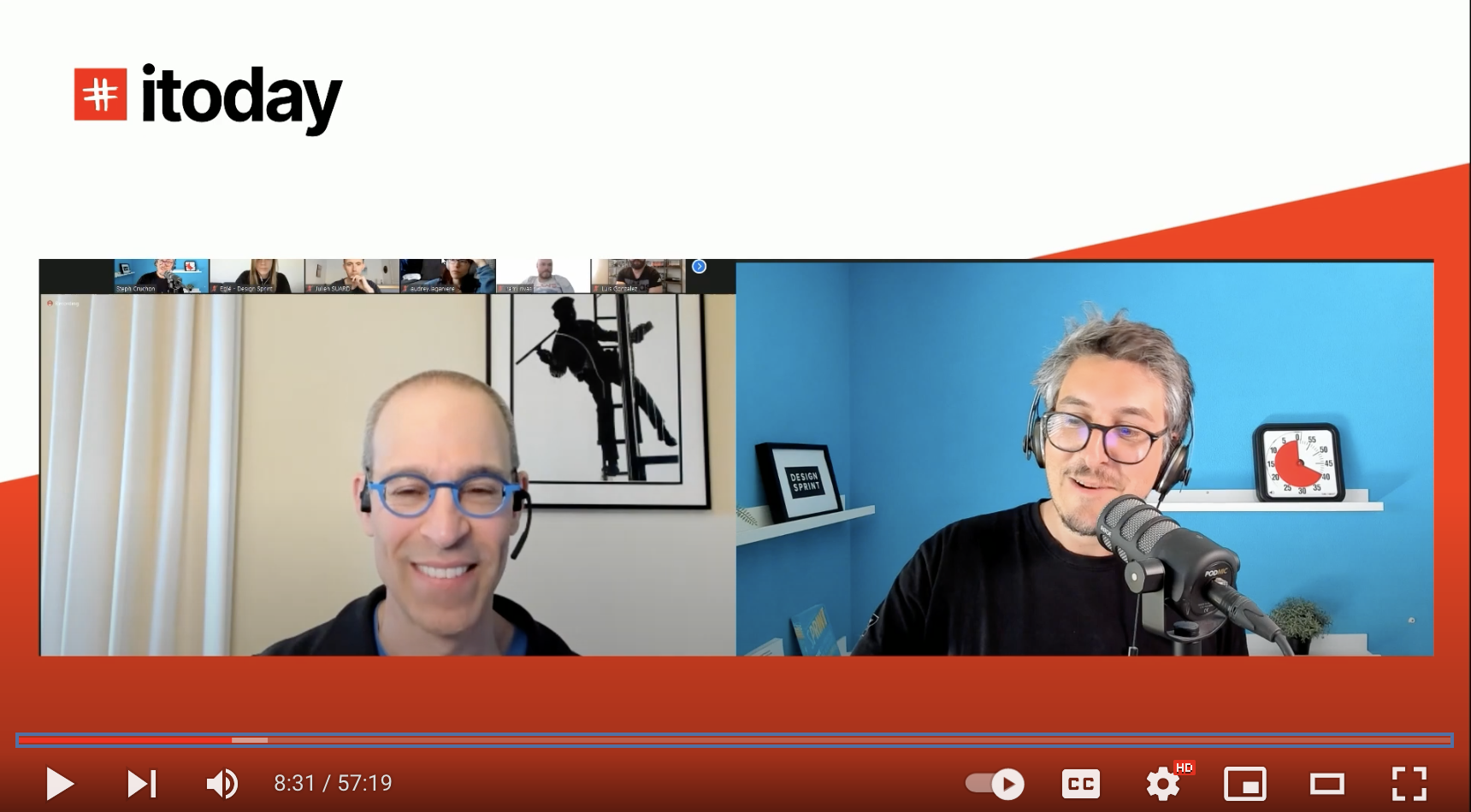 ---
Spotlight > Articles > Video > Audio
🔉 Audio of the Week.
Gigi Taylor on Anthro to UX Research
Gigi Taylor speaks with Matt Artz about her UX journey and approach to user research. What distinguishes her applied and academic research is that she uses a cultural anthropological lens to study business—advertising, consumers, brands, consumption, users, products, digital experiences, and organizations. Spotify Apple 04/26

Happy Researching,
🗞 Jan
User Weekly Newsletter
Join the newsletter to receive the latest updates in your inbox.