What happened in User Research this week? (July 27)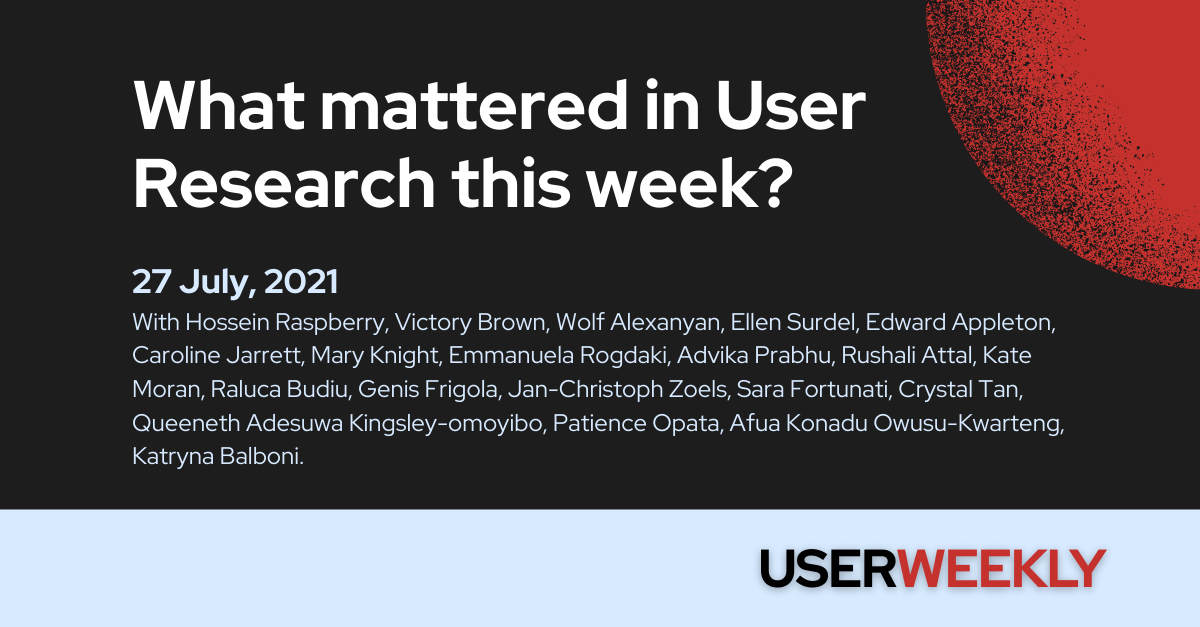 USERWEEKLY is your weekly email to understanding what is happening in user research. It's the best way to keep up on trends, methodologies and insights across the industry. Each week I go through 1k+ articles from mainstream media to small blogs to capture the pulse of our community and answer a simple question: What mattered in User Research this week?
Articles > Audio & Video > Upcoming > Tools
Articles.
UX researchers and product managers: A guide to effective collaboration
Hossein Raspberry answers the question 'What's the most effective way to work with my Product Manager / UX Researcher?' 💎 UX Researcher vs. Product Managers. As a researcher, what can you expect from PMs. As a PM, what can you expect from UX Researchers. Adopting these 2 mindsets can benefit you both. For a healthy relationship, you should equally share some responsibilities. UX Collective
Cognitive Science and User Experience — A New Dimension of Abstract
Wolf Alexanyan spent half a year and 500 hours creating a free tool that shows 896 angles of the most common questions in Product Development from the perspective of cognitive biases. 💎 For example: 'New users complain that the product does not meet their expectations. What could be the reason?' Possible biases: Context effect, Framing effect, Halo effect, Contrast effect, Curse of knowledge, Self-reference effect, Appeal to novelty. Dunning-Kruger effect. Negativity bias. Peak-end rule, Generation effect, Placebo, Illusion of control. Medium article. Tool
Ethnography and User Research
Victory Brown explores how ethnography would affect UX research in drawing insights. 💎 What you should know about Ethnography. Roles and Settings in Ethnography. What to consider before diving into Ethnography. Note-Taking in Ethnography. Pitching your research to stakeholders. UX Planet
Approaches.
Case Studies.
Refreshers.
Enter your email to receive the latest updates in your inbox.
Articles > Audio & Video > Upcoming > Tools
Audio & Video of the Week.
The videos of the "Humanizing technology through design" conference are online. Jan-Christoph Zoels and Sara Fortunati curated a three-day conference in June 2021 themed "Humanizing technology through design" which dealt with the best international practices of the humanization of technology, casting light on the experiences of designers, companies, researchers, and institutions. List of all recordings.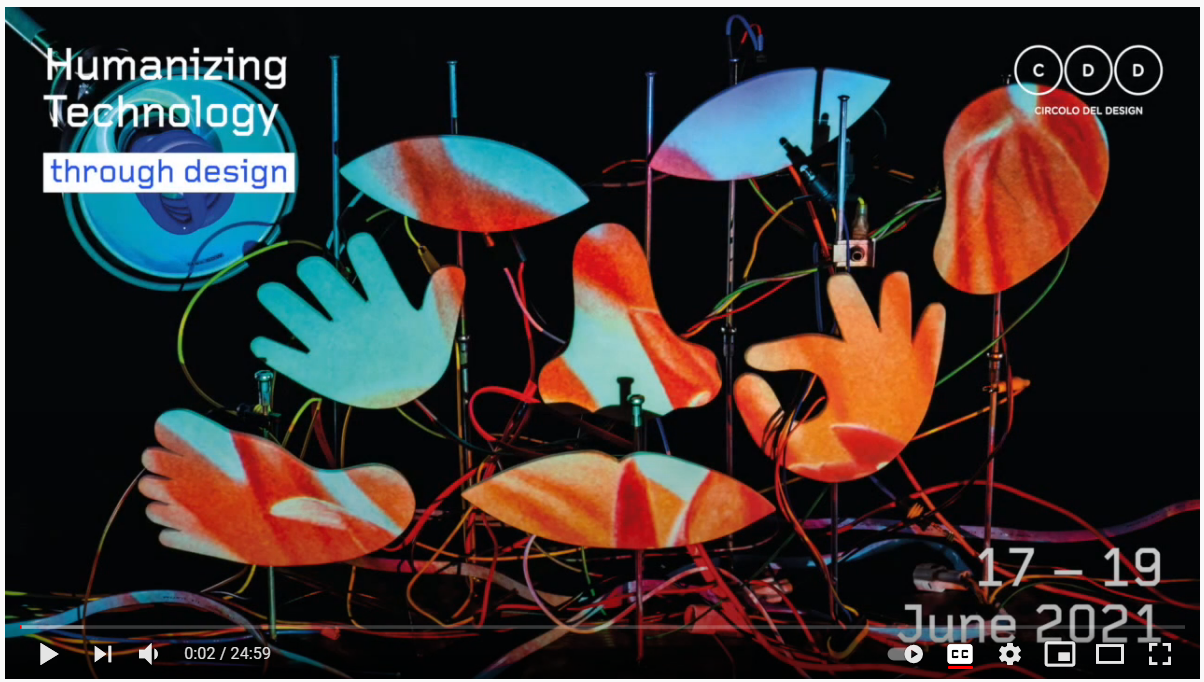 Articles > Audio & Video > Upcoming > Tools
Upcoming Conversations.
UX Research and Anthropology
📅 Thursday, 29 July 2021, 2:00 PM – 3:00 PM CEST
🧠 Crystal Tan
Chat with Crystal Tan about her journey in anthropology and UX Research. Nulab.
Webinar: Women in Research and Innovation
📅 Thursday, 29 July 2021, 12:00 PM – 2:00 PM CEST
🧠 Akanimo Odon,
Queeneth Adesuwa Kingsley-omoyibo, Patience Opata, Afua Konadu Owusu-Kwarteng
Exploring the challenges and opportunities for women researchers and innovators in Africa through case studies. Encouraging knowledge exchange between different African countries especially in relation to women in research and innovation issues. Recirculate.
UXPA International 2021
📅 Tuesday, 31 August 2021, 9:00 AM - 10:30 AM CEST
UXPA International 2021 is taking place in one month. It's packed with inspirational content across 3 days of talks (Aug 31 - Sep 2) and a day of hands on pre-conference courses (Aug 30). UXPA International Conference.
Articles > Audio & Video > Upcoming > Tools
This Week in Tooling.
🎈Qualtrics acquires Usermind, a Next-Generation Experience Orchestration Platform. 🎈Momentive introduces SurveyMonkey app for Zoom to bring live feedback to meetings. 🎈 Katryna Balboni curated a list of 15 Card Sorting Tools for Remote UX Research.
User Weekly Newsletter
Join the newsletter to receive the latest updates in your inbox.